WASHINGTON -- When the Senate passed a high-profile piece of trade legislation last Friday, lawmakers simultaneously approved a little-noticed amendment described by its authors as "pro-Israel." In doing so, the Senate moved to protect Israeli settlements in the occupied Palestinian territories from international sanction -- directly contradicting what has been U.S. policy in the region since 1967.
The amendment, which was added to both the House and the Senate versions of a trade promotion bill, would require the U.S. Trade Representative, or USTR, to discourage European Union member countries from boycotting "Israel or persons doing business in Israel or Israeli-controlled territories" during ongoing free-trade negotiations between the U.S. and the EU.
The passage of this language out of the Senate is a major victory for the American Israel Public Affairs Committee, the pro-Israel lobbying group that played an advisory role in drafting the language and pushed for its unmodified passage.
The amendments are based on a stand-alone bill authored by Sen. Ben Cardin (D-Md.), the ranking member of the Senate Foreign Relations Committee. Cardin first unveiled his legislation at AIPAC's annual policy conference in March before a cheering crowd of nearly 15,000.
From there, Cardin made no noticeable effort to gather co-sponsors or publicize the legislation. Rather, he, along with Sen. Rob Portman (R-Ohio), offered the legislation as an add-on to the trade bill, where the subtle difference between opposing boycotts of businesses in "Israel" and in "territories controlled by Israel" went unnoticed by lawmakers.
In the House, similar language, backed by Reps. Peter Roskam (R-Ill.) and Juan Vargas (D-Calif.), was also tacked on to the trade bill, already prominently placed on Congress's legislative agenda.
In April, the Senate Finance Committee held a markup hearing on the trade bill, where members selected which amendments to the legislation to permit. Hours before the hearing, Cardin forwarded committee members an email he and Portman had received from AIPAC, urging them not to allow the language in their amendment to be watered down. "AIPAC will not support anything less than our amendment," Cardin warned his colleagues in the email.
The Senate committee passed the amendment unanimously. The House Ways and Means Committee followed suit the following day.
AIPAC, which has historically avoided taking a public stance on settlements, is not taking credit for its legislative coup, and has noticeably avoided association with the settlement language. An earlier endorsement of the legislation on the AIPAC website, which made reference to boycotts of "Israel or her territories," has been deleted.
In its place is a new statement that makes no mention of the settlements. AIPAC spokesman Marshall Wittmann did not respond to numerous requests for comment about the legislation or about his organization's stance on Israeli settlements.
However, other pro-Israel groups were happy to weigh in.
"If this was really about the boycott, sanctions and divestment movement, and about combating efforts to delegitimize Israel, they would have no problem stripping references to territories controlled by Israel," said Dylan Williams, vice president of government affairs at the lobbying organization J Street. "They are using the power of the U.S. to immunize illegal settlement activity."
"It's stunning," said Lara Friedman, director of policy and government relations at Americans For Peace Now. "To not recognize this as a shift in policy is either incredible ignorance, incredible cowardice or a deliberate desire to shift policy by stealth." Friedman said that during the lead-up to the committee votes, she contacted members' offices and warned them of the pro-settlement implications of the amendments.
Despite Friedman's lobbying, lawmakers have denied any connection between the legislation and the settlements. "This is not to take sides in negotiating points. It's a hard distinction to know where products are produced in a country," Cardin told The Huffington Post when asked about the inclusion of "Israeli-controlled territories" in his amendment. "I think that's a distinction that really has no merit."
"This is such a non-story: a bunch of anti-Israel groups criticizing a pro-Israel amendment," Roskam recently told The Washington Free Beacon, referring to J Street and Americans For Peace Now. He did not respond to HuffPost's requests for comment.
Meanwhile, members of Congress who voted for the amendment in April's markup hearings may have done so without a clear understanding of what they were voting for. In both the House and Senate hearings, the amendments' authors made no mention of Israeli settlements and failed to outline the European policy the amendment aims to counter.
The latter omission is likely because the EU, far from having a boycott policy toward Israel, is one of the country's major trading partners.
The policy that the pending Congressional legislation would effectively oppose is a set of guidelines meant to prevent European businesses and consumers from inadvertently funding settlements, which the EU considers a violation of international law. Drafted in 2013, these guidelines limit Israeli entities operating in the settlements from receiving European grants, funding or prizes. More recently, several EU members recommended that European businesses label goods produced in the West Bank.
"It is essential to remind that the EU is strictly against any kind of boycott of Israeli products," an EU official who declined to be named told HuffPost in an email. "Accordingly, we consider that a transparent labelling scheme is the best way to avoid that. In the absence of such a scheme, some European consumers and operators intending not to buy products from the settlements might be tempted not to buy Israeli products at all."
In the Senate markup, Portman's characterization of EU policy was limited to a vague description of "economic warfare." Sen. Ron Wyden (D-Ore.), a supporter of the amendment, recalled his parents' flight from Nazi Germany in the 1930s and urged his colleagues to protect Israel from modern-day anti-Semitism.

"I think it was more of an issue of members thinking it was an amendment about a broader boycott of Israel," said one Democratic Senate aide, reflecting on the Senate committee's unanimous vote.
"It was a late markup, delayed by Bernie Sanders' action. There were a lot of amendments. It was rushed. It just wasn't a good time for a markup," the aide continued, referring to an unrelated procedural delay to the trade bill hearing.
"It was sprung on us at the last minute," a House Democratic aide told HuffPost, referring to the Israel amendment. "We didn't have a chance to read the text. I think most folks were surprised that it was even coming up."
Members of the House committee were likely influenced by Timothy Reif, general counsel to the USTR, who gave lawmakers his blessing on the Israel language. "It has been discussed, and we are supportive of including this amendment in the base bill," Reif told members during the hearing.
A USTR spokesman declined to directly state whether the Obama administration differentiates between boycotts of Israel and boycotts of Israeli settlements. "The Administration's policy opposing boycotts directed against the State of Israel as well as its policy opposing Israeli settlement activity remain unchanged," the spokesman said in an email. He did not respond to requests for clarification about the apparent contradiction between Reif's support for the amendment and the Obama administration's opposition to Israeli settlements.
In an op-ed for The Hill published after the committee votes, Friedman, of Americans For Peace Now, wrote, "Do members of Congress understand what these pieces of legislation -- marketed to them as non-controversial, pro-Israel measures -- actually seek to do?"
The answer appears to be no, at least in some cases. What is perhaps more alarming than lawmakers failing to read every word of every amendment on a dense trade bill is the fact that AIPAC made it a priority to lead lawmakers into dismantling the distinction between Israel and Israeli settlements in the occupied Palestinian territories.
The lobbying group's quiet efforts to dampen international criticism of the settlements come as Israeli Prime Minister Benjamin Netanyahu, at the helm of an increasingly right-wing coalition government, has indicated his willingness to resume two-state solution talks with the Palestinians -- with the understanding that Israel will ultimately annex some settlement blocs.
The trade bill that houses the Israel amendments still has to clear a final vote in the House before landing on the president's desk. Though the amendments run counter to decades of U.S. opposition to Israeli settlements, they are unlikely to surface during next week's House debate, where lawmakers will be more likely to exert their political capital on trade-related tweaks than on seemingly "pro-Israel" language.
That's likely what the amendments' backers have been counting on all along.
Before You Go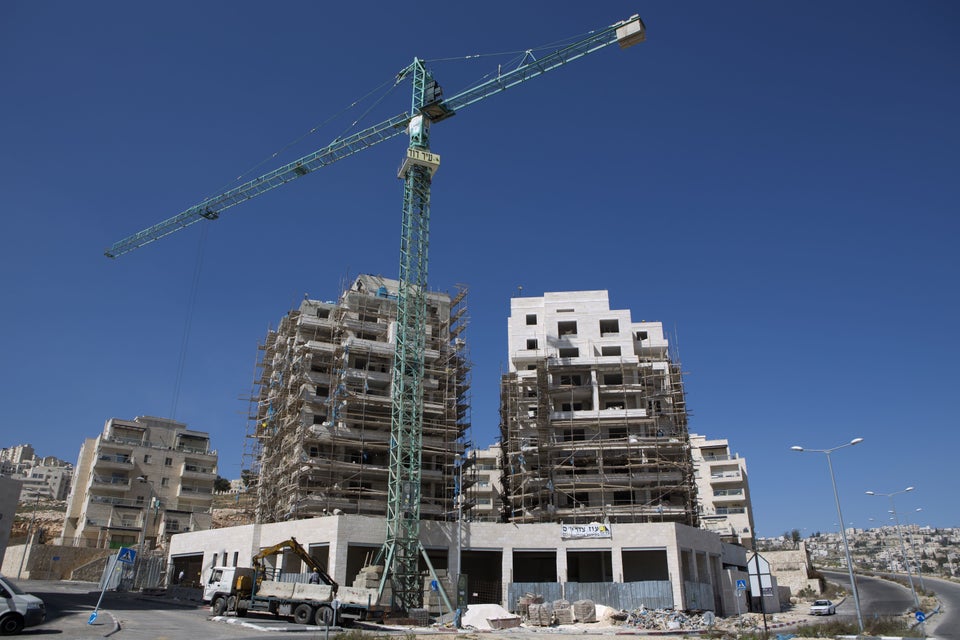 Israeli Settlements Grow In East Jerusalem
Popular in the Community