WASHINGTON -- Only days ago, heading into the annual policy conference of the American Israel Public Affairs Committee, suspending aid to the Palestinian Authority was on the group's list of lobbying priorities for its delegates who would be on Capitol Hill Tuesday. But since the conference started, that point has been quietly dropped.
The reversal underscores the delicateness of the topic within the pro-Israel community, as members of Israel's defense establishment believe that cutting off aid could lead to a collapse of the PA that would put the country's security at risk.
As recently as Monday morning, aid suspension was included under the "peace process" section of the lobbying agenda for delegates found on the AIPAC mobile application. By Monday afternoon, that item had disappeared.
AIPAC's press team did not respond to a request for comment from The Huffington Post about the discrepancy between earlier and later versions of the agenda.
The U.S. currently provides about $440 million a year to the Palestinian Authority.
The disappearance of the suspension item suggests the committee may have believed that focusing solely on its Iran-related items would better complement Israeli Prime Minister Benjamin Netanyahu's controversial speech about ongoing Iranian nuclear negotiations. Netanyahu delivered that speech to a joint session of Congress Tuesday, the same day that AIPAC delegates were on the Hill.
Those delegates are now focused on encouraging House members to sign on to a letter from Reps. Ed Royce (R-Calif.) and Eliot Engel (D-N.Y.), as well as two pieces of Senate legislation regarding congressional review of any new deal to limit Iran's nuclear infrastructure, and new sanctions if such a deal fails.
Despite the apparent change of priorities, AIPAC representatives -- many of whom are high school and college students -- seemed to have a clear idea Monday of what their message would be.

Matt Frischer, a high school senior from St. Louis, told HuffPost that he and his fellow lobbyists from school would be discussing with members of Congress "the sanctions that are, hopefully, being imposed on Iran, so we can come to a mutual understanding about them and what a good deal would look like."
Corey Fox, a fellow student, agreed, calling any discussion of aid "less of a priority," while Alec Davison, a third member of their group, implied that the stakes were too high to focus on other issues.
"Israel's survival is more important than solving this conflict, right now," he said.
While it won't be an issue that AIPAC emphasizes on Tuesday, advocating for suspending aid has just as much of an AIPAC lobbying legacy as raising awareness of the threat a nuclear Iran would pose to Israel. In 1997, for instance, AIPAC warned that the Palestinian Liberation Organization's "slipping compliance" with peace accords put "U.S. aid at risk" when Congress was considering limiting such aid. In 2011, AIPAC lobbied for a Senate resolution that threatened to cease aid to the Palestinian Authority if it continued with its bid for United Nations recognition. And last year, when Fatah and Hamas formed a unity government, AIPAC urged Congress to conduct of a "thorough review" of U.S. assistance to the authority.
On the other hand, AIPAC has, now and again, defended aid to the Palestinians. Last year, for example, it opposed legislation introduced by Sen. Rand Paul (R-Ky.) that would have made U.S. aid contingent on recognizing Israel's existence.
When the Palestinian Authority recently secured a spot on the International Criminal Court, it proved to be a watershed moment for AIPAC, sending the group back to its position in favor of suspending PA aid.
During a Monday panel with Reps. Mario Diaz-Balart (R-Fla.) and Marc Veasey (D-Texas), AIPAC lobbyist Deborah Saxon explained the committee's general stance on aid.
"You put the onus on the Palestinian Authority itself to work in a direct, bilateral way with Israel to come together and move the peace process forward in a proven way, and that's why we have that position," she said. "We hope the Palestinians will do the right thing and reverse some of the steps they have taken at the United Nations that are so detrimental to the process."
But at a separate AIPAC panel Monday, two experts on Israeli-Palestinian negotiations said that any discussion of cutting off American aid is fraught with risk. After Israel, in response to the ICC move, froze transfers of the tax revenues it collects on the Palestinian Authority's behalf, Israeli military reports suggested that the authority could run out of money by the end of this month.
"If in fact there is a chance [for negotiations to succeed], even if it's a slim chance, then what you don't want is a collapse," said Aaron David Miller, a vice president at the Woodrow Wilson International Center for Scholars who served six secretaries of state as an adviser on negotiations. "[Palestinian Authority President Mahmoud] Abbas has threatened to return the keys to the Israelis, metaphorically speaking -- the keys of governance. I don't think he's going to do that, but I want to see Palestinian assistance continue, because it supports what is really important, which is Israeli-Palestinian security cooperation."
Miller's co-panelist, retired Brig. Gen. Michael Herzog of the Israeli Defense Forces, agreed, saying that "this is also the view of Israel's defense establishment."
"It's not in our interest if the PA collapsed, because if they collapse, they collapse on us, and we have to carry the burden," he continued. "I don't think it's in the interest of the United States, either -- and I believe we have better ways of responding to their actions in the international community."
See the original agenda item on aid for the Palestinian Authority below: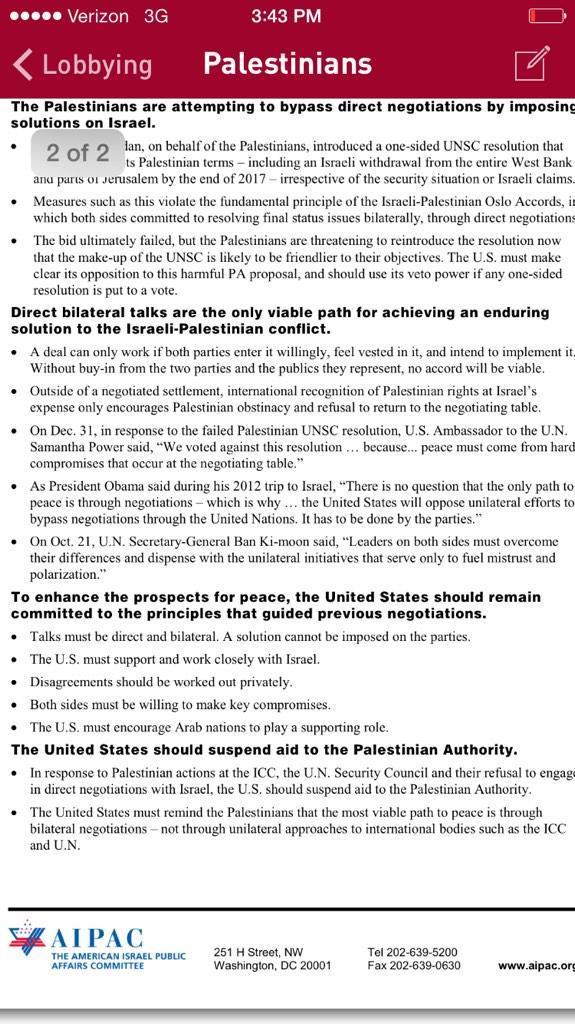 Calling all HuffPost superfans!
Sign up for membership to become a founding member and help shape HuffPost's next chapter
BEFORE YOU GO
PHOTO GALLERY
Israel-Gaza Conflict