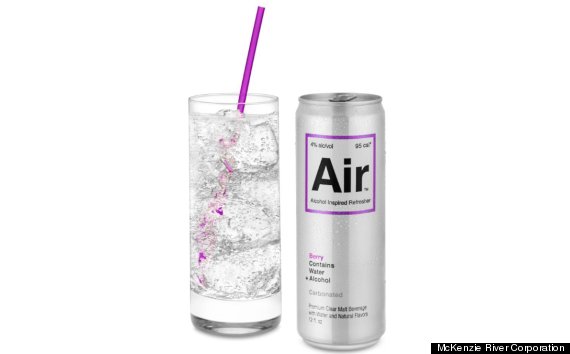 A new alcoholic drink, Air, Alcohol Inspired Refresher, is being touted as vodka-like. It's nearly completely tasteless, odorless and colorless. But it's not vodka, it's malt-based -- which means it belongs in the beer aisle.
Drinkspirits.com offers a glimpse into the new product, which is in the process of launching in San Francisco, Las Vegas, Los Angeles, Portland, and Seattle and will soon expand to the rest of the country:
It comes in berry, citrus, and club versions (the latter is the closest to club soda). The prime focus of Air is its neutrality – even the flavored versions are very lightly flavored. At 95 calories per can, it's significantly less than most malt beverages on the market, and even the low calorie beers from the major beer companies. Air is fairly highly carbonated and it's best chilled, so pouring it over ice greatly enhances the experience. Air has done a fantastic job of masking the malt source of its alcohol.
The article does note, however, that Air contains significantly less alcohol than a vodka drink of comparable size. Air is sold in 12 oz. cans with an ABV of 4 percent or an overall .48 oz. of alcohol, as opposed to a vodka soda, which offers .8 oz. of alcohol or 13 percent ABV.
Brandchannel.com welcomes the drink as a lighter alternative to drinks like Four Loko, which aim to get a person drunk as fast as possible.
Where Four Loko's cans are black and dark, Air is white and, well, airy. Where Four Loko's marketing featured nightlife and indoor club venues (and, controversially, on-campus ambassadors), Air's online videos — featuring a water-powered jet pack — highlight good clean daytime fun in the outdoors.
Minott Wessinger, founder and CEO of McKenzie River Corporation, which produces Air, echoed the sentiment in an interview with The San Francisco Chronicle:
"We're not making something with too much sugar and caffeine. No, this is a thoughtful, revolutionary approach, coming from an innovative idea. Fresh water…the freshest… the main ingredient in a product poised to open a new genre in the alcohol beverage world."
Get a load of one of Air's commercial, which features a water-powered jet pack. That's one way to advertise.
Related