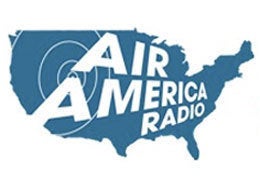 Air America, one of the country's more powerful radio networks and a major progressive megaphone, is switching ownership.
Charlie Kireker, a former political official and creator of Pendulum Media will succeed Stephen L. Green, the New York real estate CEO who helped lift the company out of bankruptcy, as chair of the board. The move will be finalized in mid March. Mark Green, Stephen's brother and Democratic activist, will remain as Air America's president.
"We look at what Steve and Mark Green have done as the transition role of saving and stabilizing the business and now we think it is a good opportunity to expand upon that," Kireker told the Huffington Post. "The company has made a lot of progress, we have consolidated operations, and streamlined things to be more efficient. We are yet to profitability but we are heading there."
Kireker is no stranger to the network. He was a minor investor in one of the companies that rescued Air America's ownership from Chapter 11 bankruptcy last March. That year, the network -- which was purchased by Green Family Media for $4.25 million -- posted more than $13 million in losses. Sometime in 2009, Green said, he envisions that the network will be in the black.
Currently Air America has 65 affiliates, an estimated audience of nearly 2 million weekly, and is set to release a new web-based format for radio listeners.
"It took Fox News five years and a half billion dollar loss to get its feet, find its audience and become profitable," said Mark Green. "We don't have a 'what's his name?" [referring to Rupert Murdoch]. But, we now have secure funding and expanded management team, on-air talent and a business strategy that will get us where we need to be... Reports of our death were greatly exaggerated by the right wing zeitgeist that wanted us to go away."
As for why the current team would leave the network on the brink of profitability, Green noted that his brother's true passion was not in media but in real estate. "The Kireker group is new money, energy and new confidence in the growing of Air America. Steve was happy to be a bridge from phase one when we had financial difficulties to phase three when it is poised for takeoff..."
Both Green and Kireker said that the ownership change would have no effect on the network's editorial content. "There are no programming changes at this time," said Kireker.
Current political dynamics, however, could position Air America in unfamiliar terrain. Indeed, the network was conceived to be a response to the proliferation of right-wing talk radio. And since it was launched in march 2004, Air America has, for the most part, operated on a landscape of predominantly GOP power. With Democrats slated to expand on slim majorities in Congress and possibly take back the White House, the network's affinity for railing against the powers-that-be may have to undergo an alteration.
"I don't want to get ahead of myself," said Kireker. "We hope there will be a Democrat in the White House and we think the prospects are good. And we think the country is showing an appetite for a more progressive agenda. So yes, Air America will no longer be, as it was in its early years, fighting against the majority Republican forces, though that began to shift, of course in recent years."
Popular in the Community