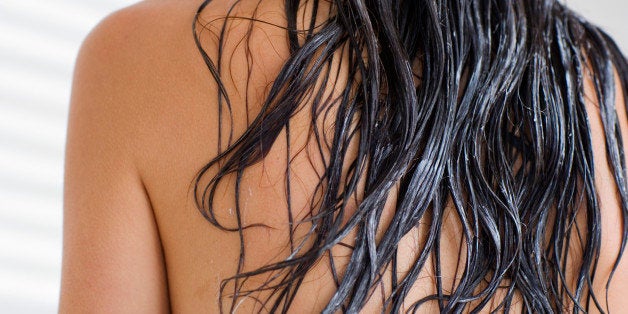 If you think that air-drying your hair is as easy as letting your strands dry freely without any interference, you are unfortunately mistaken. The women who give us a serious case of hair envy swear by the seemingly effortless method, but we are here to tell you that there are usually quite a few steps involved in achieving that au natural look.
Step 1: Use a soft cotton T-shirt or microfiber towel to gently squeeze excess water from hair.
The way most people use traditional shower towels roughens the hair cuticle, creates frizz and knots the hair, according to McCowan. Do not rub the towel back and forth over the hair. Instead, use an old T-shirt or super absorbent towel -- especially if you're prone to frizz -- to press firmly into the hair.
Step 2: Apply a leave-in conditioner to close the hair cuticle and add a layer of hydration.
McCowan says a great leave-in conditioner is essential to avoid that undesired fluffy, frizzy look. She swears by Evo's Day of Grace, a light hold, leave-in spray with UV protection that creates the perfect base for other styling products without making the hair heavy or greasy.
Step 3: Detangle hair with a wide-tooth comb or your fingers, working the leave-in product throughout strands.
Use your fingers or a comb to massage the leave-in product into the hair and smooth the cuticle. Make sure that hair is still slightly wet and coated with enough product to ensure your hair dries evenly and with minimal frizz.
Step 4: If air-drying hair overnight, braid strands to create loose waves. To prevent friz, wrap hair in a bun and pin at the crown of your head.
"This will create a base for the hair to finish drying while you sleep as well as protect it from moving around too much and creating serious bedhead," says McCowen. When you wake up, release and shake the hair out.
Step 5: Finish with a lightweight styling product to achieve your desired look.
Finding the right finishing product depends on your hairstyle. For fine hair, opt for a light, volumizing product to refresh or hold the air-dried style. Naturally straight hair will benefit from a good shine spray to make roughed up morning hair look smooth. If you have thick and wavy hair, spritz leave-in styling product on the hair and scrunch, or apply the product in the waves with your hands to get rid of frizz. And don't forget a smoothing sealant is the secret to styling coarse and curly hair.