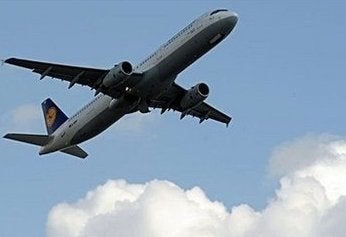 Airlines are making creative attempts to win international travelers loyalty. They are constantly seeking out ways to gain a leg up on the competition, many airlines are looking for ways to keep passengers happy both on the ground and in those not so friendly skies. Some airlines are taking their aircraft to new heights with designer finishes, in-flight chefs, hip on-board entertainment, luxe amenities, and incorporating luxe lounges and even tossing green initiatives into the mix.
Here are three standouts in the aviation arena worth mentioning. Each offers a unique spin to classic comforts, are setting the stage for cutting edge aviation, and offer boutique on-ground experiences like non other. Before you book your next flight over seas, consider these.
Austrian Airlines **** Air-marks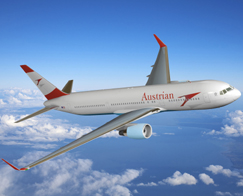 Austrian Airlines operates the only non-stop international flights to Vienna from Chicago, New York, Washington and Toronto, and flies to 130 cities and 66 countries with a fleet more than a 100 aircraft. Since the collapse of the Iron Curtain in 1989, Austrian forged new routes to the Balkans, Russia, Ukraine, and more recently garnered direct connections into Croatia, Kosovo and Slovenia.
Despite the miscellany of the plane's interior colors- Philippe Stark, where are you? Business class offers comfy sleeper seats, with ample room whether sitting or sleeping, a personal laptop charging station and personal TV monitors with at least 12 current hit movies and a multitude of in-flight programming choices.
A travel tid-bit: Austrian's have the most amazing playful sense of humor. So, in showing that flying can be fun, the airline created a charming salute to the early days of flying, naming every plane with monikers like James Dean, Enzo Ferrari, Albert Einstein, George Harrison, Freddie Mercury, Ray Charles and artist, Frida Kahlo. It's only a matter of time before they call one Brad Pitt!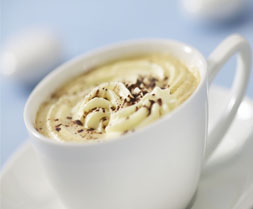 The all-time on-board epicurean adventure!
Trans-oceanic Austrian Airline flights boast on-board chefs: real chefs creating each meal course from kitchen to a traditional rolling cart, and serving customers according to their gourmet meal choices. Be prepared for several delectable courses in-flight. (This is the airline that won the 2007 "World's Best Business Class Catering").
For the ultimate coffee lovers treat, there is a "Vienna Coffee House in the air" with specialty coffee drinks made to order. Try the weiner eiskaffee- double espresso served with vanilla ice cream and freshly whipped cream served in a tall glass.
Virgin Atlantic ****** Air-marks
Virgin Atlantic makes air-marks for being the hippest airline in the sky, with great service, professional staff, good connections and pricing, pull-up concierge service, a rock'n in-flight bar, and most importantly, cutting edge eco-air operations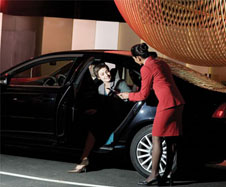 Virgin's campy marketing campaigns also win points among travelers. Tag lines like "Love from Above", "Airphoria", and a branded partnering with the James Bond film Quantum of Solace starring Daniel Craig, "Are you a Jetrosexual?" contests, and cutting upper class check-in at Heathrow by 40 minutes-- it's no wonder Virgin is Britain's mega-marketed pride of the skies.
Virgin also cares about the environment, whether it be launching or partnering with recycling programs. (Virgin also tested its first ever bio-fueled flight, which commenced earlier this year).
So what is an airline to do with 524 spare seats seats from a decommissioned 747?
Ethical company, Worn Again is repurposing Virgin's seat covers into cool-looking laptop bags and handbags. The line is called Worn Again Virgin.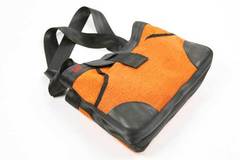 The eco-brand has hooked up with Sir Richard Branson to recycle old trans-Atlantic Virgin seat covers, including using the seat belts for shoulder straps. Thanks to an environmental pioneer with foresight, Worn Again has ended up with a new line of stylish and ethical bags.
www.virginatlantic.com
Worn Again: www.wornagain.co.uk
Thai Airways ***** Air-marks
Thai Airways makes air marks for their unparalleled staff-- from desk agents to flight crew; service does not get more amenable than this. Direct flights to Thailand, on board entertainment, Pan-Asian epicure.
Not only praised for its in-flight service, well-dressed cabin crew, and impeccable meal service, Thai Airways has also won accolades on the ground with the Best First Class Lounge award for its lounge and Royal Spa at the Bangkok Airport.

Air-mark Guide:**** Excellent ***** Over the top ****** Spectacul-Air
Adventure Girl, Stefanie Michaels is an eco-travel and lifestyle expert and an advocate for the environment. Her site Adventuregirl.com offers tips for travelers on green locales around the globe, as well as granting monthly Adventure Girl Green Awards to hotels and resorts making good on their green initiatives.
You can reach Stefanie at www.adventuregirl.com
Related