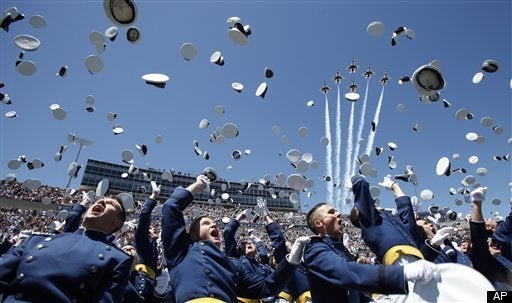 The Air Force Academy this week is defending its decision to keep large portions of its annual survey of cadets and faculty private.
The Academy has been conducting annual surveys to gauge campus attitudes and experiences since 2004, after a sexual assault scandal drew national attention.
In previous years, the Academy has released the results of the survey in a detailed report. This year, under the new leadership of Lt. Gen. Michael Gould, the Academy is keeping the results of the survey private.
Gould defended the Academy's decision not to release the results on Tuesday, saying that the survey is intended to supply administrators with information to improve the campus, not provide fodder for "distracting" public debate.
Rather than releasing the report in its entirety, Gould simply characterized the results of the report as mixed. "Overall, I'm pleased with the progress we've made," Gould said on Tuesday while acknowledging that the campus faces challenges.
141 cadets said that they had "been subjected to unwanted religious proselytizing sometimes, often or very often." Meanwhile, 46 percent of female cadets said they "witnessed harassment or discrimination based on gender."
Mikey Weinstein, a former Air Force cadet and frequent critic of the AFA's handling of religious issues, accused Gould of trying to put a "happy face" on the survey's results.
"The numbers aren't kind of bad. They're real bad," Weinstein told the Colorado Springs Gazette.
In 2005, Weinstein sued the Air Force Academy, claiming that religious minorities at the school were subject to systematic proselytizing. As a result, administrators adopted new guidelines that discouraged public prayer as part official events among other measures to foster religious tolerance.
Religious tolerance has remained an issue at the Academy since the 2005 lawsuit, although Weinstein has admitted the school has made progress in that area.
Gould has said that the Academy has already started investigating the problems illuminated by the survey, but says there are no plans to release the results in their entirety.
REAL LIFE. REAL NEWS. REAL VOICES.
Help us tell more of the stories that matter from voices that too often remain unheard.