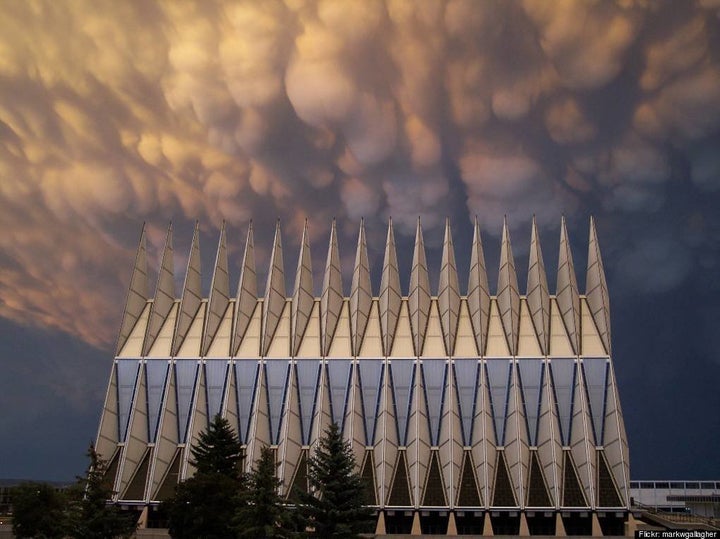 The Air Force Academy in Colorado Springs is being sued for its decision to invite a controversial conservative speaker to a voluntary prayer event.
The Academy, which has taken criticism in recent years for forcing religious beliefs on students, invited Marine 1st Lt. Clebe McClary--a nationally-known motivational speaker--to speak at a voluntary National Prayer Luncheon scheduled for Feb. 10.
The academy's decision to host McClary, whose website declares "U.C.M.C. will always mean a U.S. Marine for Christ," has drawn harsh criticism from the Military Religious Freedom Foundation, and activist that has long been a thorn in the side of the Academy's leadership.
In January, the group called for Superintendent Mike Gould's resignation.
Now, the Military Religious Freedom Foundation--along with 5 Air Force faculty members--is suing to stop the prayer luncheon, calling it "a blatant violation of the plaintiffs' Constitutional rights as guaranteed by the First Amendment."
The formal complaint (PDF) alleges that hosting a speaker as outspoken McClary is "a violation of the Establishment Clause of the First Amendment to the United States Constitution."
The complaint notes that "the invitation [to the the luncheon] describes keynote speaker Lt. McClary only as an "Inspirational Speaker/Author and Highly Decorated Vietnam War Veteran," with no mention that he is a fundamentalist Christian speaker.
The Air Force Academy defended the Luncheon on Monday, telling the Colorado Springs Gazette "This is a multifaith prayer luncheon. Similar events are held every year at every military installation around the country. It's not new."
The Military Religious Freedom Foundation has hired David Lane, the famous Denver Civil Rights Attorney who defended Ward Churchill and Richard Heene. He told the Gazette he hopes to have a hearing by Friday.

Related
Popular in the Community