U.S. Air Force Captain Anthony Interrante, 34, refused to let a Middle East deployment stop him from riding in this year's AIDS/LifeCycle or from finishing the 545-mile ride, which began on Sunday, May 31, as one of the top fundraisers.
How does a critical-care flight nurse serving in Afghanistan raise more than $59,000 to fight HIV? "Easy," says the built and chiseled native of Philadelphia. "I mostly used Grindr and Scruff."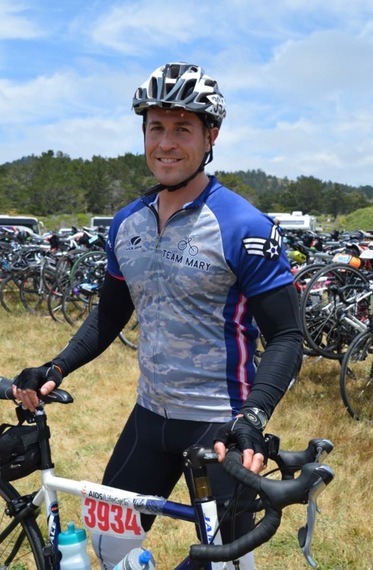 "People told me I should send out emails to friends telling them about my training and asking for their support," says Interrante. "But training wasn't exactly something that comes easy in Bagram. If I had to talk about training, I'd end up having to pay my own way."
So the openly gay Air Force officer turned to social media -- but not just Facebook.
"I would engage with everyone around the world who would send me a "woof" or whatever, eventually telling them that I was going to be riding 545 miles to help end HIV and that I'd appreciate their support. I was amazed by how generous people were."
Many users of gay "meet-up" apps feel uncomfortable showing their face in profile pictures and even feel uncomfortable acknowledging use of them. And you'd think that if anyone were to be discreet about their use of such apps, it would be a military officer. But Interrante, who has been out during his entire eight-year career in the military (even before the repeal of "don't ask, don't tell"), is unabashed about his use of online tools to connect with guys.
"Why should we be afraid to talk about using them? We're all sexual creatures," he says. "It really kills me when guys say they're 'discreet' and won't show or send their face pic. It's ridiculous; I'm not just a torso or a pair of legs. We're all here for the same thing and shouldn't be afraid to talk about it."
Of course, not everyone is using these apps to better the world, but Joey Dube, Vice President of Marketing for Scruff, says, "We're not surprised by our members' generosity toward one another and are gratified to know that guys are using Scruff to connect in meaningful ways."
About $56,000 of the money Interrante raised for the seven-day ride from San Francisco to Los Angeles was from hundreds of strangers -- representing every continent, including Antarctica -- who were enticed to connect with him online via his sexy swimsuit picture.
"I know I've got a lot of 'thank you' notes to write, and I'm truly humbled by all the support," says the Vacaville, California, resident, "and not just for me but for the amazing work of the San Francisco AIDS Foundation and Los Angeles LGBT Center that benefit from this event."
The fundraising certainly proved to be easier than the training, since riding a road bike in Bagram wasn't an option, and not just because of the 100-degree heat. "I did more CrossFit than anyone should, and I learned to own a spin bike for two to three hours at a time," says Interrante, who didn't ride an actual bike until the 82-mile first day of AIDS/LifeCycle.
How's he doing after Day 2? "I'm feeling great," says the member of AIDS/LifeCycle's Team Mary, "and I'm feeling even better that we've raised more than $16 million to fight HIV. I've never lost anyone to HIV, and I'm riding because I don't want anyone to have to deal with that kind of loss."
Popular in the Community