In an effort to recruit more talent, the U.S. Air Force is rolling back restrictions on its military members wearing tattoos. 
The new policy, which will go into effect at the start of February, permits new recruits to have tattoos fully covering their chest, back, arms and/or legs, according to a statement that the Air Force released Monday. A "25 percent" rule had previously restricted Air Force personnel. It meant tattoos could not cover more than 25 percent of the body part the ink was on without written approval from a service member's commander.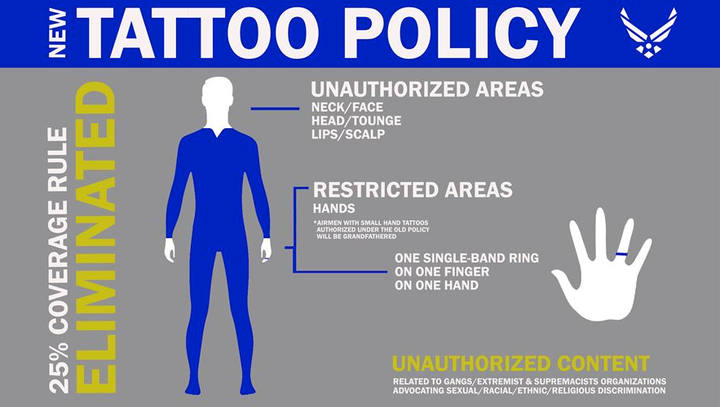 "As part of our effort to attract and retain as many qualified Airmen as possible we periodically review our accessions policies," Air Force Secretary Deborah Lee James said in a statement. "In this instance, we identified specific changes we can make to allow more members of our nation to serve without compromising quality."
The relaxed policy still comes with some basic restrictions. Personnel cannot have tattoos associated with gangs or extremist groups, or ones that advocate any kind of discrimination. The Air Force also bans face, neck, and head tattoos.
"We are always looking at our policies and, when appropriate, adjusting them to ensure a broad scope of individuals are eligible to serve," Chief Master Sgt. James A. Cody said in the statement. "These changes allow the Air Force to aggressively recruit talented and capable Americans who until now might not have been able to serve our country in uniform."
The new policy comes on the heels of the U.S. Army's decision last week to allow servicemen and women at the brigade level to wear turbans, beards, and hijabs in accordance with their faith.
"Based on the successful examples of Soldiers currently serving with these accommodations, I have determined that brigade-level commanders may approve requests for these accommodations," wrote Secretary of the Army Eric Fanning in a letter announcing the decision.
The Pentagon allows individual military services to dictate what service members may or may not wear. The Air Force currently has no policy allowing members to wear a turban specifically, but it states that religious headwear can only be worn if approved by an installation commander. It does not authorize members to wear a beard.
Calling all HuffPost superfans!
Sign up for membership to become a founding member and help shape HuffPost's next chapter
BEFORE YOU GO