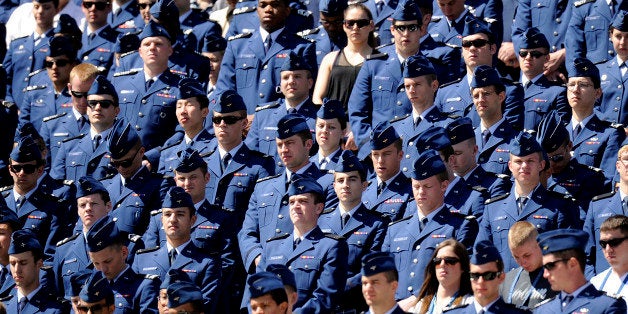 With little outside fanfare, an Air Force court martial concluded this week in a long-running rape case that initially garnered national attention two years ago when the Air Force General in charge was criticized for failing to order the case to trial. As I sat next to the victim to help her make sense of the jury's verdict, I considered all that I had witnessed during the course of this case. In many important ways the criminal process (though not necessarily the result) was indicative of the experience military sexual assault survivors can expect when they make the incredibly brave and personal decision to report their rape and move forward with a military court martial. If you find yourself confronting that horrible choice, I offer what I learned from my representation of the victim in this case and from my collective experience as a victim's legal counsel in both civilian and military proceedings:
The Air Force has some talented committed lawyers that work hard. There is no doubt the Air Force has talented prosecutors who work hard and care about justice. On weekends, late nights, and long court days the prosecutors in this case demonstrated a strong desire to do their very best to obtain a conviction and the requisite skill to try and make that happen. It is important to note, however, that Air Force defense lawyers are often equally committed and experienced. There is no guarantee you will get an experienced or dedicated Air Force prosecutor in your case, but they do exist.
The military justice system is defendant friendly. In what might be surprising for outside observers, the military justice system provides infinitely greater protections and access to information for criminal defendants then the civilian justice system. From the disclosure of privileged medical and therapy records to rules potentially requiring the victim submit to a defense counsel interview (results with no parallel in civilian courts) this skewing in defendants' favor make the protections of a victim's dignity and privacy more difficult to achieve.
Be prepared to talk about your rape over, and over, and over. The victim in this case explained in detail the circumstances of her rape at least eight times to investigators, prosecutors, and defense counsel and then again ultimately at trial. Despite these repeated disclosures of the horrible details of her assault, the trial court ordered a third defense interview before trial. When she resisted, the victim was threatened with a delay and formal examination on the record if she did not comply. And even after she submitted to the interview, she was questioned at trial about her desire to limit defense counsel's questioning. Recent changes in the military rules make it likely that future victims will have to testify less often than the victim in this case. But make no mistake: you will have to share the circumstances of your assault several times to strangers prior to and at trial.
Your therapy records will be under constant threat of disclosure, but thanks to recent changes in the law they may not be turned over. Until recently, the psychotherapy records of rape victims were routinely turned over to military judges and defendants despite the incredibly personal and privileged nature of these materials. Indeed, the military judge in this case ordered production and reviewed two years' worth of the victim's therapy records. Not satisfied, defense counsel continued to seek additional records, including a request to order production of all therapy records generated up until the time of trial (three years after the assault). As a result of defense counsel's efforts, the victim was forced to testify regarding her medical records in the presence of a defense-retained psychiatric expert who then used her answers and demeanor as a basis for attempting to breach her medical privilege. Ultimately, the court refused additional production of medical materials after five reviews of her prior records did not contain anything relevant to the defense. Bottom line, your therapy records may be protected from disclosure but there is no guarantee.
Your sexual history will be explored, even if it is not admitted at trial. Military court rules limit the admissibility at trial of certain so called sexual propensity evidence. For example, defense counsel is generally prohibited from offering evidence of what a victim was wearing or the number of sexual encounters a victim has had over her lifetime to argue that the victim consented or was asking for it. Defense counsel routinely seeks this information and investigators frequently attempt to uncover it. Victim's legal counsel can help you limit the admission of this type of evidence. But even if this information is not admitted at trial you will likely be required to talk about it with the judge before trial.
The Air Force has not won the battle against enemies in their midst. The Air Force in recent years has provided extensive training regarding sexual assault in the military. That training and recent comments by senior Air Force commanders recognizes the presence of sexual predators in the Air Force. But preventing and punishing sexual assault goes beyond simply recognizing the undeniable presence of sexually violent predators in the armed forces. It goes to a culture. To a belief system. And to a justice system that should adequately address and consider the rights of the victim as part of the criminal process. It is therefore gravely concerning that the members (the word for the senior enlisted and officers that make up a jury in a military trial) sought to ask the victim's fiancé if the victim had ever cheated on him. Indeed, a senior officer asked two different questions on the issue. Nor is it encouraging that the senior member of the jury asked to review the victim's performance evaluations and ribbons. These questions were ultimately not asked because even defense counsel agreed they were not relevant to any issue in a rape case. But the fact that senior enlisted and Air Force officers thought it was not just appropriate but necessary to inquire about the victim's pre-martial relationship with an individual not involved in the rape does not bode well for the environment of empathy and aggressive intolerance of sexual assault the Air Force is trying to promote.
The result does not define you. A rape victim's decision to come forward and participate in the criminal justice process is an incredibly personal one. Many victims are simply unable to feel safe or secure enough to report. But regardless of whether a victim moves forward with the criminal process, it is important to remember that no process defines a victim or their experience: A guilty verdict does not make the pain and anger of the assault completely go away. And an acquittal does not mean the victim was lying. Those who are able to come forward, however, are beacons of hope and an inspiration to those around them. Certainly that was the case with my client, who had countless opportunities to give up but never did because, as she told me, she believed it was important to do what she could to help other sexual assault survivors.
Ryan Guilds is a private civilian attorney at Arnold & Porter, LLP, Board Chair of Network for Victim Recovery of DC, and a member of the Advisory Board and participant in Protect Our Defenders Pro Bono Referral Network. For survivors seeking help contact www.protectourdefenders.com/help.
Calling all HuffPost superfans!
Sign up for membership to become a founding member and help shape HuffPost's next chapter