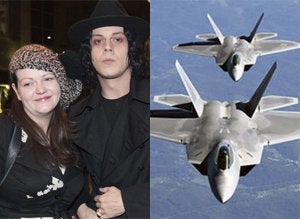 DETROIT -- The White Stripes say the Air Force Reserve used one of their songs without permission in a Super Bowl ad, and that they are insulted their song was used to encourage recruitment during a war they don't support.
The two-member band, which is originally from Detroit, said the ad made unauthorized use of their song "Fell in Love With a Girl."
"The White Stripes support this nation's military. ... We simply don't want to be a cog in the wheel of the current conflict," the band said in a statement posted to its Web site.
WATCH THE AD (starts a few seconds in):
WATCH THE WHITE STRIPES SONG:
"The White Stripes take strong insult and objection to the Air Force Reserve presenting this advertisement with the implication that we licensed one of our songs to encourage recruitment during a war that we do not support." They did not specify which war.
The Air Force Reserve, in a statement, denied the song was the White Stripes' and said it had hired a company through its advertising agency to score original music for the commercial.
"There was never any intention to utilize any existing music or to sound like any music by the band White Stripes or any other musical performer," the Air Force Reserve statement reads. "Any similarity or likeness to any other music is completely unintentional."
The spot ran in selected markets, including Dallas, Las Vegas and San Francisco, during the Super Bowl telecast, said Mike Speciale, a spokesman for Blaine Warren Advertising, the Las Vegas agency responsible for the ad.
The White Stripes, who are known for their raw, garage-rock sound, provided links on their Web site to their recording of "Fell in Love With a Girl" as well as the ad so viewers could compare the two, but as of Tuesday afternoon, the Air Force ad wasn't viewable.
"It was specifically produced for airing regionally during the Super Bowl in some local markets," Speciale said. "It was scheduled to be pulled right after the Super Bowl. It was only a one-time shot."
The Go Daddy Group Inc., which registers Internet domain names, pulled one of its Super Bowl ads for GoDaddy.com in the days leading up to the game because movie studios said it made unauthorized use of their films and the sides weren't able to reach licensing arrangements.
In the ad, which the company still hopes to air, race car driver Danica Patrick, the star of a number of GoDaddy ads, plays the lead female role in parodies of the films "Weird Science," "Flashdance" and "The Seven Year Itch."
Popular in the Community