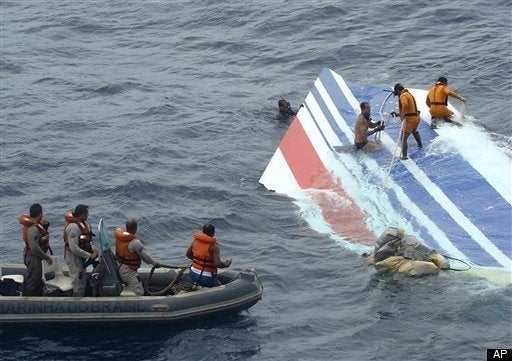 PARIS -- French aviation investigators are examining an emergency distress call from an Air France flight hit by turbulence last month, saying it could shed light on the June crash of a plane heading from Rio de Janeiro to Paris.
Air France Flight 445 made it through heavy turbulence on November 29 as it flew from Rio to Paris. That was the same route, the same airline and same aircraft type -- an Airbus A330-200 -- as Air France Flight 447, which plunged into the Atlantic on June 1, killing all 228 people on board.
France's accident investigation agency BEA said its probe of last month's incident could help explain why the June flight went down.
French newspaper Le Figaro reported Thursday that pilots in November made the distress call when the plane was just 10 nautical miles from the area where the ill-fated jet went down months earlier.
Flight 447 jet was flying from Rio de Janeiro to Paris when it went down about 930 miles (1,500 kilometers) off Brazil's mainland and out of radar coverage. Investigators have not yet solved the crash.
In a Dec. 1 statement, Air France said an internal investigation found that about four hours into the November flight, the pilots carried out a "normal descent" to avoid a zone of severe turbulence. The pilots sent an emergency radio call to indicate that the jet was leaving its flight altitude level, Air France said.
The Telegraph further reports that the plane was unable to make radio contact to request authorization to fly at a lower altitude, and went ahead without permission. After that:
...instead of descending by the 300 ft that is standard procedure to avoid turbulence, the plane plunged from 33,000 feet to 28,000 feet - a drop of 5,000 feet, according to the newspaper Le Figaro.
The mysterious area is known as "le pot au noir," or murky cauldron, according to the Telegraph.
Calling all HuffPost superfans!
Sign up for membership to become a founding member and help shape HuffPost's next chapter