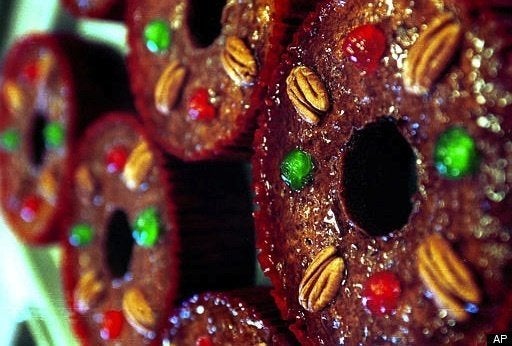 Somehow, I managed not to get clobbered with flying fruitcake at this year's Great Fruitcake Toss in Manitou Springs, Colorado. It's an annual festival that celebrates the world's most reviled and under appreciated food. Well, celebrating it might be a stretch. The good folks of Manitou Springs fling it, smash it, shoot it from air-powered canons and, some years, fashion it into sculptures such as the Saddam Hussein fruitcake bust that landed Dee Byvoet on top of the ugliest fruitcake division one year.
This wacky festival, now in its 16th year, is the perfect metaphor for Manitou Springs, a quirky little town just four miles up the mountain from Colorado Springs. Once described as a "Hippie Mayberry," this eccentric paradise provides a much-needed release valve for its uber conservative neighbor. Colorado Springs, after all, is headquarters for James Dobson's Focus on the Family, not to mention a sizable concentration of military bases.
When the need arises to flee chain stores and perfectly-behaved, scripture-spouting citizens, Manitou Springs provides the perfect getaway. Its unofficial motto is "Keep Manitou Weird." So far it's working with the town's many.... shall we say... offbeat festivals.
Not only do Manitoids, as they're known, kick off each year off with flying fruitcake, but they host a 250-yard coffin race (people bling out rolling coffins in honor of Emma Crawford, a 19th-century spiritualist whose bones kept washing down the mountain), an ugly Christmas sweater race, a zombie walk, a Mardis Gras Carnivale, an all-day free "Yoga for Peace" event and a marathon that goes straight up (and then down) Pike's Peak.
The downtown's late 19th century buildings, part of the town's 752-strong swath of historically significant structures, have been converted into one-of-a-kind galleries and boutiques such as the Leprechaun Shoppe (it sells Irish memorabilia), Kinfolks (where people take their dogs to hang out), the Dulcimer Shop, run by a tie-dyed former mayor and the just-opened Precycle that's owned by a yoga teacher who worked the Renaissance Festival circuit until she and her husband had a baby and felt the need to settle down.
Another benefit to this eccentric artsy mountain town is that anyone who spends $75 or more (on restaurants, hotels, attractions) scores a free ski pass to Monarch Ski Area.
The Cliff House, a sprawling historic hotel ranked by Travel+Leisure as one of the world's top 100 hotels, is right off the main drag and provides a perfect, even affordable spot, to settle in before wandering. I'm writing this, in fact, from the Henry Ford suite that has a fireplace, hot tub and stunning views of downtown.
Another don't-miss in Manitou Spring is Adam's Mountain Café, a wonderful restaurant with locally-sourced, made-to-order food. There's usually a wait, unless you're game for the local's community table. When I was there, it was empty, presumably because of the curse. After moving to a former spring-fed bathhouse (there are several dozen mineral springs in town), this 25-year-old institution is believed by locals to be damned by Indian spirits unhappy with white man's desire to profit from sacred healing water. Doesn't seem to be a huge problem for tourists who keep it continuously busy and praised.