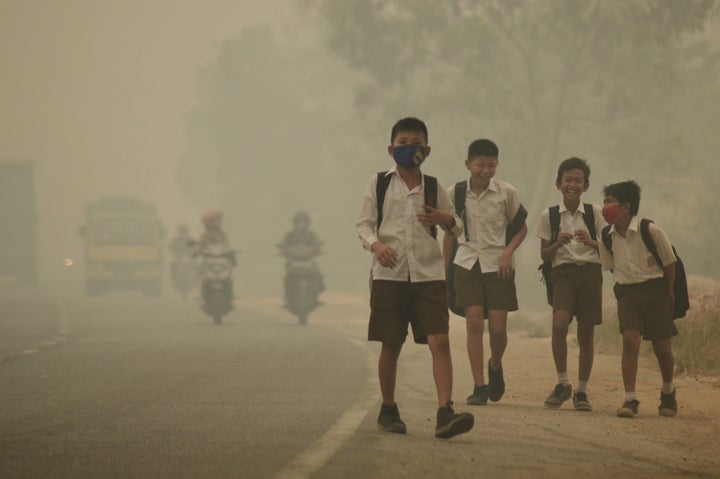 Air pollution is killing the world's children.
At least 2 billion kids globally are exposed daily to unhealthy levels of outdoor air pollution, according to a sobering UNICEF report released Monday. And about in 1 in 7 — or 300 million children — live in areas with the "most toxic levels of outdoor air pollution," measured as six or more times higher than standards set by the World Health Organization.
Although some regions of the world were pinpointed as having particularly large populations of children exposed to unhealthy air ― South Asia and Africa have 620 million and 520 million, respectively ― UNICEF stressed that the crisis is a global one that also affects Europe and North America.
About 120 million children in Europe live in areas where outdoor air pollution exceeds international limits, the United Nations agency reports.
The global impact of air pollution "is commensurately shocking," UNICEF Executive Director Anthony Lake said in the new report. In 2012, air pollution was linked with 1 out of every 8 deaths, globally ― or around 7 million people, including approximately 600,000 children under 5 years old.
Air pollution poses a far greater risk to children than adults because their lungs, brains and immune systems are still developing. Their respiratory tracks are also more permeable, leaving them more susceptible to diseases linked to unhealthy air, including asthma, pneumonia and bronchitis.
"Ultrafine, airborne pollutants ― caused primarily by smoke and fumes ― can more easily enter and irritate children's lungs, causing and exacerbating life-threatening disease," Lake said. "Studies show these tiny particles can also cross the blood-brain barrier, which is less resistant in children, causing inflammation, damaging brain tissue, and permanently impairing cognitive development. They even can cross the placental barrier, injuring the developing fetus when the mother is exposed to toxic pollutants."
UNICEF said it hopes the report, which it released one week before the COP 22 climate conference in Morocco, will prompt immediate government action to reduce air pollution worldwide and to increase children's access to health care.
"We protect our children when we protect the quality of our air," Lake said on Monday. "Both are central to our future."
The burning of fossil fuels and vehicle emissions are two leading causes of global air pollution, according to the report, which used satellite images of outdoor pollution and ground data. UNICEF has called on all governments to curb fossil fuel combustion and to invest in energy efficiency and renewable energy sources.
"Climate change already threatens the well-being of children. Cutting back on fossil fuel combustion and investing in renewable energy sources can help reduce both air pollution and greenhouse gases that contribute to climate change," the UNICEF report said. "The multiplier effect of reducing fossil fuel combustion on the wellbeing of children stands to be enormous."
Popular in the Community