Air pollution on city streets can wipe out the beneficial health effects of exercise for people aged 60 and older, according to a new study led by scientists at Duke University and Imperial College London.
Short-term exposure to traffic exhaust in built-up areas like New York City's Broadway or Chicago's Michigan Avenue can cancel out the positive effects a two-hour walk would otherwise have on the hearts and lungs of these older adults, according to the findings, published Tuesday in medical journal The Lancet.
While participants who walked in a park were found to have a significant improvement in their lung capacity, which lasted as long as 24 hours, those that walked on a polluted main street saw few if any benefits.
"Combined with evidence from other recent studies, our findings underscore that we can't really tolerate the levels of air pollution that we currently find on our busy streets," said Fan Chung, professor of respiratory medicine and head of experimental studies medicine at Imperial College's National Heart & Lung Institute.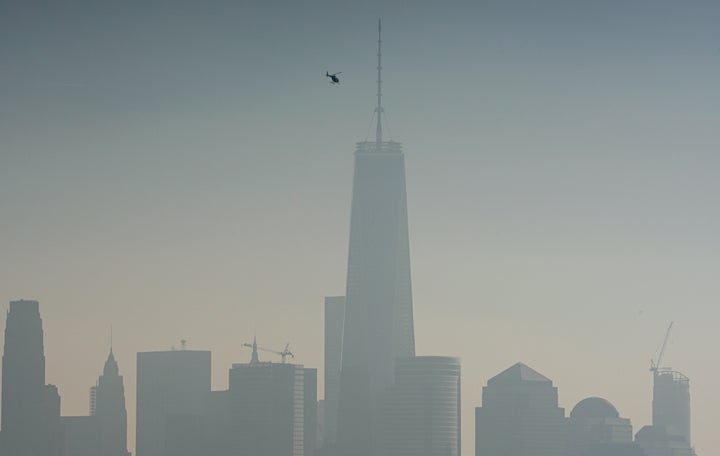 Globally, outdoor air pollution causes an estimated 4.5 million deaths a year. Air pollution exposure has been linked to increases in hospital admissions and deaths from cardiovascular diseases, respiratory diseases and lung cancer. A key culprit is cars, since emissions from gasoline- and diesel-powered vehicles are one of the main sources of pollutants such as nitrogen dioxide and particulates.
"For many people, such as the elderly or those with chronic disease, the only exercise they very often can do is to walk," Chung said. He said he believes the results of the new study, carried out in London, would be replicable in many North American and European cities. He also said the impacts are likely to apply to other age groups, but further studies are needed on that.
The report calls for stricter air quality limits, better traffic control measures and greater access to green spaces. Chung also said the study indicated individuals should avoid busy, congested areas whenever possible and opt for green spaces instead. He acknowledged that may be hard ― and costly ― for those living or working in inner cities.
"Our hope is that this study will add to the evidence city leaders need to contribute to policies that will encourage preservation of green spaces," said Jim Zhang, professor of global and environmental health at Duke and study's co-author.
He added: "As economic growth and urbanization happen around the world, lots of cities are left with very little green space. ... People like outdoor exercise. We should provide them with spaces to enable that instead of giving them no choice but to walk and cycle through busy, polluted streets."
Brooke Havlik, communications director for the New York-based nonprofit organization WE ACT for Environmental Justice, said that far from improving the situation, the U.S. is going backward at a federal level when it comes to combatting air pollution.
"The Trump administration and Environmental Protection Agency Administrator Scott Pruitt are actively working to dismantle critical public health and clean air protections," she said.
Poor air quality is creating a public health crisis in the U.S., said Natalie Nava, project leader at the environmental group Greenpeace USA.
She noted that although the Obama administration proposed stronger fuel efficiency standards for vehicles to fight air pollution, since President Donald Trump took office, "car companies have actually been lobbying ... to get these standards rolled back."
"As long as American automakers drag their feet on fuel standards and other sustainability regulations, they're showing that they care more about their short-term financial interests than they do about long-term benefits for public health, the planet, and even the economy," she said.
For more content and to be part of the "This New World" community, join our Facebook Group.
HuffPost's "This New World" series is funded by Partners for a New Economy and the Kendeda Fund. All content is editorially independent, with no influence or input from the foundations. If you'd like to contribute a post to the editorial series, send an email to thisnewworld@huffpost.com.