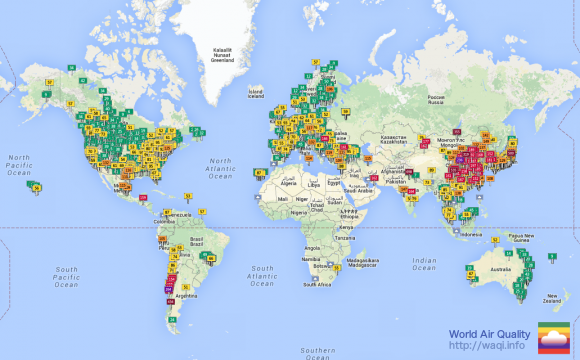 Ever wondered about how your town or travel destination's air quality might affect your health? Here's your chance to find out.
On Sept. 18, the Beijing-based environmental nonprofit Air Quality Index China released a real-time, interactive map displaying air pollution levels around the world. The AQICN map, which automatically updates every 15 minutes, compiles verified data from official environmental protection agencies about 1,000 locations, and displays each site's air quality index on the map. Users can see a full report and breakdown of a location's air quality and pollution forecast by clicking on one of the flags.
The indices are based on the U.S. Environmental Protection Agency's air quality index scale, which measures five major air pollutants (ground-level ozone, particle pollution, carbon monoxide, sulfur dioxide and nitrogen dioxide) to calculate a location's air quality and the possible health effects. Each site is color-coded to display its current level of pollution according to the scale, which can be seen below.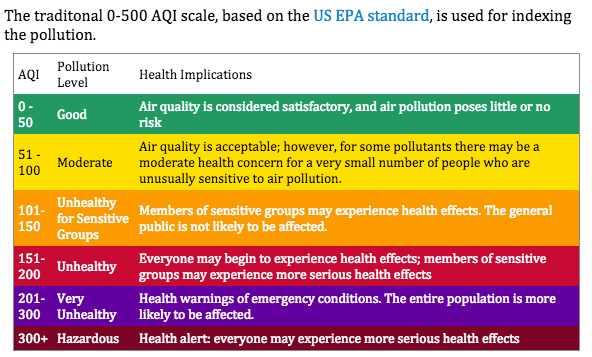 The data is by no means complete, however. Most of Central Asia and almost all of sub-Saharan Africa lack information on air quality. However, AQICN aims to increase its station coverage by 10 to 20 percent a year, according to the group's website.
AQICN's new map launches as international researchers sound louder alarms about air pollution's profound health effects in China -- where 4,400 people die from air pollution each day, according to an August 2015 study by the U.S. nonprofit Berkeley Earth. Beijing's inhabitants breathe in the equivalent of 36 cigarettes a day, Berkeley Earth Scientific Director Richard Muller said in a press release.
On Sept. 20, six runners and a race official suffered heart attacks during the Beijing Marathon due to extreme air pollution. The U.S. Embassy in Beijing recorded an AQI level of 175 that day.
As of Tuesday afternoon, China's northeastern region -- where major cities like Tianjin, Beijing and Shanghai are located -- appeared to have air pollution levels classified as "unhealthy for sensitive groups" and "unhealthy." Some locations even verged on being rated "very unhealthy," according to the scale.
Most cities in the United States and Europe, on the other hand, displayed "good" to "moderate" pollution levels.
Chinese officials are becoming more aware of environmental practices in their country, however. During his first state visit to the U.S., Chinese Premier Xi Jinping is slated to prioritize clean tech partnerships in his discussions with U.S. politicians and organizations. On Sept. 15 and 16, U.S. and Chinese leaders also pledged to lower their countries' emissions significantly and cooperate on implementing their respective climate change goals.