If you dream of a world where people use air-powered umbrellas that resemble personal massagers to fight the rain, you can wake up. The future is now.
The creators of a new Kickstarter campaign claim to have developed an umbrella that pushes air against the rain to protect its owner from getting wet, and they've blown way past their $10,000 funding goal. They call it the Air umbrella.

This is how it apparently works?
There's a lot to digest here. Is it real? Doesn't this seem like an overly complicated solution to a fairly simple problem? Wasn't that fairly simple problem already solved by, um, normal umbrellas? And doesn't the Air umbrella look a lot like a sex toy?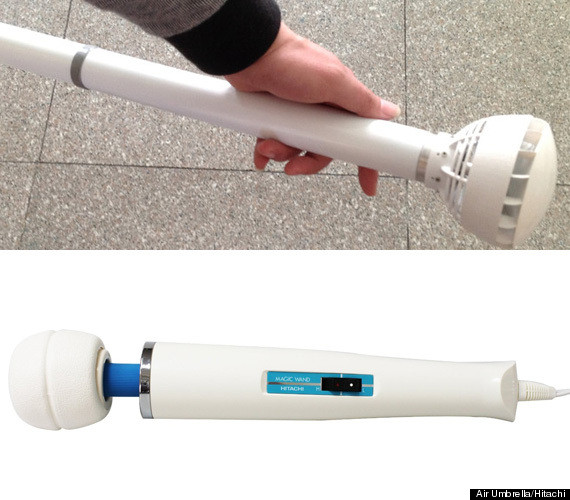 The Air umbrella (top) compared to the Hitachi Magic Wand (bottom), a personal massager.
The makers of the Air Umbrella didn't respond to our emails, so we took to the Kickstarter page's FAQ section for some answers. Apparently, it has been tested "with rain coming down at an angle," so, yeah.
Unfortunately or luckily (depending on your disposition), the product may change significantly before it goes to market. The China-based makers of the umbrella say in a promotional video that they "are making great efforts to improve the appearance, handness and battery life of our product."
What does "handness" mean? What the hell is going on? Who knows.
Clarification: The bottom photo in this post includes an image of the Hitachi Magic Wand massager to compare its similarity with the Air umbrella.
Popular in the Community