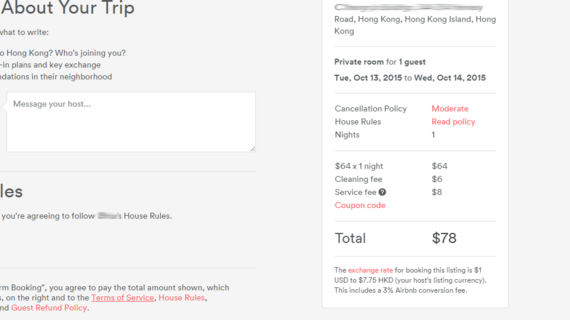 Imagine my surprise when I found out Airbnb charges a foreign transaction fee on top of listings booked outside the country.
One of our readers Ted pointed this fact out a little while ago when we originally posted on the fact that it's sometimes possible to save money on airfare by paying in a different currency. Turns out, by using the same tactics, it's also possible to save an easy three percent on Airbnb bookings through this method.
Unsurprisingly, Airbnb does a pretty terrible job highlighting the fee with every international booking and hides it in tiny font underneath the price. An automatic 3% is charged on top of the base rate, usually the local currency. I surmise this is supposed to account for the conversion fees Airbnb has to pay. (It's important that you need a credit or debit card that doesn't charge foreign transaction fees for this to work or otherwise.... you pay end up exactly the same amount you originally would.)
I was reminded of this when my current man friend -- who happens to be Australian -- booked our accommodation for a road trip up the Californian coast. Out of curiosity, I compared the booking totals with the prices I was getting in American dollars.
Foreign transaction fee existence confirmed. If I had booked it, we would have saved a total of $22.46 off all our bookings which totaled $831.46. (But hey, I like being wooed.)
Now onto the good part. The quickest way to avoid the fee is to go to the dead bottom of each individual listing. In the lower-left hand corner, there's an option to change language and currency. Do not go to profile country (the point of sale) in your account because it just messes things up. Also, the footer settings seemed to override those preferences. That's all there is to it.
But I wanted to see how different currencies compare across the board, so we tested four different Airbnb properties in different countries around the world with five different currencies. The majority of the time, the local currency yielded the cheapest price, with the glaring exception of Rio de Janeiro. (Note: it did come dangerously close, though. The Australian dollar and Swedish krona were used as controls.)
The cheapest currencies are bolded for easy reference.
One interesting thing to note is Ted pointed out that:
Some currencies still settle in a "base" currency. I think when I tested RUB, the listings displayed in RUB but Airbnb said they'd bill me in EUR. Similar results when I tested a few European currencies.
But perhaps the biggest sticking point here is that this hack only works if you have a credit or debit card that's travel-friendly and doesn't charge these fees, otherwise the savings are nonexistent. Disregarding that, it's a no-brainer thing to tweak one setting.
Thanks Ted for the tip! And if you've got tips for us, be sure to send them in.
UPDATED May 25, 2014
One of our readers so on and bla bla can't verify let us know if this works or doesn't work. There seems to be some doubt about whether this is true, though.
Your cards are registered to an American address, we means we have to charge in USD. We are only ever allowed to charge based on the location of the billing address. There's no way around that in our system, unfortunately.
Read More
: