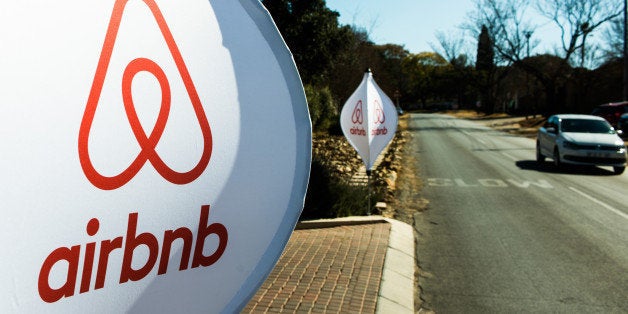 Let's get this out of the way: Airbnb is fairly amazing. These days, with the click of a button, you're at home pretty much anywhere around the globe, whenever you want to be. For those who can't stop exploring, it's easier than ever to stay mobile at a price that's often remarkably affordable.
Yes, Airbnb is terrific -- until it's not. Airbnb is still largely illegal in some cities -- New York has been fighting with the company for years. Amsterdam is currently clamping down, hard. In many destinations, hosts choose to ignore building and municipal rules regarding short-term rentals, asking their guests to straight-up lie if confronted by neighbors. Many cities haven't yet figured out how to collect taxes, giving hosts a major advantage over local hotels that they have in no way earned. Then, of course, there are Airbnb's own fees, which can be downright punishing to the budget traveler.
Finally -- after all that! -- there's your actual stay. It doesn't matter how taken you are with the low, low price of that flat in Paris. With Airbnb as with anything, you typically get exactly what you pay for. Sometimes, a whole lot less.
After a number of years weighing the pros and cons, I find my enthusiasm for Airbnb waning, more than just a little. I'm still loving life on the road, but for much of 2016, I've opted to find housing through different channels. Here are five reasons why.
#1 Everyone's full of it.
I'm all for the site's policy of hosts being able to publicly review their guests, but with positive feedback crucial to both parties' continued success on the site, serious site users are sometimes forced to lie through their teeth. I've been in situations where I've wanted to buy billboards to warn people off certain hosts and listings. Instead, I've ended up leaving no review at all, simply because I don't want to poke the bear. Many users feel the same way -- this is how too many average listings become "amazing" and how an indifferent host becomes "the best ever." A good 50 percent of the time, I find that reviewers are either completely ignoring or straight up lying about issues I'd loved to have been made aware of beforehand.
#2 Too many hosts don't know how to clean a house.
Over a four-year period, I've lost track of how many homes I've stayed in where they -- from the flakiest noob to Superhosts with hundreds of five-star reviews -- hadn't properly dusted or picked up the pet dander. Windowsills black with soot, air conditioners gummed up with junk, central air ducts that belched out particulate matter, dust bunny farms under the bed -- I've seen it all. Over and over (and over!) again. In my case, this means that I either take pricey allergy medication every night or I don't sleep well. I'm done hoping for the best -- if a unit isn't professionally (or at least properly) cleaned between guests, I won't book.
#3 In many destinations, Airbnb can be poor value for short stays.
From the Pacific Northwest in the winter to Mexico City anytime, never assume that Airbnb is the most cost-effective route. Outside of the high season, I can typically get a clean, quiet hotel room within walking distance of the seawall in Vancouver for the same or less than a dank, cheaply-decorated basement suite in a boring residential area far from the Skytrain, while in places like Mexico City, there are decent budget properties near the Alameda that easily beat out yet another poorly-insulated Condesa flat where the hot water only works on alternating Tuesdays. Then there are cities like Portland, Ore., where taxes are now so considerable, it's foolish to not cross-check with hotel rates, particularly during low season. Simply: For stays of less than a week, always check hotel rates. At the very least, you'll have a better understanding of how much you're saving with Airbnb.
#4 Some smart hosts now cross-post to HomeAway/VRBO (now the same company), Booking.com and Priceline (also now the same company), making Airbnb less useful.
See something you like on Airbnb? Before booking, see if it's listed somewhere that doesn't charge Airbnb's hefty fee. Even with the most flexible of policies, canceling an Airbnb stay won't get you the fee back -- I recently lost nearly $100 when nixing two relatively cheap, short-term stays that offered fully flexible terms. Incidentally, I'd cancelled them when a vastly-superior long-term opportunity came up through HomeAway. There, I was offered a full refund if I decided to cancel, as long as I did so 30 days in advance. That's a lot better than Airbnb's long-term cancellation policy: I'd have lost every penny of the first months rent, even if I changed plans months ahead of my stay.
#5 Too many hosts have no idea what hospitality means.
From row houses in deepest Baltimore to ocean view homes in sunny Southern California, Airbnb has allowed me to meet amazing people in all sorts of different places, seriously wonderful human beings who think nothing of opening their homes and hearts to strangers. It's an inspiring experience. Also, it almost never happens. In my experience, you're far more likely to meet people who really, really need to make money. They'll rig up every closet and garage space and spare room, pimp it out for a quick buck, watch travelers lap it right up and get furious with people like me who say, hold on, wait a minute, are you serious? From the Venice Beach loft hastily split into a duplex, where a barely-papered window in the shared wall allowed the neighbors to peer into my living room while sitting on their toilet (no, seriously) to an overpriced guest cottage in Portland that offered sweeping views of beer-swilling hipsters on an unapproved, multi-day team building exercise in and out of the main house while hosts traveled overseas, to countless grotty rooms everywhere, each with a cheaper Ikea bed than the last, I've had so many experiences I never want to repeat, let alone relive, I sometimes wonder: Is this relationship worth saving?
Other stories you might like: