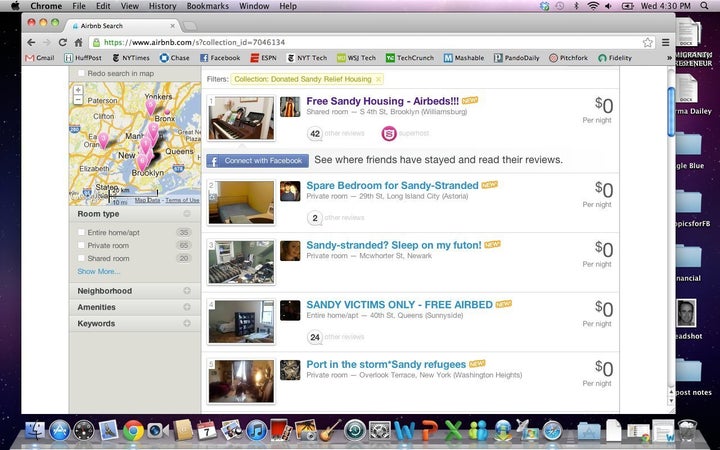 New York City officials and Airbnb said Wednesday they had struck a partnership to help connect victims of Hurricane Sandy with free short-term housing.
Airbnb, which launched four years ago as a way to aggregate short-term rental listings, makes money by taking a commission from rentals on its site. But in a blog post, the San Francisco-based startup said it would not recoup fees from the free listings in New York City offered by Good Samaritans in the wake of the superstorm.
Airbnb had already seen "hundreds" of last-minute bookings in areas that were hit hard by the storm and was "overwhelmed with the kindness and generosity of the Airbnb community." But the startup said its community needed "to do even more."
As of 4 p.m. more than 100 members of the Airbnb community around New York City had volunteered their homes for free. "Safe cozy home for hurricane victim," one post was titled. "Sandy Disaster Workers Welcome," another was titled.

"You're more than welcome to stay through the storm," said one poster, who was offering an apartment that sleeps five people, free of charge. "People have helped me when I was screwed, and I really want to offer what I can to help you."
Another poster who was offering her Upper East Side apartment for free to Sandy refugees, wrote: "Hopefully this will workout and I can keep someone from dealing with the darkness downtown or being in a shelter until things begin to turn around. I welcome the company!"
The partnership is notable because New York City and Airbnb have often been at odds. Under a 2011 New York state law, short-term rentals like those offered on Airbnb are illegal, and city officials have been cracking down.
Since the law took effect, the city issued more than 2,500 violations, according to Businessweek. In September, New York city officials increased the fines on landlords who convert residential housing into unregulated hotel rooms to as much as $25,000, saying they violate city building code, damage neighbors' qualify of life and put tourists in danger.
Airbnb responded by telling The Wall Street Journal, "it would be a shame for the city to stifle this new form of economic activity that New Yorkers have helped pioneer."
But on Wednesday, there were no signs of acrimony between the city and the startup -- only a call for help. The Twitter account for the mayor's office tweeted the announcement of the partnership.
"There are thousands more people in need of shelter," Airbnb said on its blog. "And there are still thousands of people with extra space. It's time to come together."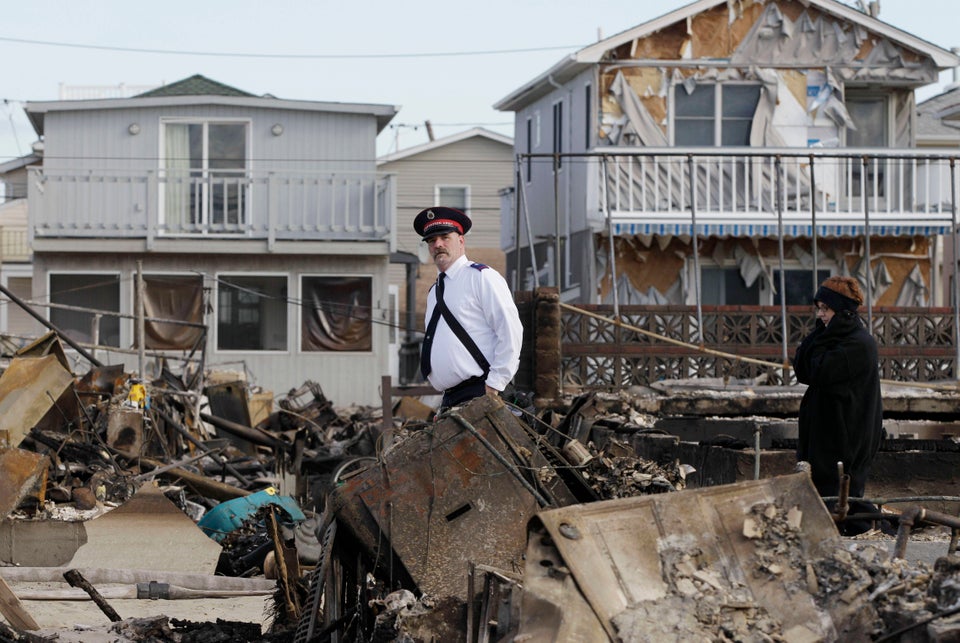 Hurricane Sandy
Popular in the Community