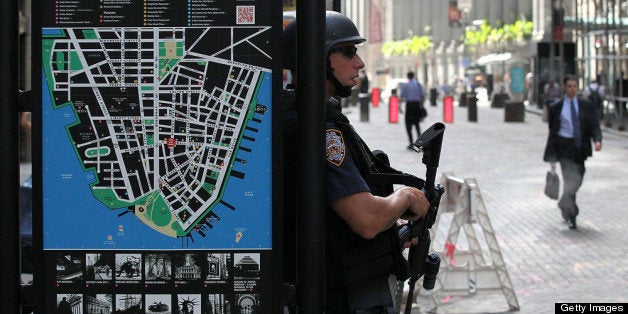 A multimillion-dollar airflow study will be conducted this summer to help authorities better understand the risks of airborne terrorist attacks on New York City and its subway system, including those posed by chemical, biological and radiological weapons.
The NYPD and experts from the U.S. Department of Energy's Brookhaven National Laboratory will conduct the tests in July. The Subway-Surface Air Flow Exchange study, or S-SAFE, is funded by a $3.4-million transit security grant from the U.S. Department of Homeland Security.
The study, according to a statement released Wednesday by NYPD Deputy Commissioner Paul J. Browne, is "the first of its scale to study airflow in a dense, complex urban environment both below and above-ground." Researchers from the Argonne National Laboratory and the Los Alamos National Laboratory, along with other meteorologists and engineers, will assist scientists from BNL as they "track the movement of harmless tracer gases" through the urban atmosphere -- monitoring that movement through about 200 air-sampling tracking devices placed both at street-level and in the subway system.
As part of the study, the statement released by the NYPD said, researchers will disperse low levels of gases known as per fluorocarbons at select subway and street locations over three nonconsecutive days in July.
The U.S. Environmental Protection Agency considers man-made per fluorocarbons to be "greenhouse gases" -- and regards some as being harmful to the environment, according to its website. But the statement Wednesday characterized per fluorocarbon tracer gases as "harmless gases," describing them as nontoxic, inert, odorless and invisible.
The research is scheduled for daylight hours at locations in the Bronx, Brooklyn, Queens and Staten Island, as well as in Manhattan between 59th Street and the Battery, officials said.
The NYPD said it will use the data collected from the study to "optimize emergency response" following an intentional or accidental release of hazardous materials into the atmosphere.
The main focus, however, remains to formulate a response to a potential terrorist attack.
"The NYPD works for the best but plans for the worst when it comes to potentially catastrophic attacks such as ones employing radiological contaminants or weaponized anthrax," NYPD Commissioner Ray Kelly said in a statement Wednesday, adding: "This field study with Brookhaven's outstanding expertise will help prepare and safeguard the city's population in the event of an actual attack."
The study will help the NYPD and other emergency responders to better understand how contaminants disperse in the atmosphere -- and what can be done to better protect the population both above and below ground in an attack. ___
Distributed by MCT Information Services
Related
Popular in the Community