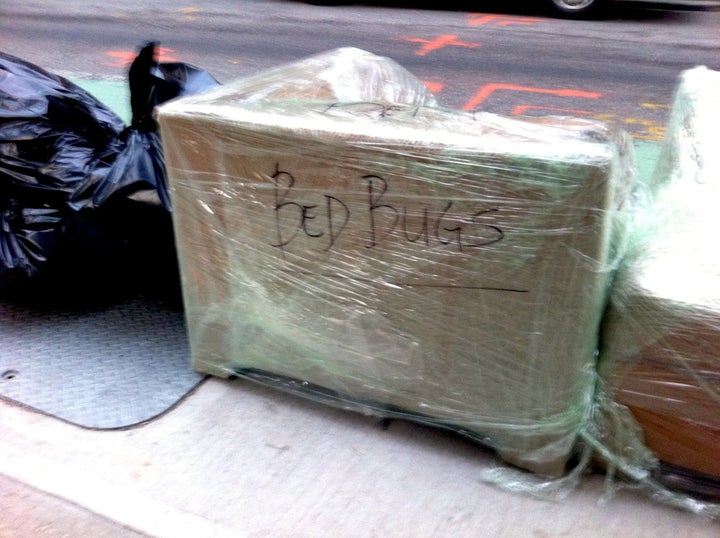 Going through my travel checklist, I have my toothbrush and toothpaste, brought plenty of socks and didn't forget my sunscreen. Now I'm sitting in row 32 seat B and all I can think of is how many times the lady sitting next to me has scratched her arm. Close quarters on this major airline carrier. Suddenly, I'm thinking that maybe I should have brought some bug spray. 403 seats mean 403 chances to get bed bugs!
In the ever-changing travel business, we as consumers have to stay up on all of the latest rules and regulations. One day you can't bring an open plastic bottle of water on a flight and the next you are being charged for your checked luggage. Now, an underreported concern that most are unaware of is finding its way onto your airplanes too -- bed bugs!
This past year, cases of planes having to be treated for bed bugs have been on the rise. While most of us are worrying if our flight will be on time and if we remembered to pack enough socks, bed bugs are making their way into our business class seats.
This is why I've compiled some tips to keep in mind when flying:
• When making flight reservations, ask the airline representative what steps they take to keep bed bugs out of their passenger areas.
• For packing your luggage, use an over the counter bed bug spray such as Pronto Plus. Spray the inside and outside of your empty luggage. Always follow the instructions on the label.
• Once on the flight, personally inspect your seating and surrounding area.
• Be sure to look for shed bed bug skins/shells, reddish brown streaks or spots and bed bug eggs -- you may even see a bed bug if there is a high level of infestation on the aircraft.
• If you see any signs of bed bugs, notify the cabin crew immediately.
• Use your own travel pillow, not an airline provided pillow.
• Afterwards, be sure to carefully inspect your luggage once you leave the baggage claim. If you spot bed bugs or eggs, notify the appropriate parties immediately.
You can also check out additional tips for preventing a bed bug outbreak below.
• How to Detect Bedbugs while Traveling
• How to Detect Bedbugs in the Home
• How To Detect Bedbugs In a Vehicle
Always remember, there are many things we can do to stay bed bug free, but the most important personal protection tip to keep in mind is to stay educated. Education is the key to staying bed bug free.