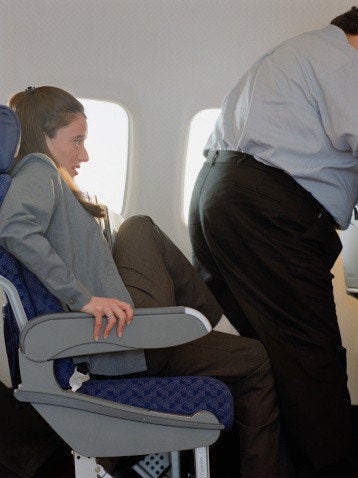 Airlines might soon be able to introduce a so-called "fat tax" if the U.K. Court of Appeals has anything to do with it.
According to a court ruling, passengers cannot sue for embarrassment caused when on board a plane. This precedent came after Thomas Cook and British Airways won a case against two disabled passengers who sued them for their poor treatment on their flights, the Daily Mail reports.
The court cited the Montreal Convention in the case, which governs air travel rules. English lawyer Daniel Barnett explains that the ruling could prevent overweight passengers from suing airlines over their treatment on flights and could introduce, essentially, a "fat tax." "The ruling confirms that disabled passengers have no right to dignity once the wheels leave the runway," he told the Telegraph. "It also means that airlines are immune if they choose to embarrass overweight passengers by demanding a fat tax."
"Today's court ruling makes it clear that airlines will never be liable for hurt feelings," said Barnett to the Daily Mail. "Anything cabin crew say to passengers when they are on board will be done without fear of the consequences."