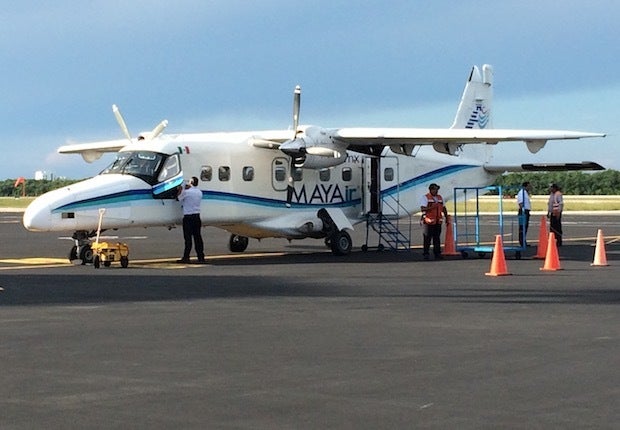 Are you afraid of small planes? During my recent trip to review the recently renovated Presidente InterContinental hotels in Cancun and Cozumel for TravelAge West, I flew MAYAir between both Mexico beach destinations. I found it to be a great photo opportunity and a perfect entry for my Latin America travel blog, LatinFlyer.com. This is a review of my experience.
THE ROUTE: Cancun International Airport (CUN) to Cozumel International Airport (CZM); Dornier 228; 20 minutes; single-class economy service
THE DEPARTURE: We arrived at Cancun International Airport about an hour before departure time. MAYAir, a Cancun-based airline that was founded in 1994, flies from the FBO terminal, a small but very modern and clean building that also serves private aircraft. Check-in took a total of about 12 minutes, including a brief wait in line and taking a seat at the check-in desk, where the ticket agent weighed my luggage and informed me that I'd need to gate check my larger carry-on, due to the size of the plane.
The check-in counter and waiting area for boarding are both located in one rectangular room, and security is performed only at the moment of boarding, in front of the door that leads outside (it's necessary to walk across the tarmac to the aircraft, unless you request assistance).
THE AIRCRAFT: The MAYAir Dornier 228 is a 19-passenger twin-turboprop aircraft designed for short routes. Don't expect too many amenities aboard this boxy little airliner; there is no flight attendant, and no cockpit door (which can be interesting if you like watching the pilots work).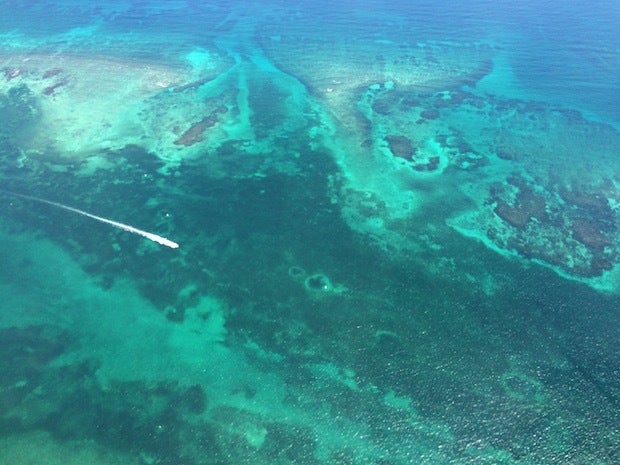 INFLIGHT ENTERTAINMENT: MAYAir's version of an inflight magazine, iTips, is the only entertainment on board (other than watching the pilots). But the real excitement comes from the view — all seats are window seats, and the fact that the wings are over the windows means that everyone has a front-row seat to gaze at the gorgeous turquoise Caribbean waters below.
THE ARRIVAL: We arrived on schedule at Cozumel International Airport, and walked across the tarmac to the baggage claim area. The airport was uncrowded and we easily found our ground transportation shuttle, which whisked us off to the Presidente InterContinental Cozumel.
THE RETURN: We flew MAYAir back to Cancun the following afternoon, and it was an equally low-stress experience. There is only one terminal at Cozumel International Airport, so check-in and departure is from the same building as international flights and larger jet flights to other Mexican destinations. But since there were no other departures scheduled at the time we were there, the terminal — which is much larger than Cancun's FBO terminal but much smaller than Cancun's main scheduled airline terminals (2 and 3), is clean and efficient, with a fast security clearance and one big gate area — with no line for check-in or security. Unfortunately all the stores were closed, since there were no large-jet flights departing, and also no electrical outlets to charge devices, so there's room for improvement with that. If you have time to kill and want extra amenities, there is a Caral VIP Lounge, which is a member of Priority Pass and Lounge Club.
HATE SMALL PLANES? If you're nervous about small planes, another option for travel between Cancun and Cozumel is the ferry. You can take a 50-minute taxi ride from Cancun to Playa del Carmen, and board a 50-minute ferry ride. Obviously, the 20-minute flight is a big time saver — airfares were about $63 one way when I did a random check, but you may find better deals.
Calling all HuffPost superfans!
Sign up for membership to become a founding member and help shape HuffPost's next chapter
This post was published on the now-closed HuffPost Contributor platform. Contributors control their own work and posted freely to our site. If you need to flag this entry as abusive,
send us an email
.