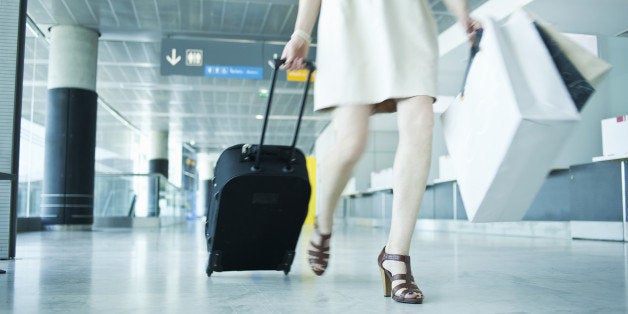 Recently I had a very unpleasant surprise in the TSA line at New York's JFK airport. No, they did not do a touchy-feely pat-down or confiscate something.
Just before actually getting to the TSA agent's podium, a red-jacketed person (who I believe was hired by American Airlines as a subcontractor but not an actual employee) insisted that I put my beloved Rimowa four-wheeled suitcase in a bag sizer. Keep in mind that I was flying in business class, and that I've taken this same 21-inch suitcase all around the world on almost every major airline and quite a few not-so-major ones.
To make a long story short, it was rejected as "too big." What I didn't realize, because it's never become an issue, is that American (as well as Delta and United) have fairly new carry-on bag limits, including a 14-inch maximum width, and my Rimowa is 15 inches wide, as are many carry-ons. Even though it's an inch shorter than the 22-inch length limit, and an inch shorter than the official 9-inch depth limit, back to check-in I went. And the line was so long I almost missed my flight. I was then told that this is a new "FAA regulation" but I doubt that's true, since some airlines still have more generous allowances.
One of my colleagues insists that this is a revenue ploy by the airlines: enforce the limits to the letter, and they'll get more checked bag fees (since I was flying in business class I didn't pay a fee, but others might not be so lucky).
And these size limits are fairly recent policies. In fact, United made the change on March 2, 2014. Their previous policy was that no dimension could be over 22 inches and the total overall dimensions no more than 45 inches. So these very specific measurements really change the game, and will be causing a lot of headaches -- and heartaches when people learn they will have to leave their very expensive (in some cases) favorite bags in the closet or sell them on eBay.
Or change airlines. It's interesting that not all airlines have the same size limits. Southwest and JetBlue have a more generous 24-by-16-by 10-inch carry-on limit, which, again, makes that "FAA" claim suspect.
If you're looking for the "perfect" carry-on bag, here's some advice.
First, obviously, make sure it's small enough to comply with even these new, more stringent size limits. Second, four-wheeled suitcases (so-called "spinners"), I've found, are easier to handle than two-wheeled models (and should you ever have to check your bag for whatever reason, spinners are treated more gently by baggage handlers, as this explains). But surprisingly, there aren't that many rolling carry-ons that meet the new Delta/American/United guidelines. The issue isn't with the 22-inch length because there are plenty of those available; where they fall "short" is exactly where I got nabbed: in the 14-inch width. In fact, I couldn't find a single suitcase from my beloved Rimowa brand that qualified, nor could I find a current model from Samsonite.
And third, consider getting a suitcase with a good warranty.
Some of the four-wheeled carry-ons that do fit all airlines' limits are the Briggs and Riley U122CX Baseline at 21 by 14 by 7.7 inches and 8.9 pounds (approximately $469) and the Travelpro Platinum Magna at 21 by 14 by 9 inches and 7.6 pounds (approximately $239). Although the Briggs and Riley is more expensive, it does come with an unconditional warranty: no matter who's at fault (you, the airline, or any other party) they'll fix it for free for as long as you own it.
A great budget choice is the hard-sided CalPak Valley 20-inch Carry-On Spinner at 20 by 13.5 by 9.2 inches and 7 pounds (approximately $60).
With a little research, you'll find that several other carry-on bags meet the new size requirements, but many current models are too big by just an inch or even a half-inch. And don't assume that you'll be able to sneak by just because your bag is an inch too big. As I discovered, that may not happen.
Other stories you might like:
Related