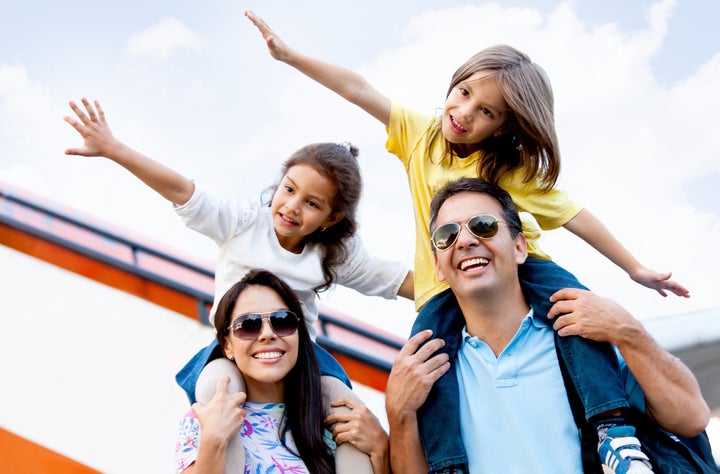 Howard County, Maryland's Amanda L. was flying United Airlines to Chicago with her two-year-old son and five-month-old daughter. They were going to visit her husband, who was away on business. Though she had requested seating in advance, she was advised by the reservations agent that she'd have to sort it out at the ticketing counter, where she was then advised to sort it out with the gate agents. The gate agents told her she'd need to enlist help from the flight attendants.
As we boarded the plane I approached the flight attendants and said, "I need your help, my two year old and I are not seated together." They laughed and said if I could get someone to change seats we could sit together and that my two year old could sit alone. I walked down the aisle behind my two year old and my eyes began to fill with tears imagining how scared he'd be if he had to sit alone. I started to cry and by the time we reached the aisle of our first seat 32A which was four aisles away from our other seat in 36B and a woman in 31C asked how she could help. I asked the man in 32B if he would switch with us and he did.
Hearing this story really harshed my mellow, especially after my inspiring travel experiences only days before. And now , this article by the Associated Press, which has been picked up by thousands of outlets. It states:
Airlines are reserving a growing number of window and aisle seats for passengers willing to pay extra. That's helping to boost revenue but also making it harder for friends and family members who don't pay this fee to sit next to each other. At the peak of the summer travel season, it might be nearly impossible. Buying tickets two or more months in advance makes things a little easier. But passengers are increasingly finding that the only way to sit next to a spouse, child or friend is to shell out $25 or more, each way.
Further in the article it's clarified that "Since last summer, American, Delta Air Lines, Frontier Airlines and United Airlines have increased the percentage of coach seats requiring an extra fee. Some -- like those on Delta, JetBlue Airways and United -- come with more legroom."
Almost across the board, the minimum age for an unaccompanied minor to fly on a plane is five. I figured if an airline would not guarantee a young child be seated with their parent or guardian, they were in violation of their own unaccompanied minor policies. In order to get to the bottom of this, I reached out to all the airlines name-checked in the article. All but one got back to me, and here's what they said:
Morgan Durrant of Delta Airlines said if you book online via their site, you select your seats right away at no extra charge. If you book your flights online via another website (Expedia, Travelocity, etc.), you can still then go online to Delta's website with your confirmation number to choose your seats free of charge.
American Airlines' Tim Smith emailed me to confirm that any seating policies referred to in the AP article are not new and that by booking online there is the option of pre-selecting your seats at no extra charge. He clarified that "there are seats available for free at the time of booking -- depending on how early you book and how full the flight ultimately becomes."
Allison Steinberg of JetBlue confirmed that "we do not charge additionally for window or aisle seats, and our E190 aircraft have only window and aisle seats with our two-by-two seat configuration." JetBlue does have a seat upgrade offering a number of perks that you can pay extra for, but it is not a requirement to do so unless the flight has already booked up.
Frontier Airlines' Lindsey Carpenter explained that "there are seats on our aircraft that we block for premium passengers ... The remainder of our aircraft is open for advanced seat assignments for all classes of tickets. If, for any reason, a parent and child can't get seats together, our wonderful customer agents will work with the customer at the ticket counter or gate to get them seated together."
Jessica Wheeler, Public Relations Manager for Allegiant Travel Company, did her best to break down Allegiant's complicated seat selection and boarding processes. In a nutshell, you can pre-reserve seats for all your party for anywhere between $5 and $75, depending on seat placement, row and duration of flight. If you choose not to pay to pre-select (and pay extra for) your seats, families with children aged seven and under are permitted to board in the fourth boarding group, behind those with disabilities, those that have paid for priority boarding (on top of pre-paying for seats) and those that have pre-paid seats.
US Airways' Andrew Christie clarified that "the grand majority of the aircraft cabin remains open for the convenience and comfort of all of our passengers, including families who wish to sit together. It is recommended that families traveling together check their seating assignments prior to the day of departure to ensure they are seated together. If a seat assignment change is necessary, customers are encouraged to contact US Airways reservations."
Spirit's bluntness is kind of refreshing. Director of Corporate Communications, Misty Pinson, simply stated that "Yes, if families want to ensure that they have seats together, then they must pay for seat assignments." Combine that with their exorbitant fees for carry-on luggage, and Spirit Airlines may inadvertently become the child-free airline everyone seems to be clamouring for.
After repeated attempts to connect over several days, ultimately United Airlines did not respond to comment regarding seat selection, regarding Amanda's story and also regarding their termination of family pre-boarding procedures.
AP's Scott Mayerowitz followed up his article with the news that Senator Charles Schumer is requesting Transportation Secretary Ray LaHood issue rules that would prevent airlines charging parents more to sit with their children. He is also asking Airlines for America, an industry trade group, to persuade carriers to voluntarily waive fees for families flying with young children. Schumer was successful in his bid to get five major airlines to promise they would not start charging for overhead carry-on luggage after Spirit introduced their fee, so it's nice to see that traveling families do have an advocate in Washington, D.C.
But for now, the policies exist, so I guess there are a couple of morals to this story.
First, to avoid any extra fees, try to be organized and book as much in advance as you can. You have to be prepared for every aspect of travel with babies, toddlers and small children, from packing essentials to carry-on necessities, and now booking is no different. In order to connect directly with the airline, it may be well worth the time spent on hold to purchase tickets by phone.
Second, the mainstream media is still not above adding fuel to the fire of the whole anti-kids on planes movement. A story like the Associated Press article sparks outrage, which in turn ignites heated comments and then page views explode. It's a win for the media outlets, but it continues to be a loss for family travelers everywhere.