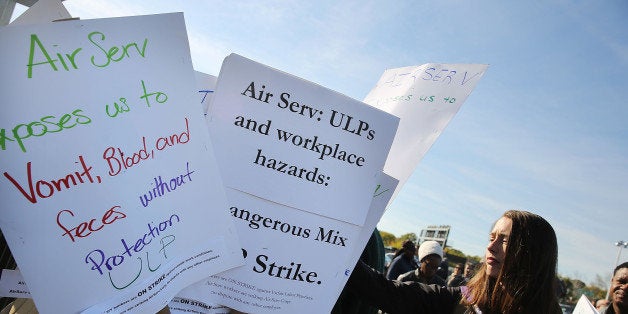 The threat of catching Ebola was the last straw for some of the LaGuardia Airport workers who went on strike early Thursday morning.
Wendy Arellano said she's helped clean planes for airline contractor Air Serv for two years. She said she earns $9 an hour helping to operate a truck that siphons human waste out of plane lavatories at the Queens, New York, airport. Three months ago, something terrible happened.
"We were emptying one of the planes and some of the waste fell and the wind blew it like right on my arm," said Arellano, 33. "When I cleaned myself in the bathroom I put alcohol and everything, [but] it started turning black and blue and it was itching a lot."
Arellano said she and her colleagues, many of whom clean plane cabins, want better working conditions. With air travel regulations changing in response to fears of the Ebola virus, the workers and the local chapter of the Service Employees International Union, which is trying to organize them, decided the time was right for 200 workers to go on strike for the day.
"This action we're taking right now is because we're concerned about our safety and we're concerned about our health," Arellano said.
The SEIU is also doing a training session to help workers deal with dangerous materials like blood and vomit. One of the workers' complaints is that the rubber gloves they're given are too thin and break instantly.
"They're not made to work outside on the ramp with feces, with vomit, with blood. And now with Ebola going on," said Arellano, a single mom whose struggle to earn a living was documented by the New York Daily News in January.
"Air Serv trains its cabin cleaners in its long-standing safety procedures and cleaning protocols including for blood borne pathogens," Air Serv spokesman Chas Strong said in an email. "These protocols include, but are not limited to, providing cleaners with protective equipment. We continually review our policies and procedures for updates and enhancements, and communicate updates to employees, as necessary – for example, including an update on protocols for Ebola just last week."
The New York Committee for Occupational Safety and Health, a worker advocacy group, recently released a report that was critical of working conditions at LaGuardia and JFK airports. An SEIU release Thursday said Air Serv cabin cleaners have filed complaints with the U.S. Occupational Safety and Health Administration.
Government officials and public health experts say there's little risk of an Ebola outbreak in the United States, but the Department of Homeland Security and the Centers for Disease Control and Prevention have nevertheless announced new procedures for screening passengers from Ebola-stricken countries in West Africa. The extra screening will soon start at the five international airports that receive 94 percent of travelers from West Africa -- but not LaGuardia, which handles mostly domestic flights.
Arellano nevertheless worries that dealing with bodily fluids puts her at extra risk.
"That disease can go from Texas to Atlanta -- we got a lot of planes from Atlanta," she said. "Where's our security?"
Officials have yet to confirm a single instance of someone catching Ebola inside the United States, though a man died Wednesday at a Dallas hospital after being infected in Liberia, and infected Americans have been treated in Atlanta after returning from Africa. More than 3,000 have died in Guinea, Sierra Leone and Liberia, with thousands more infected.
Before You Go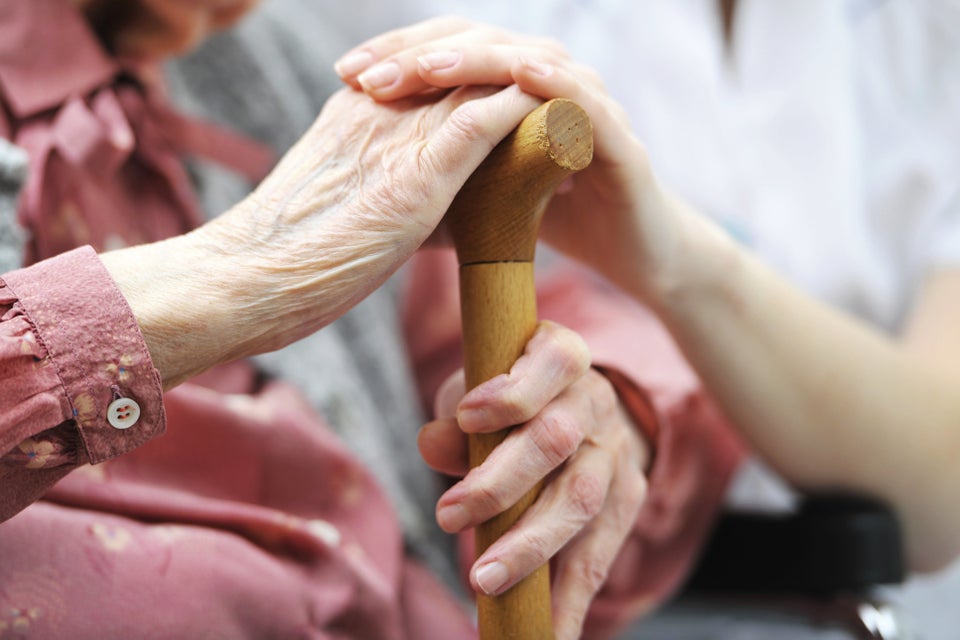 Symptoms of Ebola