Plane food is gross. I used to eat it -- chicken or beef -- because it was there, free and would keep me occupied for 11 minutes of the flight. But now that plane food sometimes costs money, there's no way I'm getting near that preservative-laden garbage.
These days I channel my inner Girl Scout and make sure I'm prepared before flights with a few of my own healthier tasty delights. Here are a few ideas for your next in-flight meal: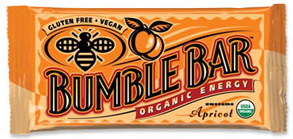 -- Forego the peanuts or "party mix" that comes gratis alongside the drink service and have a Bumble Bar instead. These gluten-free, vegan bars are sesame seed based and come in nine different flavors (apricot is my favorite because it's moist and has a subtle apricot taste that's natural, not artificial). I keep one of these filling bars or a small bag of almonds (Trader Joe's snack packs) in my purse at all times for a healthy snack.
-- Pack an antipasto platter. And by platter, I mean small Tupperware container, which you can fill with prosciutto-wrapped melon, olives, hummus and carrots, cucumber or pita. It's a good balance of food and won't take up too much space in your carry-on.
-- Visit the ready-made aisles at Trader Joe's and Whole Foods before you fly. (I frequent them like other people would at a bar.) The salads at TJ's are great (and have a fork inside!) and I love to bring a baggie of plantain chips to go with their apricot chicken salad. If I ate gluten, I would try their wraps, which look pretty good too. At Whole Foods I like to get shrimp spring rolls with sweet chili sauce or any number of salads.
-- Other snacks I like to throw in: a bag of baby carrots, string cheese, berries and Pop Chips. Or go simple and make your own sandwich or bagel with veggies inside for breakfast. (Skip the eggs for stink-factor.)
This last point leads me to my most important piece of advice: mind the smell. There's nothing worse than the person who gets on the plane with the bag from Burger King (which happens every time I fly from the Alaska/Virgin terminal out of LAX). And don't bring your leftover seafood curry. You won't endear yourself to any fellow travelers that way.
Do you have other healthy snack ideas? Comment below.