Port-au-Prince, Haiti. Returning from a recent post-disaster trip to Haiti, I was pleasantly surprised to bump into the American Ambassador, the Hon. Kenneth H. Merten - on the airplane headed back to the U.S. from Port-au-Prince. I asked him for an interview and he graciously granted me one on the spot. We spoke at the exact same time that the United Nations Donors Conference hosted by Haitian President Rene Preval, U.S. Secretary of State Hillary Clinton, and U.N. Special Envoy for Haiti Bill Clinton was taking place in New York.
Pledges from the conference totaled almost $10 billion in immediate and long-term aid to help Haiti recover, including $1.13 billion from the United States. Ambassador Merten stated strongly that the U.S. response would be to assist President Preval and the people of Haiti in reconstructing the nation, taking our lead from the Haitian Government.
Like the President and First Lady of Haiti, our ambassador and his family narrowly missed death on January 12 when the magnitude 7.0 earthquake -- centered about ten miles away in Leogane -- shook Haiti to its core, killing upwards towards 300,000 people. He told me his own earthquake story:
Lieutenant General Ken Keen, Military Deputy Commander of U.S. Southern Command in Miami, was visiting Haiti and we had just returned from visiting Cite de Soleil (see my story). We sat down on our veranda to have a Coke when the earth began to shake violently.

My wife and daughter were upstairs. I ran outside and began screaming to my wife, but she could not hear me. I learned later that she had been screaming desperately for me as well.

Somehow the house stood, and my family was spared. The water pipes burst and the house was flooded, but most people lost their homes - and many their families. What we lost was nothing by comparison.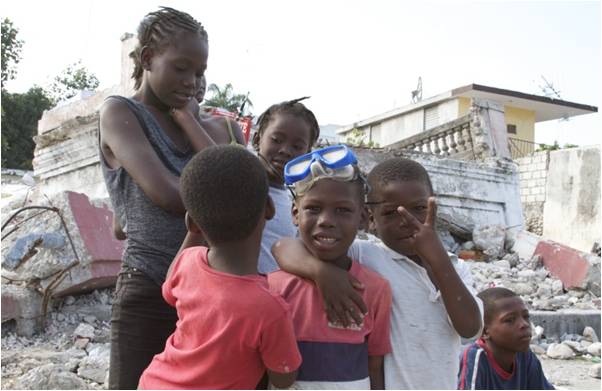 The nation of Haiti is devastated - but somehow Haitian children carry on despite all odds.
I spoke with the American Ambassador about the United Nation's Donor Conference and what role the U.S. would play in helping Haiti rebuild. "What is clear is that we need to work with the Haitian government. What is its vision for reconstruction? Whatever help we provide, it must be transformative."
"Whatever foundation we help lay here in Haiti must be a foundation we can build upon in the future," Ken emphasized. And we must focus our efforts here more tightly." He then outlined four specific priorities American aid would address: energy, agriculture, justice and security, and health.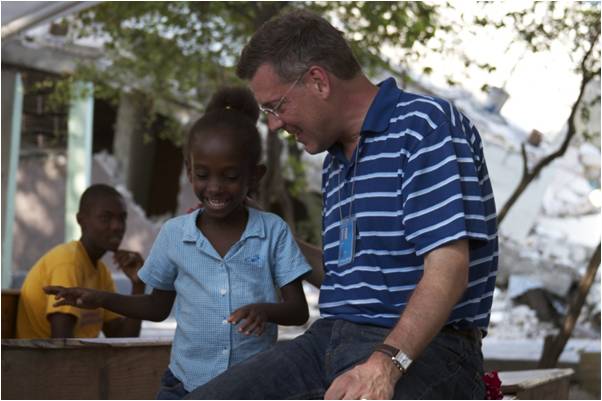 I explained to the Ambassador Orphans International Worldwide's efforts in Leogane.
The Ambassador asked me what had brought me to Haiti. I explained how this was the completion of my twentieth trip over the last ten years, as founder of Orphans International Worldwide (OIWW). I explained how we had begun in Haiti after Hurricane Jeanne, using a "full care" model in Gonaives, but over the years we had transitioned to a "family care" model in Leogane - one in which kids would be placed with extended family members such as aunts, uncles, and grandparents.
"That's a good plan which is badly needed," Ambassador Merten responded. "Care will be especially important as the rainy season begins," he continued. There are two rainy season in Haiti, he reminded me: April-May-June, and then August-September-October. As most of Haiti now lives in tents, the rainy season is especially dreaded for the disease it will bring to refugee camps.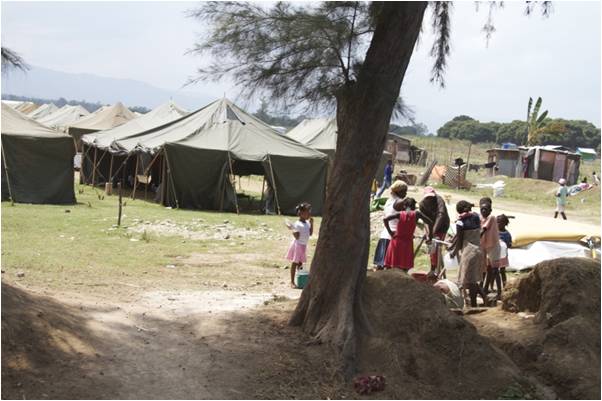 The majority of Haitians are living in tents, which bodes badly as the rainy season begins.
One concern I shared with our Ambassador was a rumor that it was hard for Haitian high school graduates who had received scholarships to study in the States to get a U.S. visa. On this trip, my team had specifically interview 200 Haitian high school graduates in Leogane, narrowing the group down to 40 who we will now prepare for a year with language and cultural immersion in the hopes that we can find them full scholarships around the world - including the U.S.
We believe we have obtained full scholarships for ten of them to study in Beijing. But what about Harvard or the University of Akron? The Ambassador gave me his word that any qualified Haitian student we could get a scholarship for in the U.S., he would do his utmost to provide a visa to. Orphans International Worldwide will need to screen these applicants carefully.
In addition to having great academic scores and wonderful personalities, they must be able to deal with cross-cultural challenges and, like any visa applicants, have squeaky-clean backgrounds. We will require that they return to Haiti to give back for every year they study aboard.
As the Ambassador and I chatted, I discovered that he was from Ohio as am I. Small world! I wondered where he had attended school, and he told me Miami University. No! It struck me like lightening - as Ambassador to Haiti, he must speak French and my father taught French at Miami. Who was your French teacher, I asked cautiously. "Stan Luce!" The world is truly small, and made smaller every day.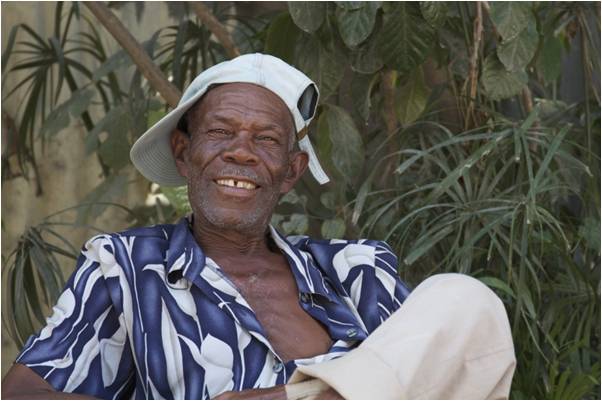 As much as the Haitian people have suffered, they still maintain a "joie de vivre."
I was impressed with Kenneth Merten's patience, understanding of Haiti, and grasp of the issues involved with post-earthquake reconstruction. America seems to be represented in Haiti by a man who is both a thought leader and a global citizen. I look forward to meeting with the Ambassador on my next trip.
Photos by Morgan Freeman.
Calling all HuffPost superfans!
Sign up for membership to become a founding member and help shape HuffPost's next chapter