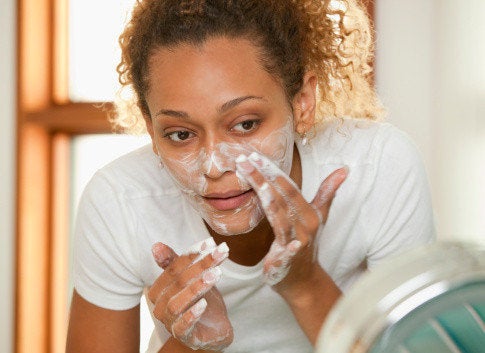 Nothing ravages a complexion faster than a long-haul flight. I'd know. My work puts me on ten-hour plane rides, several times a year. Too often, I've left America with a smooth face -- and arrived in Asia looking like sandpaper.
Unfortunately, when you're a travel TV host, having nice skin is essentially a job requirement.
So I've done my research, and tested out various skincare routines while on the road.
Here's the sum of my knowledge. May it save your skin.
What to Put in Your Suitcase
Stress makes a mess of skin, so I try to pack well in advance.
What are the safest and most effective products? Take a peek at Beautypedia, a database of science-based cosmetic reviews. It's search-able by brand, price, and rating -- and free until February 28th.
Remember to bring...
Daily skincare items: cleanser, toner, moisturizer (ideally with sun protection).
An exfoliant, to remove the dead layers of skin. Choose an AHA or BHA formula (this is the difference) over harsh facial scrubs.
Don't forget: makeup remover, cotton swabs, sunscreen, body lotion, speciality products (such as for wrinkles or blemishes).
Omega 3 supplements and low doses of zinc can help improve the skin's appearance.
I wrap the bottles well, ideally standing up in a waterproof pouch like this one.

Carry-On Baggage Essentials
What's allowed in the overhead compartment? As of this writing, liquids in 3-ounce containers: as many as can fit in a 1-quart clear, zip-top bag.
My must-haves...
Lip balm. The re-circulated air dries out my lips.
Hand cream. My hands get scruffed from taking out my passport and boarding pass - again and again -- before boarding.
On long flights, I pack a 3-ounce bottle of toner and moisturizer to keep refreshed.
For sunny destinations, I bring sunscreen and a hat. For cold climates, a scarf and gloves.
I set aside enough time for my basic routine of cleansing, toning, moisturizing. Instead of wearing makeup, I throw on a pair of big sunglasses.
UV rays are stronger at high altitudes and pass through airplane windows. So I apply loads of sunscreen, or SPF moisturizer.
At the airport, I wash my hands frequently. It's a general skincare rule - "don't touch your face" -- but especially important in dirty waiting areas.
What to Eat (and Not Eat)
Airport food is not very skin-friendly. (And majorly overpriced. 80 cents for a bruised banana? Please.) I tuck away a nutrient-dense meal before a flight. Lean protein and vegetables type of thing.
Lately, I've been skipping the latte in the waiting lounge. Recent research has linked milk and sugar consumption to acne.

I avoid eating on short flights. For long hauls, I order healthy meals in advance (JAL's vegan meals are surprisingly palatable). I also bring a small bag of organic, unsalted nuts to snack on.
As soon I sit down, I close the air vent above the seat. When the flight attendant hands out wet towels, I wipe the arm rests and food tray.
I order water, soda water, tomato juice or green tea from the drink cart. Yes, I'm annoying: I'll ask for the whole can, and push the button for more. Whatever keeps me hydrated.
On longer flights, I'll tone and moisturize during a bathroom break. I avoid wetting my face with water, since the low-humidity environment sucks moisture out of damp skin.
If there's a climate change, I bundle up or whip out the sun protection.
I try to head straight to my hotel and put my legs up. Fill up on water and search for a healthy meal. Apply a face mask or exfoliant.
And sleep -- a lot. The next day, I'm refreshed and ready for the cameras.
How do you salvage your skin when you're travelling? What are your favorite tips?
La Carmina's TV hosting and fixing credits include: Bizarre Foods for Travel Channel, NHK Japan, Dutch Pepsi, Sony Australia, Canal Plus France, Belgium TV (VRT), Norway TV (NRK) and CNN. You can see clips and stories on her blog.