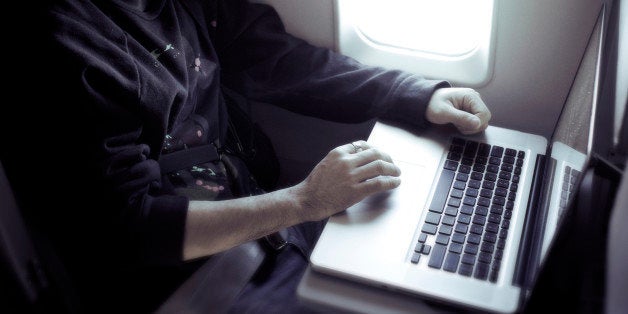 Accessing private information from someone on an airplane isn't as hard as portrayed in "Inception." In fact, the act can be completed simply by using onboard Wi-Fi.
So say security experts, who want travelers to know the Wi-Fi commonly available on commercial airliners isn't any safer than the unsecured network at your local coffee shop. Which is not to say you shouldn't use it (assuming you're willing to cough up the requisite cash), just that you'd be wise to keep the laptop on which you conduct sensitive business safely stowed in the overhead compartment.
For instance, a passenger's compromised device could provide hackers with credit card information or cough up access to someone's email inbox -- itself a trove of sensitive data that can be used to wreak havoc elsewhere online. Business travelers could accidentally divulge sensitive corporate information without even knowing it.
Gogo recommends that users follow good security practices, such as ensuring that file-sharing is not enabled while accessing the Internet from an un-encrypted public network and that laptops have firewall and other protection against malware. Gogo recommends that sensitive or private information should not be accessed via or transmitted over an un-encrypted connection.
Travelers would also be well advised to make sure all of their software is up to date with the latest security patches, and -- again -- avoid any activity, like online banking, that requires the transmission of sensitive information. Business travelers should also consider setting up a virtual private network (VPN) to access corporate information.