What makes an airport great? The answer is simple: amenities.
If you're going to be stuck there for hours on end -- or even if you're just there for a brief stint -- having good amenities can make or break your airport experience.
According to research by Global Gateway Alliance, New York's LaGuardia Airport ranked as the most in need of redevelopment, lacking the amenities of other national airports.
In the analysis of 15 airports, Dallas-Fort Worth, Chicago O'Hare and Hartsfield-Jackson Atlanta airports came out on top.
Global Gateway Alliance ranked the 15 most common airport amenities at the analyzed airports. Which amenities came out on top? Check out the list below to find out!
1. Shoe Shine
These stalls for weary, scuffed-shoe-wearing business travelers appear at 14 out of the 15 airports.
2. Spas
Havens of relaxation appear at 12 out of the 15 airports.
3. Museums & Exhibits
These perfect distractions from the stress of travel appear at 12 of the 15 airports.
4. Prayer & Meditation Rooms
Travelers can have a spiritual escape at these, which appear at 11 of the 15 airports.
5. Post Offices & Mail Services
Send off some last minute postcards at one of these -- they appear at 10 of the 15 airports.
6. Theaters & Live Music
If you really need a distraction one of these would definitely come in handy at nine of the 15 airports.
7. Pharmacies & Clinics
These definitely come in handy if you've forgotten to fill a prescription or are feeling queasy pre-flight. They appear at eight of the 15 airports.
8. Shower Facilities
These would ensure that you smelled fresh as a daisy before your flight and appear at seven of the 15 airports.
9. Airport Hotels
If you're willing to shell out the money, you can have a bed AND a shower to reboot before your next flight without leaving the premises. These appear at six of the 15 airports.
10. Conference Rooms
Because, why not? Have your conference at an airport, then send everyone on their merry way at one of the six airports that offer these.
11. One-Seat Rail Ride
These takes the stress out of using multiple forms of transportation in order to get to the airport. They appear at six of the airports.
12. Short-Stay Hotels & Nap Rooms
If you don't have the time for a full night in a hotel, why not check into a short-stay or nap room? These appear at five of the airports.
13. Gyms, Fitness Centers & Yoga Rooms
Perfect for those who need their pre-flight workout, these appear at four airports.
14. Outdoor Areas
Because sometimes you just need a breath of fresh air. These appear at four airports.
15. Dry Cleaners & Laundry Services
This would be nice if you were heading to a big event or were on a long trip... but unfortunately they don't exist at any of the airports.
See the full findings of Global Gateway Alliance in the chart below: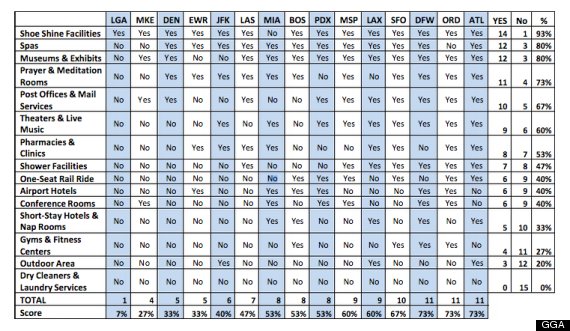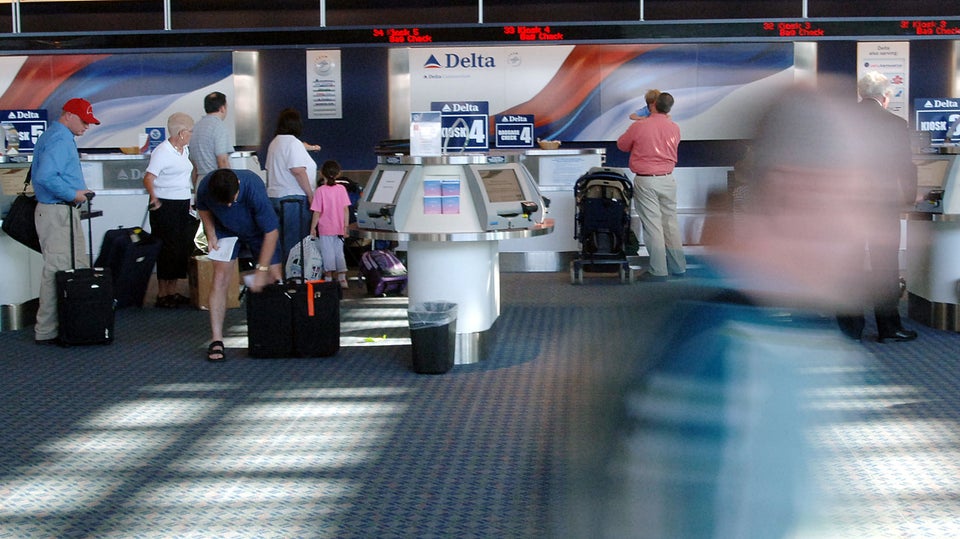 The World's Best Airports According To Skytrax