The final entrepreneur into the Shark Tank this week was Ryan Diew. He was presenting his app Trippie and seeking $100k in exchange for 10% of the business. The app acts as a mobile directory of food options in an airport. It will provide you with a list of the restaurants and food stands, their exact locations, and reviews of their food and service.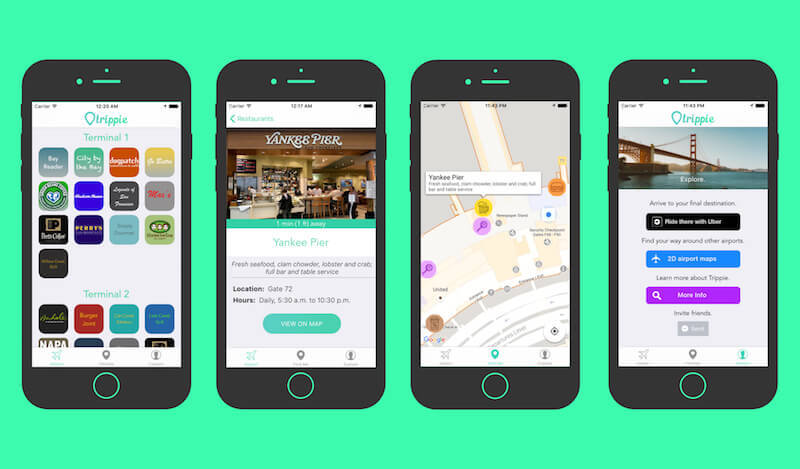 As of the filming of the presentation, the app had only been on the Apple app store for a short period of time and they had yet to release it on the Google app store. They had only seen around 850 downloads and were sitting at 169 monthly active users.
The major issue that the Sharks seemed to have with this business was not the business itself, but with how early it was for Ryan to be looking for an investor. With the app at such an early stage and so many of his ambitions for the features it could be potentially have not yet realized, the Sharks had no choice but to pass on the opportunity. The risk would be far too high at this point in the business. Ryan has great ideas, but they need to be a bit more fleshed out before they're investable.
Generally this is not a major issue. Sometimes it's just not the right time. The real problem arose when Ryan did not handle the rejection in a professional manner and it all kicked off with him stating that he doesn't have a rich uncle. Especially considering the audience he is in front of, that was the wrong move and the wrong attitude. Some the investors he was currently standing in front of have come from absolutely nothing and built their millions without any early help from a "rich uncle."
To pull from personal experience, I do have a rich uncle. In fact, like the Sharks he is a VC. The total amount of money that my rich uncle has invested into my business is a nice round zero. I still talk to him about business and he is always generous in the advice that he gives, but my business is not the kind of business he invests in. I totally understand this and couldn't care in the least that he hasn't invested monetarily into my company.
I did not explain this to high road Ryan or make myself look good, but rather to emphasize that it doesn't matter who your family is. Sometimes you just have to hustle and grind. Don't get discouraged when people won't buy into your vision. Don't look at it as rejection when investors say you aren't there yet. Get moving and work to build a business they will get excited about.
Hopefully Ryan can look back on his reaction in the Tank and realize that he didn't need to be discouraged or respond the way he did. He is obviously intelligent and talented. He just needs to pick himself back up and keep working.
Calling all HuffPost superfans!
Sign up for membership to become a founding member and help shape HuffPost's next chapter
This post was published on the now-closed HuffPost Contributor platform. Contributors control their own work and posted freely to our site. If you need to flag this entry as abusive,
send us an email
.