Sure we've seen yoga and fitness retreats for a while, as well as a surge in top-notch hotel gyms and exercise programs. But, as marketing communications firm JWT predicts in its "Travel Things to Watch in 2013," "fitness on the go" is going to be big business this year.
"We've gone from an all-or-nothing lifestyle to a do-what-I-can-when-I-can lifestyle," Marian Berelowitz, editor of JWTIntelligence told HuffPost Travel in an e-mail. "It used to be that if you couldn't make it to the gym, a class, etc., for an hour, a workout would have to wait for another day. Whereas now we're trying to fit whatever activity we can into our crazy busy lives, since we're not likely to have any more time tomorrow or the next day."
One place this will be especially apparent, the trend forecast points out, is in airports, where fitness resources are beginning to be integrated into the terminals.
Perhaps the simplest way to get some exercise in is by taking a walk. And, to encourage that habit, and to make tracking miles walked easy, the American Heart Association's Start! Walking program has teamed up with various U.S. airports to promote walking paths within terminals. Airports like Minneapolis-Saint Paul International Airport and Cleveland Hopkins International Airport have walking circuits. And, in Cleveland, travelers will also find a rotating array of health tips peppered throughout the airport.
"Walking has fabulous health benefits," Dr. Tracy Stevens, an AHA Spokesperson and Cardiologist at Saint Luke's Mid America Heart Institute, told HuffPost Travel. Not only does walking maintain physical strength, burn calories and lower blood pressure, it "kills time so we aren't sitting at the bar or in line for fast food," she adds.
While 30 minutes of daily exercise is encouraged, it doesn't have to be done all at once. Dr. Stevens advises that anything is helpful, even if it's only in three ten-minute spurts. Above all, she says, "don't use the excuse that you travel too much as a reason not to exercise." Wear a pedometer to track your 10,000 steps, pop an exercise DVD into a laptop, or pack lightweight and non-bulky resistance bands in a carry-on, there are countless possibilities.
Another easy, though maybe not so obvious, way to fit in a workout at the airport is to pop into the gym at the airport hotel. Most are connected to the terminal or are just a short shuttle ride away, and some open their doors to travelers passing through for a small fee.
For more workout inspiration, check out these airports that have integrated fitness into their terminals:
Before You Go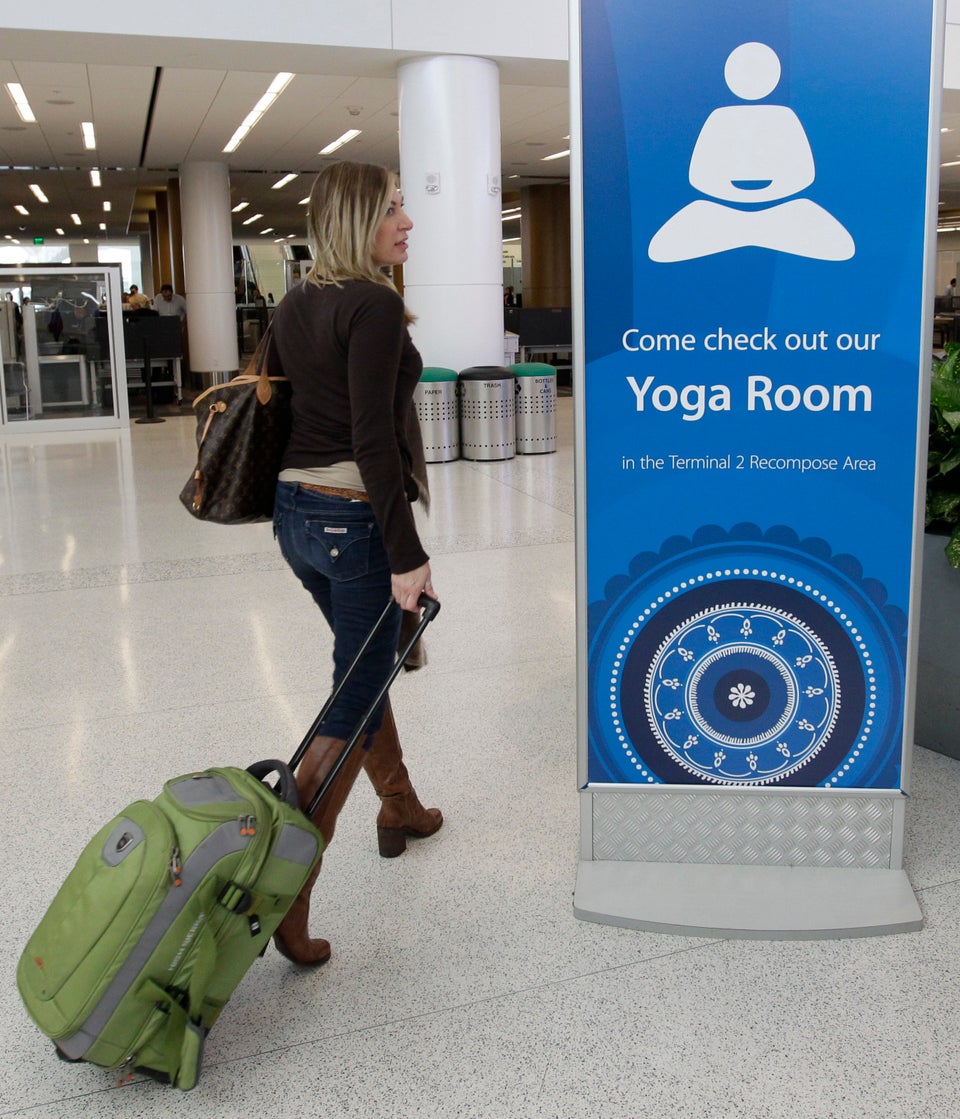 Get A Workout At The Airport