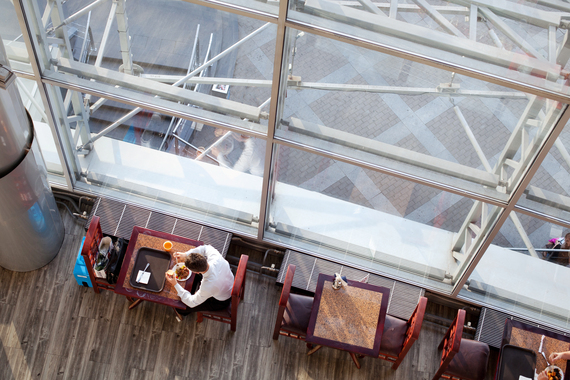 Picture this: You're rushing through the airport to get to a connection flight and you're starving. Do you chance missing the flight to go out in search of food or do you resign yourself to airline peanuts or pretzels?
Now, with new mobile food-ordering apps available for hungry travelers in airports, this problem might be a thing of the past. The promise from a pair of competing tech companies is that you could pre-order that chicken-salad sandwich while you're still waiting for TSA to frisk you, so we checked in with the CEOs of AirGrub and Grab, two apps that are trying to make airport food easier.
"I worked in telecom until last year, and I didn't know anything about restaurants," said Surya Panditi, the CEO and founder of AirGrub. "I was traveling a lot, though, and not eating well. Our goal is connect consumers to healthy, high-quality food that they can order quickly."
To solve that problem he faced in his own travels, Panditi created the AirGrub app. He has partnered with eateries within SFO, JFK and BOS airports and has plans to expand in the next year.
Patrons can select any of the listed food or beverage items on AirGrub and can pay for their purchase on the app with credit cards or airline rewards points. Participating restaurants have a VIP pickup line--with VIP signage--for AirGrub patrons.
Competing app Grab is another food- and beverage-ordering app that's been recently launched. Today, it's servicing Atlanta and Austin airports.
Like AirGrub, Grab allows VIP lines after ordering and purchasing meals on your device. Grab also facilitates sending the purchase receipt directly into Concur, a popular business- and travel-expense tracking software.
"Our whole idea is that everyone's experience is different," said Jeff Livney, the CEO of Grab. "With mapping, it tailors each person's experience to their travels. We realized that the more frequent travelers are business travelers, for the most part, so tying in Concur was just common sense."
Though the apps have a real convenience factor, the current challenge is that they can only be used in a limited number of airports. For AirGrub, Panditi is trying to solve that challenge by expanding and partnering with new airports.
"We're talking to some [airports] on the East Coast," he said. "Two want to sponsor the app and actual delivery. It would be like you'd order at the gate and a nice meal, and maybe wine, would be delivered right to you."
Livney, too, said Grab has an expansion plan that will keep the app more universally convenient. Grab's current partner, Delaware North, manages the food and beverages in a slew of airport restaurants around the globe. Livney says that Grab is working to service more than a dozen of the airports with those restaurants.
"We're looking to interface with Grab at all our locations," said Kevin Kelly, the president of Delaware North travel hospitality. "The hard part was the interface but now the easy part is the interface. It means it can be at all our locations without a lot of heavy lifting... potentially all of the 300 point-of-sale locations in our portfolio."
Upcoming additions to Grab, according to Livney, include the ability to search with nutrition and cuisine filters. Other future features include the airport's ability to issue coupons and food vouchers through Grab for patrons whose flights have been delayed or cancelled.
More from
:
About the author: Jamie Lowe is an assistant editor with Where.
(Image Credit: ©Ditty_about_summer/Shutterstock licensed to Where)