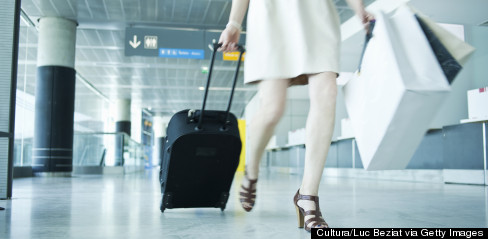 Let's face it; traveling and navigating crowded airports is stressful -- especially during family vacations, holidays or when the weather becomes problematic. Unless you're traveling on your own private jet on your time table, the "getting there" is almost never without problems, in and of itself, at times it's anything but relaxing or fun.
Here are some of my most effective insider tips to help you travel smarter and keep your stress to a minimum.
Boring, but important. One of the most useful tips I can give you is easy, and doesn't cost a dime. If possible, arrive at the airport early. An accident, traffic jam or a long line at security can throw off your "perfectly-timed" schedule and create added stress. With a cushion of time on your side, you will be more relaxed and able to deal with flights that are delayed, canceled, or mechanicals, and you will be there to get a resolution way before all the others who come rushing to the gate "on time."
2. Trusted Traveler Program.
Long security lines can frustrate the best of us. Fortunately the TSA has expanded their program with TSAPre which will save you time in the security line outbound (and inbound on international flights with Global Entry). Benefits include designated TSA Pre security lines that are shorter and have less wait times. You no longer have to totally "disrobe," meaning you don't have to take off your jacket or "light outerwear," and you can keep your belt and shoes ON. Plus, your 3-1-1 (3.4 fluid oz or less), toiletries and computer can stay in your bag! You have to apply for the program, and then register your Trusted Traveler information with your airline. TSAPre will be printed on your (airline) ticket and poof! Get ready for an improved airport experience.
If you have a bit of time, go to the Crown Room or Executive Lounge, or VIP area to await your flight. If you're not a member, you can get a day pass, and it will be worth it -- less noise, less crowding, free snacks and beverages, complimentary reading material (papers and magazines), and private areas to make phone calls or do work. You can also download the GateGuru app on your smartphone to find out where the closest lounge (and more) is located.
4. Pack Something (That INSTANTLY Makes You) Happy.
For a quick mood switch, have something on hand that will distract you and block out what's going on around you, especially if it's annoying. Recently I received several angry texts from my friend who had just boarded the airplane bound for NYC. After getting settled, she was horrified when her seat mate kept "flipping" her long flowing hair in my friend's face! It's not easy to share space. So bring a good book; watch a movie on your laptop or iPad; listen to your favorite music on your iPod. Bring earphones. Always bring earplugs so that you can enjoy your book or take a nap -- personally, I never travel without them.
For years I thought that this was slightly annoying advice until I learned what actually happens (in your body) when you breath deeply a few times. Perform a little calming Zen on yourself and focus on things that make you feel good, such as what you're going to do when you arrive at your destination. The more you think about the annoyances or frustrations of the airport or flight, the more likely it is that you'll pick up on every little thing that's annoying, like the "hair flipping," meal, or beverage cart bumping into your seat, or the baby crying ten rows behind you. Really -- it works.