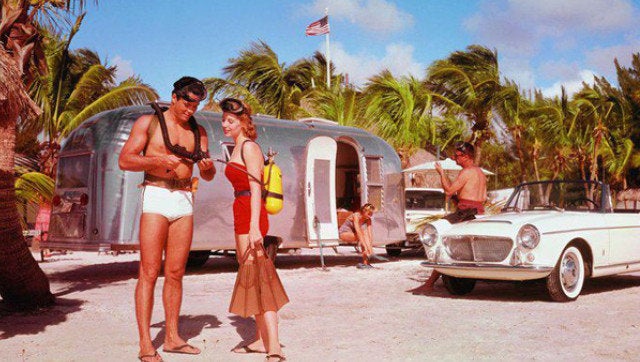 The Airstream recreational vehicle, all curves and chrome, was originally designed to evoke the open road and the aviation age. Hawley Bowlus, the man who created the brand's toaster-over-in-a-wind-tunnel look was also the chief designer of Charles Lindbergh's Spirit of St. Louis. His America was all about going places and the Airstream was intended to be both a way to get there and a way to stay.
The irony, of course, is that a company catering to Americans' travel yen has itself been nothing if not stationary. The popular vehicles are still manufactured in Jackson Center, Ohio and their names still betray these roots. Buyers can choose between Sport, Flying Cloud and Classic Limited models. There is also an International, but that seems almost antithetical to the whole endeavor.
Despite its proud middle-American sensibility and heritage, Airstreams have always been more than middle class kitsch. They helped ferry generations of children and parents to beaches and wild places. They may not have conquered the West, but they certainly made it more accessible, allowing the denizens of America's growing suburbs to get back into the outdoors. If Airstreams now look tiny next to the rolling mansions being offered by recreational vehicle manufacturers, there is a reason: They were designed to help us get away, not to help us schlep everything along with us.
Eighty years later, an Airstream in the driveway still means one foot out the door, an American stance if ever there was one.