Society's leaders are often guided by the near-term concerns of the public, making decisions that are going to yield 'results' and increased profits. This is not necessarily wrong, but such an approach often turns out short-sighted solutions or schemes that skirt long-term issues, and paradigm shifts then become the next generation's problem rather than an inherited safeguard.
Consider climate change. Granted, many decisions are made in ignorance of future outcomes, but the issue then becomes about what actions you take when made aware of probable outcomes based on a (more or less) unified agreement by experts. AI and its impact on the future of work and the economy may be one of the most pressing long-term issues facing humanity at present.
If you ask leaders of top tech companies, they'll tell you job automation and the introduction of a more general artificial intelligence are inevitable, and that the former is already being felt in manufacturing facilities, restaurants, and cubicles in cities like San Francisco and New York and countries like Japan. A study from Ball State University found that since 2000, about 13 percent of factory unemployment went overseas but another 88 percent of jobs were lost to automation and other non-outsourcing reasons.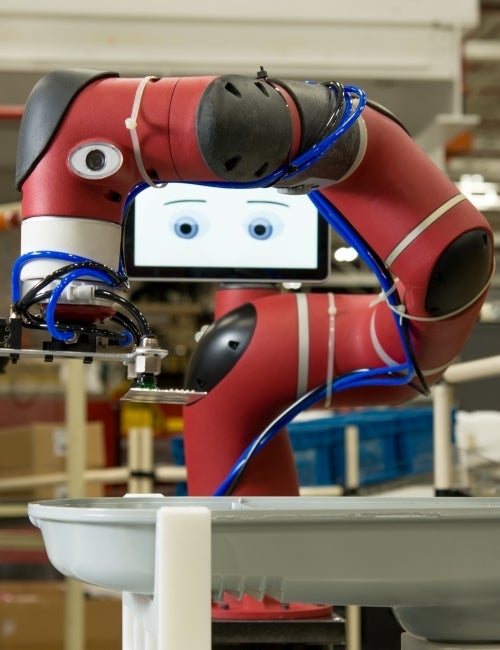 Government leaders have been slower to pick up on this thread. Regardless of their reasons, AI technology will transform society in ways that we can only begin to imagine, and solutions about how to best meet and facilitate those changes requires multilateral collaboration with private and public leaders from all levels.
The Millennium Project (MP) is working from the ground-up to facilitate such inclusive and far-reaching conversations surrounding AI's impact on the global society, with work and the economy being a hallmark issue. Founded in 1996, MP was created following the completion of a three-year feasibility study done in partnership with the United Nations University, Smithsonian Institution, Futures Group International, and the American Council for the UNU, in which over 200 futurists and scholars from about 50 countries participated.
A research-based think tank, MP has been organizing workshops around the world with leaders in local and national government, nonprofit organizations, business, and academia about the long-term concerns, including potential economic risks of AI, that society will face. Whether we'll be ready or not for a future inundated with AI technology is a central question, with the workshops serving as a catalyst for brainstorming real ideas and solutions.
Futuristic Outlook for Business and the Economy
If this mission sounds far out, take a moment to think about a scenario that affects us all - our jobs. The specifics change as we move from epoch to epoch, but AI stands ready to catapult us out of the present "dark ages."
Self-employment, entrepreneurship and other less traditional forms of employment are at the forefront of MP workshop participants' minds. Discussion categories for each workshop are interrelated - Education/Learning; Government; Science & Tech; Culture; and Business & Labor - but business & labor are currently a hot topic, and for that reason a good one to highlight.
Eminent concerns in this area around the world - no exceptions - include massive unemployment, increasing wealth gaps, and increasing tension between corporations and government regulations.
"25% of the private sector is self-employed and 1/3 of the employed wage earners are in the informal economy; hence, we are already moving toward a self-employed economy," remarked Miguel Ponte, Secretary of Employment of the Ministry of Labor, Employment and Social Security of Argentina, in a workshop held in Argentina.
A related issue is loss of income, as more jobs become automated or given to AI, and a large portion of population is left to figure out what to do in terms of earning a living.
"Guaranteed income does seem inevitable; we in the Basque Region have had a similar program for over twenty years," Gotzone Sagarduy, Basque Government/Lanbide and Member of the Parliament, commented during a workshop in Spain. Finland also seems online with experimentation: "The Future of Work is a research priority of the Prime Minister, and we will create a basic income program in 2017," commented Kaisa Oksanen of the Prime Minister's Office.
Universal basic income is not a new idea and is receiving more attention by futurists in the U.S., including Silicon Valley magnate Elon Musk. Other collated workshop ideas include the creation of personal AI/Avatars to support self-employment; international collaboration to create an International Science and Technology Organization (ISTO); and investing in Kickstarter-like crowd sourcing to reduce the concentration of wealth. Discussions are at an early stage but increasing in frequency. Several countries, including China and Mexico, are in the planning stages. The US and UK are part of a third segment in the exploratory talk phase.
The latest workshop took place this December in Greece, spearheaded by Millennium Project Node C-Chairs Epaminondas Christophilopoulos and Stavros Mantzanakis and hosted by the Phemonoe Lab. Attendees included over 40 participants from business, government and academia, including Lina Liakou, Deputy Mayor of Thessaloniki in Urban Resilience and Development Planning, Chief Resilience Officer; Professor Thanasis Konstantopoulos, President of the Board of CERTH (the Centre for Research and Technology Hellas); Emmanouil Vlachogiannis, 1st Vice president, Thessaloniki Chamber of Commerce and Industry; Alexandra Gouta, Financial news editor, ANA-MPA; and Dr. Vangelis Kosmidis, President & CEO of DRAXIS SA.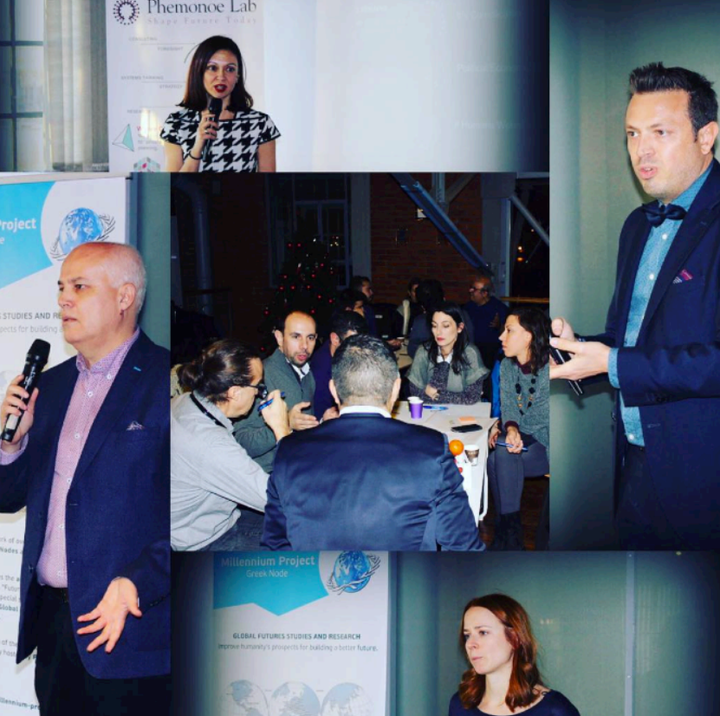 Workshop structure can look different from one meeting to the next, though MP provides three global scenarios and a recommended structure that includes breaking into subgroups. Greece followed this basic approach with some variation, starting with individual brainstorms and then breaking into groups and drafting ideas at the national and city level; afterwards, each group presented and voted on ideas, with a prize awarded for the best ideas in each of the aforementioned five categories.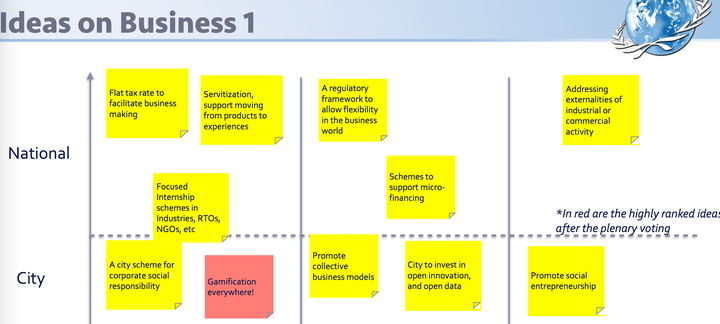 Next steps out of MP include the creation of a Global Futures Intelligence System (GFIS), described as "a global intelligence utility from which governments, UN agencies, businesses, NGOs, universities, media, and consultants can draw different values." GFIS is intended to be a collation of all groups, information, and software in one central place, updated collaboratively and on a continual basis, with built-in Google translation for 52 languages.
Global Network of Participants
A key component of MP in connection with research implementation are "project nodes", designated representatives in various countries and organizations who help arrange and carry out conversations around the world for the purpose of a bigger-picture effort. You might think of the nodes as the neurons in a neural network, individual messengers helping to accomplish a unified cause.
The Future Work/Technology 2050 study has been the hallmark of the group's research, and it's from this study that the group formulated its three hypothetical (albeit informed) scenarios for the future. Each scenario has an aptly-named title reflecting the potential future state of the world:
1 - It's Complicated: A Mixed Bag
2 - Political/Economic Turmoil: Future Despair
3 - If Humans Were Free: The Self-Actualization Economy
It's these 3 scenarios that form the basis for the workshop discussions that have thus far taken place in nine countries in South America, Europe, the Middle East, and Asia.
Political turmoil and a fully "self-actualizing economy" are two extremes, while a "mixed bag" represents exactly what it sounds like: some good, some not-so-good decisions on the parts of individual countries, as we grapple with AI-induced change.
Conversation is the equivalent of navigation in arriving at thoughtful solutions that consider the needs of today's and tomorrow's generations, an idea articulated in so many words by former Secretary of State Henry Kissinger:
"We must resist the temptation to identify policymaking with projecting the familiar into the future, for on that road lies stagnation and then decline...in leading a society from where it is to where it has never been, a new course presents advantages and disadvantages that will always seem closely balanced."
The MP Project stands out as an avenue for well-intended and organized facilitation of important but often elusive conversations that are essential to the greater well-being of a global society. Thinking long-term while still acting in ways that bolster long-term vision is a challenge for most of humanity, but one could argue an essential characteristic of today's leaders, who are at the helm of steering the transition into an increasingly automated and augmented economy.
Related
Popular in the Community