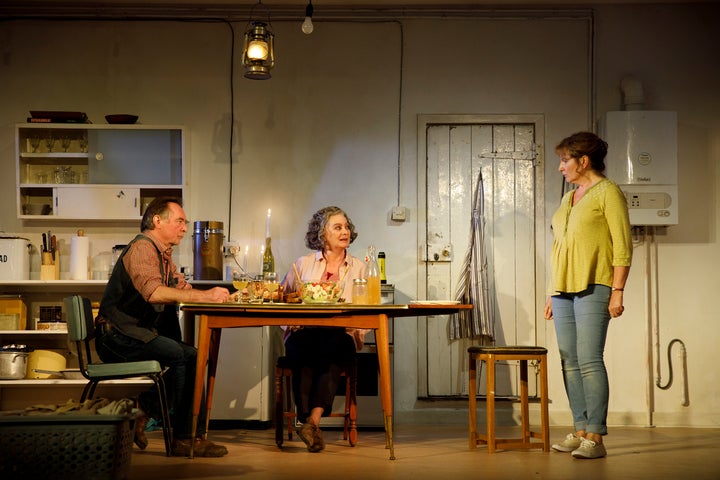 And here, from Manhattan Theatre Club via the Royal Court, comes another doomsday play. Lucy Kirkwood's The Children is a sturdy drama; interesting, arresting, and enigmatic enough to hold interest for its almost two-hour running time. It has crossed the sea intact, importing director James Macdonald, his design team, and his cast of three. All do a fine job, making The Children a worthwhile evening in the theatre. But is worthwhile, one wonders, enough?
Doomsday plays have been around for quite some time; one of them, Samuel Beckett's Waiting for Godot, has achieved legendary status since its English-language debut in 1955. Earlier examples such as Thornton Wilder's Pulitzer-winner The Skin of Our Teeth (1942) and Sutton Vane's Outward Bound (1923), created a similar stir (although they have faded over the decades). The Children, for all its mystery and topicality, doesn't begin to rank with the others.
Hazel (Deborah Findlay) and Robin (Ron Cook) live in a dilapidated cottage by the sea. Before we get to know them, though, we meet Rose (Francesca Annis), a mutual friend from forty years back. It turns out, as is typical in three-character plays, that the playwright has contrived interpersonal connections which she can gradually bring to our attention (and, for reasons dramatical, to the attention of Hazel). An air of uncertainty is introduced even before the first line: the evening begins with ominous music, followed by the din of the ocean, illuminated with projections of the surging sea. Then the lights come up on Rose, who slowly revolves to reveal blood shooting out of her nose. And you might notice that Miriam Buether's kitchen set is atilt and askew; this is clearly visible, and accentuated when an apple placed on the kitchen table rolls stage right.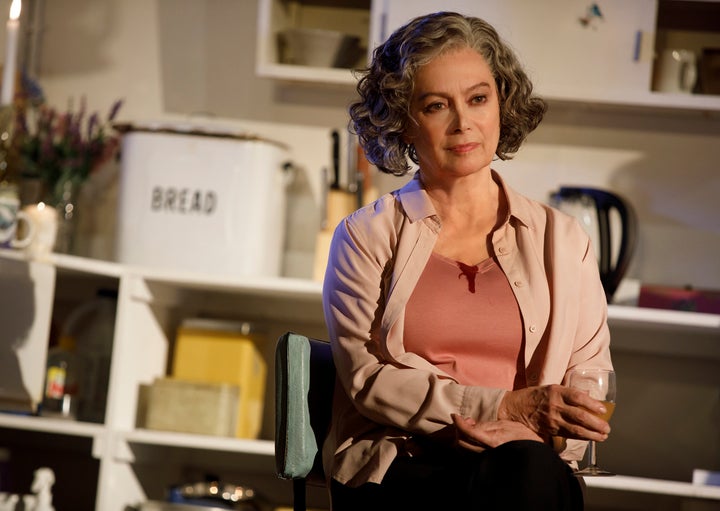 We needn't offer spoilers here, except to say that Robin carries around a pocket Geiger counter. Spoilers are unnecessary, anyway; the Playbill cover gives it away with a photograph of the three actors in hazmat suits with gas masks (even though there are neither hazmat suits nor gas masks in the play). Let us add that the children of the title are not the offspring of the characters, or even youngsters; they are the next generation, for whom the elders determine to self-sacrifice. In a hazmat, doomsday manner of speaking.
The actors are accomplished, and do perfectly well with their material. Annis might be best known here, having twice played Broadway in Hamlet—as Ophelia to Nicol Williamson in 1969 and Gertrude to Ralph Fiennes in 1995. Cook was here in 2009 as Polonius in Jude Law's Hamlet, while Findlay is remembered for her explorer Isabella Bird in the original 1982 production of Caryl Churchill's Top Girls in 1982 (at both the Royal Court and the Public).
Kirkwood is best known for Chimerica, which won the best play Olivier in 2014 but was apparently deemed too risky and too expensive to make the trip to Broadway. Macdonald's work has been seen here in Mike Bartlett's Cock and Churchill's Love and Information, both of which called for considerably more flashy direction than The Children. Designer Buether joined Macdonald for both of those plays, and more recently gave us the stunningly bare set for A Doll's House, Part 2, while Peter Mumford provides the highly effective lights and projections.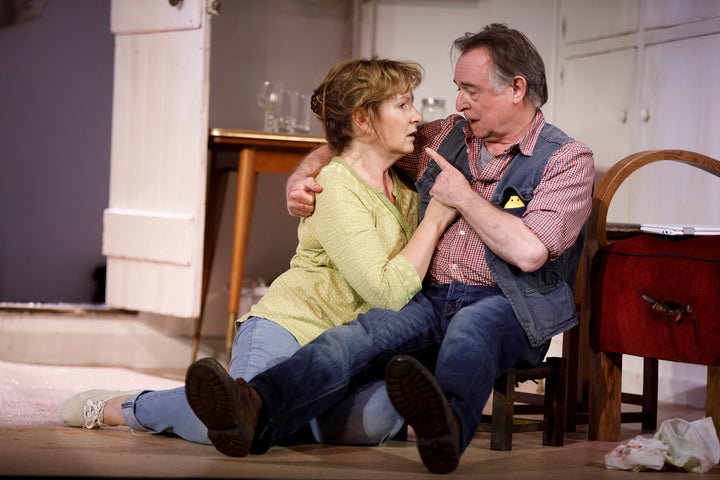 Is it fair to compare a contemporary doomsday play with similarly-themed classics from more than a half century ago? No, of course not. More to the point, though, is how does the play compare with what we are seeing today? We can get an answer by going back to the Royal Court. Their 2017 instant classic, Jez Butterworth's The Ferryman, is now at the Gielgud with a Broadway transfer presumably in the works; their 2015 hit, Martin McDonagh's Hangmen, will be ensconced at the Atlantic in January and I'd be surprised if it doesn't immediately jump uptown before awards time. Ferryman and Hangmen leave you astonished and demand a Broadway transfer. The Royal Court's 2016 The Children, alas, is simply good enough.
The Manhattan Theatre Club/Royal Court Theatre production of Lucy Kirkwood's "The Children" opened December 12, 2017 and plays through February 4, 2018 at the Samuel J. Friedman Theatre
Related
Popular in the Community