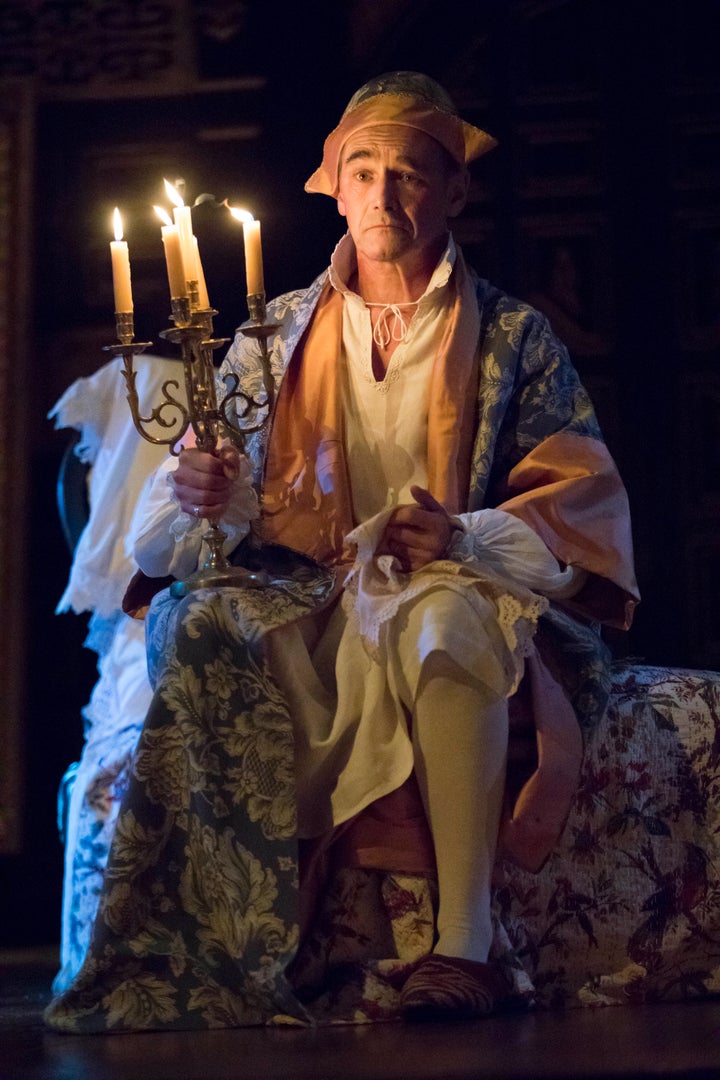 Mark Rylance is unparalleled as an actor. I suppose you'd have to go back to Olivier to find a counterpart, except that Rylance mixes dramatic talent with an irrepressible flair for comedy. Consider his Broadway appearances alone: Boeing, Boeing in 2008, La Bête in 2010, Jerusalem in 2011, and the rep rotation of Twelfth Night and Richard III in 2013. These have earned him a combined three Tony Awards thus far, not to mention an Oscar for Bridge of Spies and a not-unlikely nomination for Dunkirk. The man is astonishing, and New Yorkers are most fortunate to have had repeated opportunities to see him over the past ten seasons.
Now he is back, in Farinelli and the King. The King is Philippe V, King of Spain from 1700-46. (Not a Spaniard by birth, though; he was born at Versailles in 1683, grandson to the "Sun King" Louis XIV). Farinelli is a world-class Italian castrato, one of the most celebrated opera singers of the day (circa 1725). Claire van Kampen, who wrote, selected and otherwise devised the incidental music for four of the five Rylance plays above and has been the actor's partner for thirty years, has taken the historical tale of the king and the singer and turned it into a play stoked with eight solos by George Friedrich Handel. Who tried, but apparently failed, to hire Farinelli to star at his London opera house.
History tells us that Philippe (Rylance) suffered from something akin to bipolar disorder. There being little understanding of the disease or the treatment, it was found that music helped calm the patient. Thus, Farinelli (Sam Crane) was imported from London to sing for the King, so soothingly that the singer became part of the royal household. Van Kampen has arranged this into a serviceable plot in which Philippe—mad as the blazes, conversing with goldfish—finally sees the light, or rather hears the music. Typically enough, when he starts talking sense the local politicos try to force his abdication.
Farinelli is played in a regal unit set, with a seven-piece orchestra on a balcony above and ticket-buying patrons set in stage boxes placed in the wings (not unlike the setup for Twelfth Night/Richard III). The grand theatrical device of the evening is to have not one but two Farinellis; the second, coyly listed as Singer in the program, does the singing while the acting Farinelli acts (and at one point they interact). Van Kampen and her producers have arranged to have world-class countertenor Iestyn Davies do the singing at most performances. (James Hall plays two performances a week.) Devotees of eighteenth century music, thus, get two-for-the-price-of-one. Although Rylance's performance, in itself, is dividend enough.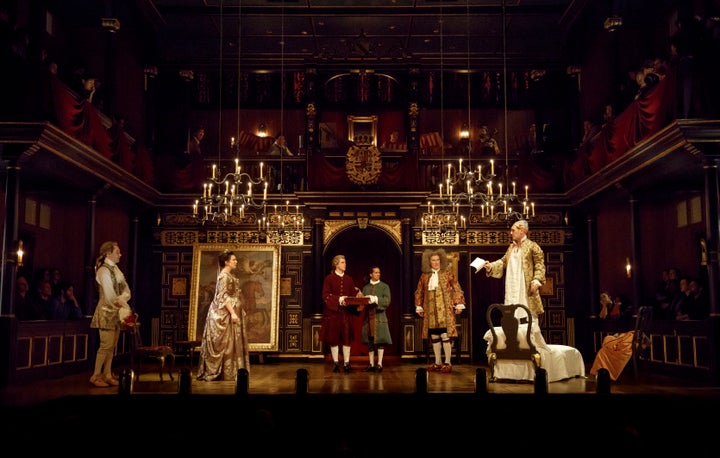 The cast—which originated the Shakespeare's Globe production in February 2015, then transferred to the Duke of York's that September—is here intact, with major contributions from Crane (as the acting Farinelli) and Melody Grove (as Queen Isabella), plus notable support from Huss Garbiya as the court doctor. John Dove serves as director, and Jonathan Fensom provides a highly effective set (which, by the way, is overrun with lit candles).
If it sounds like we have avoided talk of the play itself, there is a reason for that. What we have on stage is Sir Mark acting up a storm, a comically frenzied storm at that. Give an accomplished ham a dramatic role which allows him an occasional mad scene, and you are sure to have a memorable evening that is more or less unmissable.
This is plenty enough to put Farinelli and the King on the highly recommended list. But the drama, I'm afraid, doesn't match the rest of the evening. The plot is intriguingly promising, yes; but the execution is merely functional. After a while, we begin to think that the play is built around the star's performing strengths, as opposed to the performance being built to support the play. Rylance's strengths are myriad, of course; and his wife/collaborator knows every trick he has in his overflowing sack. Sure, why not give him a role which displays them all?
Only we feel like we are watching him display them all. And we know, from years of watching excellent actors, that they are likely at their best when they are not simply playing to their strengths. Rylance is delightful and delicious and exuberant and altogether lovable here; but we are seeing the actor, not a dramatically-realized version of Philippe V. Rylance is altogether excellent; the fault, to paraphrase Cassius, is not in our star.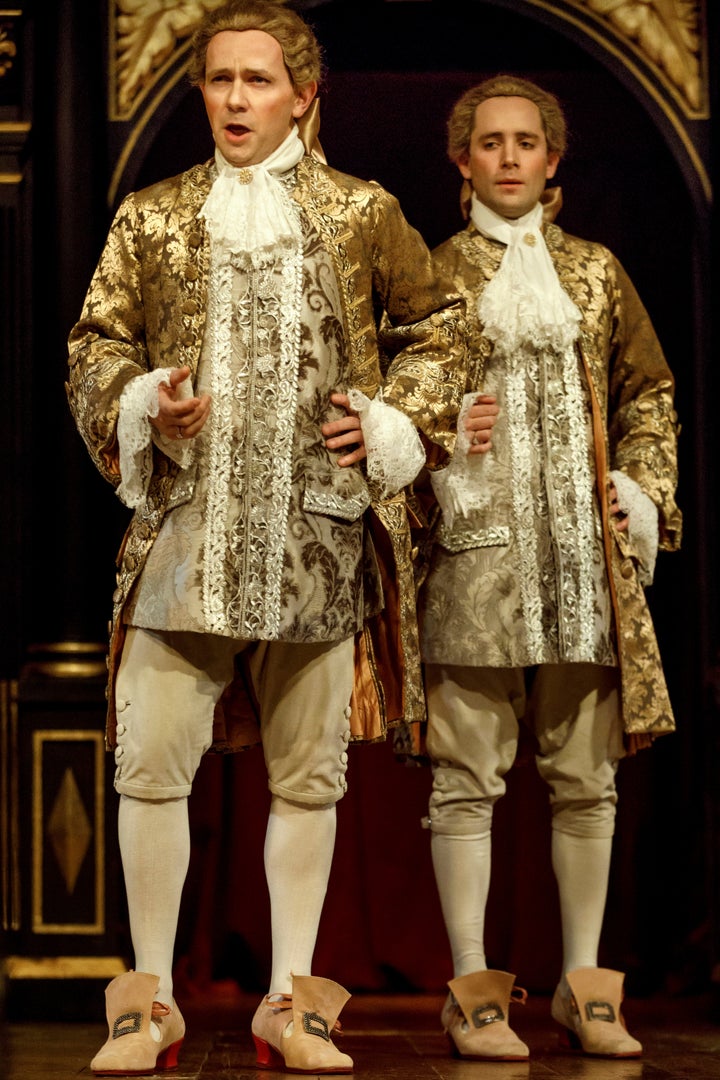 Farinelli and the King might well be compared to Peter Shaffer's Amadeus. We are in the same century, the same musical world, and just across the continent. But Amadeus is built on strong character study. Farinelli is built on Rylance's performance; consider it Amadeus without the psychology. Playgoers will be thrilled by the star, and understandably so, and a good time will be had at the Belasco by (almost) all. But would there be a play here, without Mark Rylance?
"Farinelli and the King" opened December 17, 2017 and plays through March 25, 2018 at the Belasco Theatre
Popular in the Community