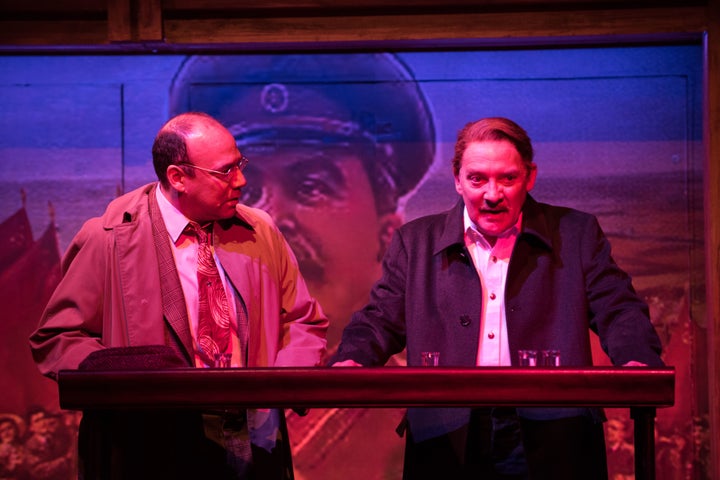 Rajiv Joseph's Describe the Night is a fact-based epic drama of enormous scope, set across ninety years of Russian history. Rich, fascinating, bulging and unwieldy; Joseph weaves an interesting story, helped along by bravura performances from Danny Burstein and Zach Grenier. But while drama of this historic complexity can be highly rewarding (i.e. Oslo, The Coast of Utopia), Joseph's play—at least as it stands, down at the Atlantic Theater—does not quite succeed. It's not so much a case of length, with a running time of about 2:45; rather, Joseph's overlapping themes are not quite focused. We get a jigsaw-like evening in which you have many complete sections but can't piece them together.
Joseph is a fine playwright, as evidenced by his Bengal Tiger at the Baghdad Zoo and Guards at the Taj. This time, he heads north to Moscow. The play starts on a Polish battlefield, near the Russian border, in 1920. A meekly studious war correspondent scribbles away in his journal; this turns out to be the writer Isaac Babel (Burstein). He is encountered by a brusque soldier, Nikolai Yezhov (Grenier). Nikolai—who is amazed by the way Babel can make up what is not true (i.e. fiction)—takes Isaac under his protection. This turns out to be critical, as Yezhov becomes head of Stalin's secret police during the Great Purge which wiped out hundreds of thousands of "enemies of the state." Including, ultimately, Babel and Yezhov, who were both executed (separately) in 1940.
The play is not so much about Babel, but about Babel's wartime journal. The diary is passed on by Isaac's mistress Yevgenia (Tina Benko)—Nikolai's estranged wife—to her (fictional) granddaughter Urzula (Rebecca Naomi Jones). When the latter is killed in the 2010 Smolensk plane crash (in which 96 died, including the president of Poland), the journal falls into the hands of an unsettled rental car agent named Feliks (Stephen Stocking); this a fictional character who—if I've got this right—is supposed to be the lost grandson of the long-dead Babel. Or maybe the great grandson of Yevgenia? He passes the journal on to fictional investigative reporter Mariya (Nadia Bowers), who is attacked by the obsessively overwrought KBG man Vova (Max Gordon Moore). Whom the playwright seems to suggest is the real-life "Vova" Putin. As I said, Describe the Night is not exactly clear.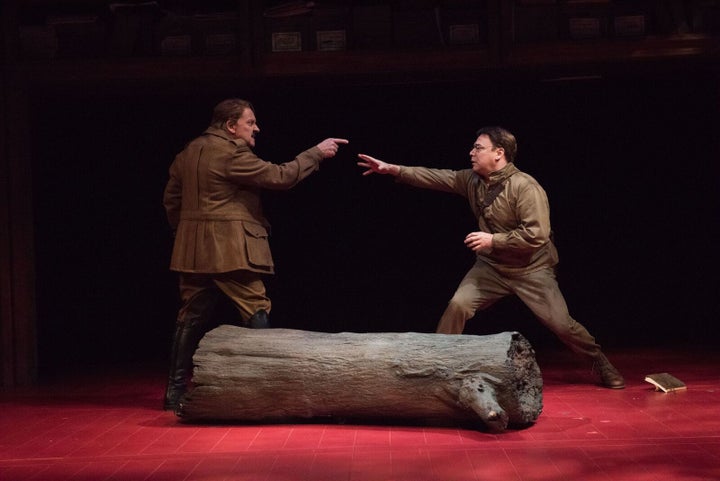 Burstein, who continually gives us intriguing portraits—recently Buddy in Follies and Tevye—does so again with his warmly intellectual Isaac. (Searching through the Playbill during the first intermission to see who was playing the young version of Isaac, I was surprised to see that it was Danny himself.) Grenier, remembered for his Tony-nominated performance in 33 Variations and widely familiar from his role as villainous law partner David Lee on The Good Wife, bristles with humorous bravado as Nikolai.
Strong in support is Benko, as the dissatisfied wife turned into ancient and comical grandmother, with some astonishing onstage transformations. (The author is fictionalizing things here; he shows both Nikolai and Yevgenia as doddering survivors, whereas in real life neither made it past 1940.) Moore is striking as the driven but conflicted KBG man, who by 2010 appears to have become the President of Russia.
Giovanna Sardelli, a busy regional director who has worked with the playwright before, does a fairly good job with the unwieldy material—but perhaps might have called for clarifying rewrites. Tim Mackabee, of Guards at the Taj and the Bradley Cooper Elephant Man, provides an atmospheric unit set which proves highly effective. This production originated in September at the Alley Theatre in Houston, although it was displaced by Hurricane Harvey to an alternate venue.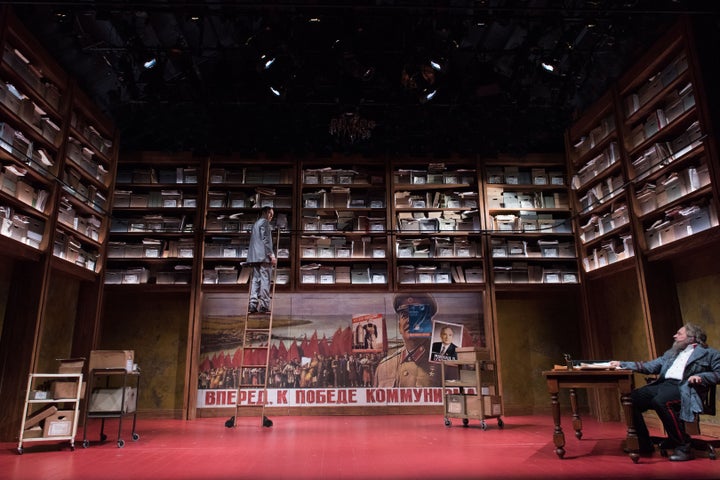 A visit to Describe the Night is intriguing, although at present the play might be too oblique for some audience members. But Joseph has something to say, here, and will hopefully continue to clarify. Ambiguity in drama can be effective, but not when you lose your audience during the first act.
The Atlantic Theater production of Rajiv Joseph's "Describe the Night" opened December 5, 2017 and plays through December 24 at the Linda Gross Theater
Popular in the Community