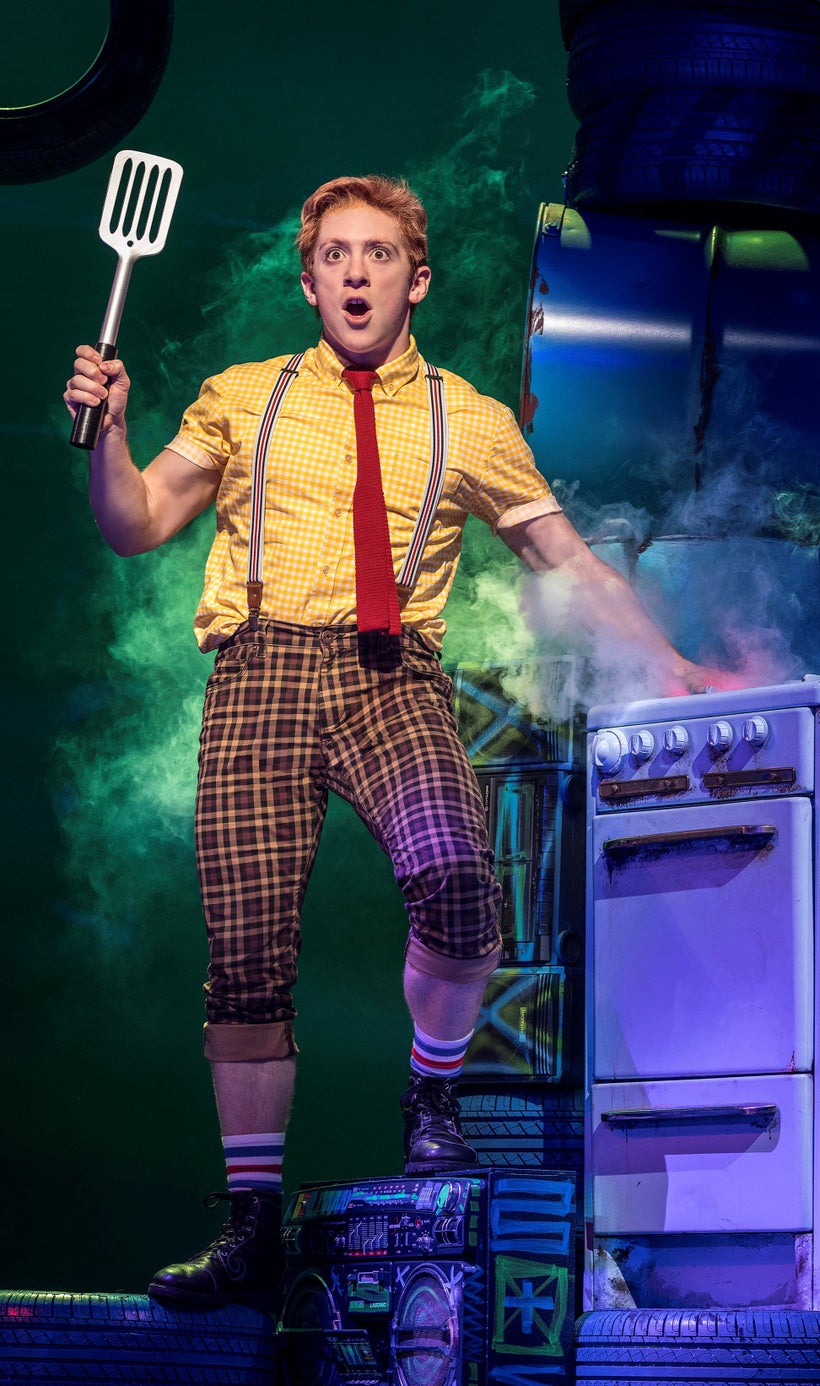 What's a macaroni without the cheese?
Or peas in a pod without the peas?
This existential question comes courtesy of SpongeBob SquarePants, the extravagantly colorful galapalooza now ensconced at the Palace.
Colorful it is, with one of the most deliciously outlandish physical productions in memory. This from Tony-winning designer David Zinn of The Humans, Fun Home and elsewhere. In this case, Zinn is given full reign over both sets and costumes. He has an irrepressibly wild time of it, his scenery overspilling 'cross the footlights and into the house; this including two grand floor-to-ceiling contraptions along the side box walls that are positively Rube Goldbergian, as adapted for the 1960-vintage board game Mouse Trap.
What, you might ask, does it signify when we start our discussion of a new musical by praising the sets and costumes? Well, just what you think it signifies. My guess is that SpongeBob SquarePants will be a favorite with its target audience, sending enchanted crowds pouring forth from the playhouse agog with delight and loaded down with show merchandise. Which, I suppose, is the goal of new Broadway musicals of this ilk. So everyone should be delighted, except for those who aren't.
What is SpongeBob SquarePants, anyway? An animated television series that has been delighting audiences since 1999, simultaneously generating billions of dollars in revenue for Nickelodeon. Which suggests that there are two generations of SpongeBob diehards likely to storm Broadway to see this offshoot, some of whom are now old enough to bring along young SquarePants fans of their own. (While I raised two children over this period, SpongeBob somehow never crossed our otherwise busy cable box.)
Those of us who are only now being introduced to the SpongeBob world might wonder what's it all about? You can sort of figure it out, sitting at the Palace; sort of. Bikini Bottom (which generates an entertaining opening number, "Bikini Bottom Day") is a village somewhere under the sea. The fellow center-stage in yellow-checked shirt and striped suspenders—SpongeBob himself, played by Ethan Slater—is supposed to be a walking, talking, singing sponge. Not the sort that you use with Comet to clean the sink, but a living and breathing maritime sponge.
His oafish best friend, a huge, slovenly, pink and not quite bright fellow called Patrick Star (Danny Skinner), is supposed to be a starfish. I'd suggest that he doesn't look nor act like a starfish, although I've never seen a walking and singing starfish myself. Sandy Cheeks (Lilli Cooper) is an underwater squirrel, I think they said, and thus discriminated against by crustaceans. There is also a fellow called Squidward Q. Tentacles (Gavin Lee). His entrance line—"Another day, another migraine"—suggests that there is a world of verbal wit down there in Bikini Bottom, which is not to be.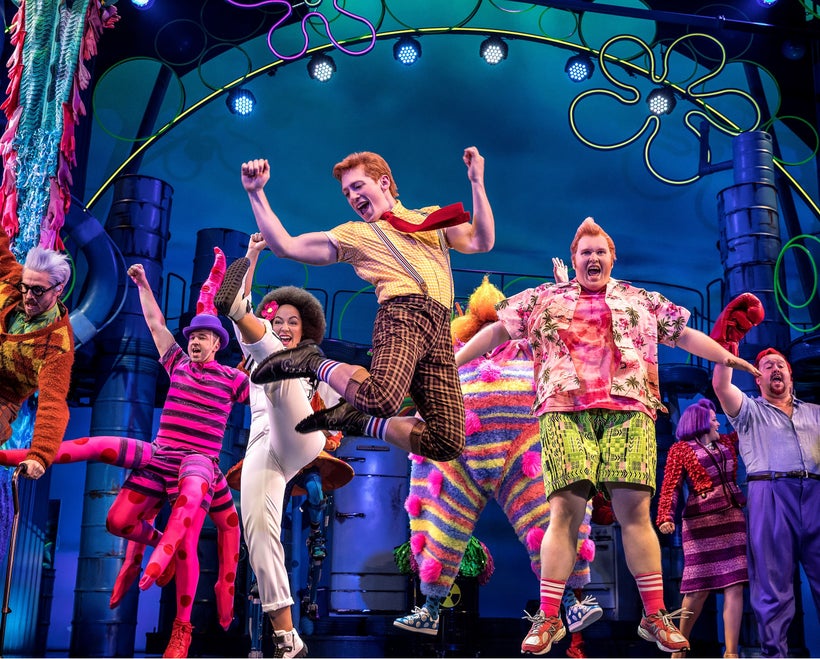 Lee sloshes along with four legs, the one character who actually suggests what he is supposed to be (in this case an anthromorphicized octopus). Slater's SpongeBob, meanwhile, simply seems to be a short underdog of a fellow in yellow and brown. The target audience, though, embraces it all; this is the rare musical where the characters, as opposed to the actors, receive entrance applause. Lots of it.
As is typical in adapting years-worth of a cartoon to the stage, book writer Kyle Jarrow (A Very Merry Unauthorized Children's Scientology Pageant) dials up the old plot about how the residents of this inconsequential universe are threatened by extinction. While everyone panics, our sponge hero saves the day despite being what you might call a dim bulb. But, then, have you ever seen a smart sponge? (This same "save our world" scenario was fashioned for the comic strip musical Li'l Abner, and Seussical as well.)
Tina Landau (Floyd Collins) does a good job over there in Bikini Bottom: there is a lot of show here, and she packs it all onstage. While it might not be artistic, it is ever-cheery and delivers what it aims to; and choreographer Christopher Gattelli (Newsies) keeps all that seafood hopping. Tom Kitt—composer of Next to Normal—serves as Musical Supervisor and Orchestrator, and has apparently been in charge of assembling the musical pieces. But the contributions of the collaborators pale, at the Palace, compared to Mr. Zinn's phantasmagoria.
The songs are assembled from a panoply of no less than eighteen pop writers of the day, including Sara Waitress Barreilles and Cyndi Kinky Boots Lauper. What you get are fifteen songs, some of which are reasonably related to the plot; but not what you'd consider an actual score.
Late in the second act comes the one knockout, show tune-wise: "I'm Not a Loser" by the rock band They Might Be Giants. This is performed by the skilled Mr. Lee conjuring a four-legged squid gone tap-happy, awash in sequins and backed by a chorus of hot-purple anemones with all the flash Zinn and lighting designer Kevin Adams can cram on and above stage. Otherwise, it's a tame evening for those who enter the Palace gates without a preexisting affinity for SpongeBob SquarePants. No matter, that's likely to be a mere sliver of the paying audience.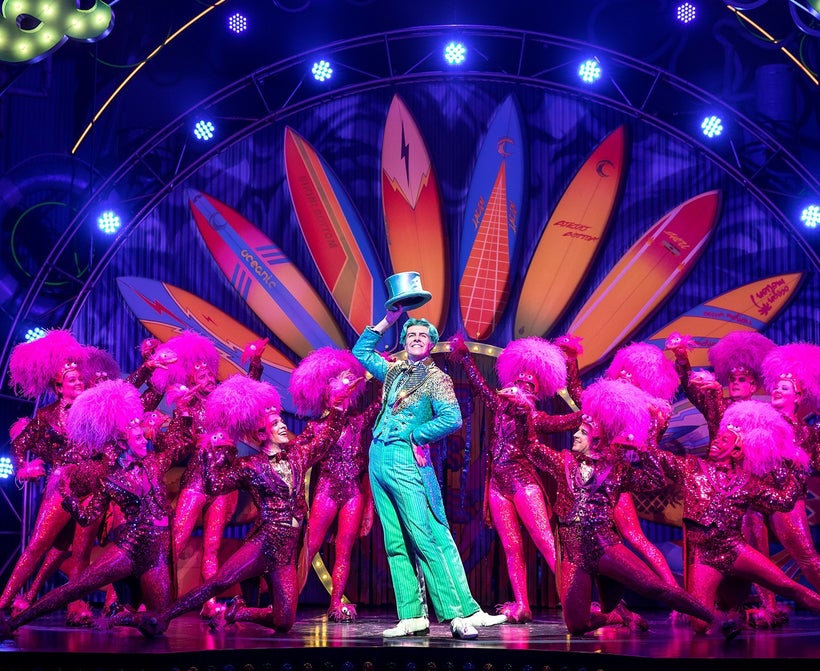 As the evening winds down and the lobby concession stands gear up, the oafish starfish asks, "Is mayonnaise an instrument?"
Don't ask me, I'm a stranger here myself.
"SpongeBob SquarePants" opened December 4, 2017 at the Palace Theatre
Calling all HuffPost superfans!
Sign up for membership to become a founding member and help shape HuffPost's next chapter
This post was published on the now-closed HuffPost Contributor platform. Contributors control their own work and posted freely to our site. If you need to flag this entry as abusive,
send us an email
.