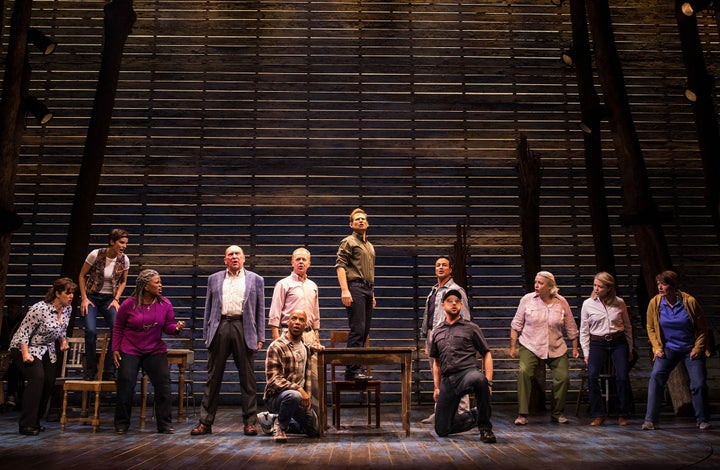 Add another intriguing and groundbreaking musical to Broadway's overcrowded season. Come From Away is altogether different and altogether gripping. Written with heart and skill by Irene Sankoff and David Hein, who proudly state that they are both Canadian and married; creatively and lucidly directed by Christopher Ashley, of Memphis (the musical, not the town); and performed by a wildly talented cast of what seems to be twenty but is only twelve, Come From Away is brave and new and unusual and overwhelmingly heart-tugging.
The show is deceptive. You're sitting there watching a tale of people far away, in a familiar-enough story. It's September 11th, yes; but we're not at the World Trade Center, The Pentagon or that field in Southwest Pennsylvania. This is not a story of victims and heroes; at least not the one's you've heard about. But sitting there watching Come From Away, you—assuming that you were on this earth on that day—suddenly realize: this is your story. No, you weren't in Gander, Newfoundland, stranded on a jet plane or helping tend the stranded. But you were somewhere, learning about—processing—and finding a way to deal with the impossibility of what happened.
Gander is in the middle of nowhere, Canada. Near the eastern tip of Newfoundland, actually, the easternmost spot in North America. "A small place on a giant rock in the ocean" is how one character describes it, while another sings that it's "the farthest place you'll get from Disneyland." The town was founded to serve as a fueling stop back in the days when planes couldn't make it from North America to Europe on one tank of gas. Thus, there is a large international airport with little need for being, anymore.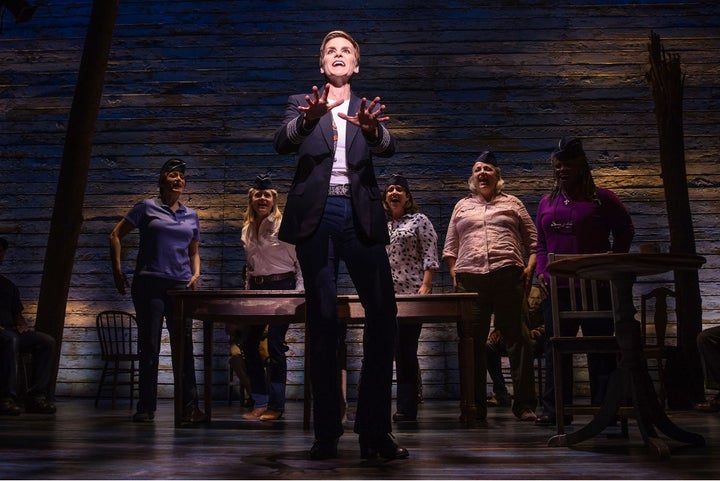 Except on that tragic Tuesday morning in 2001. Gander did not play a major part in the day's events, no. But with U.S. airspace suddenly closed, all the planes in the air had to be diverted somewhere. Gander suddenly found itself practically invaded by thirty-eight U.S.-bound planes. The town of 7,000 suddenly swelled to 16,000 for the four days until the ban was lifted. The new musical tells—in simple and straightforward manner—how the people of Gander opened their town and their home and their spirit to the "Plane People," to all those "friends who have come from away."
It is that spirit, precisely, that Sankoff and Hein and associates have put on the stage; and that's what makes this awkward and unlikely musical work so effectively. Most surprisingly, under the circumstances, is that the piece is not merely uplifting but entertaining as well.
The ensemble is superb. A few of the actors—all of whom play multiple roles as Ganderites and Plane People—stand out, by virtue of stronger storylines and full songs to sing in character (most of the songs being group numbers.) Jenn Colella (Chaplin), as an American Airlines pilot, has the strongest song ("Me and the Sky"); Sharon Wheatley and Lee MacDougall, as a mismatched and awkward couple who meet onboard and bond, have the highly effective "Stop the World."
Also standing out among the cast are Astrid Van Wieren, as a Gander school teacher; Chad Kimball (Memphis) as a Los Angeles environmentalist; Caesar Samoya, as the latter's secretary and also most touchingly as an Egyptian passenger; Joel Hatch (Adding Machine) as the local mayor; Q. Smith as the stranded mother of an NYC fireman; and Rodney Hicks (The Scottsboro Boys) as an out-of-place New Yorker (fearing that his wallet will be stolen) and also as a very funny pilot for Virgin Atlantic. The cast is accompanied by an eight-piece band playing music (orchestrated by August Eriksmoen) with a distinctly Celtic flavor: Irish flutes and uilleann pipes, guitars and country fiddle, with the beat pounded out on the bodhrán.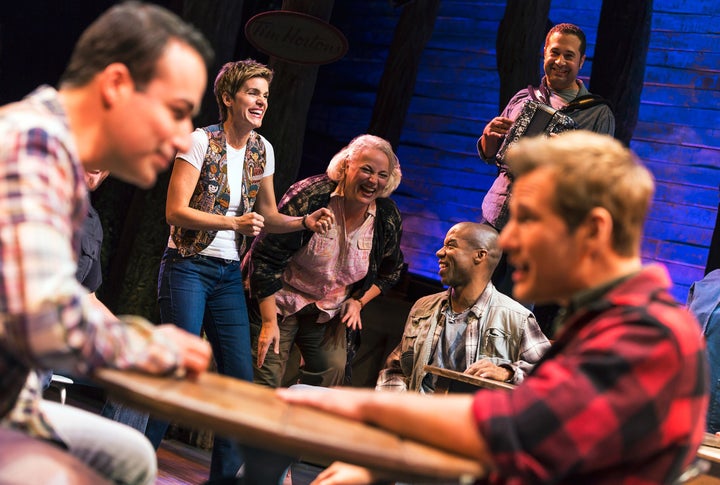 No, this is not a show for cynics. Given the story they have to tell, and the way they tell it, one imagines they'll have a hard time finding cynics. What looks to be the significant success of this new musical stems from the fact that even the most cynical among us is likely to be deeply touched. Come From Away is about community; and in this particular community, everyone's a member.
Come from Away opened March 12, 2017 at the Gerald Schoenfeld Theatre
Related
Popular in the Community