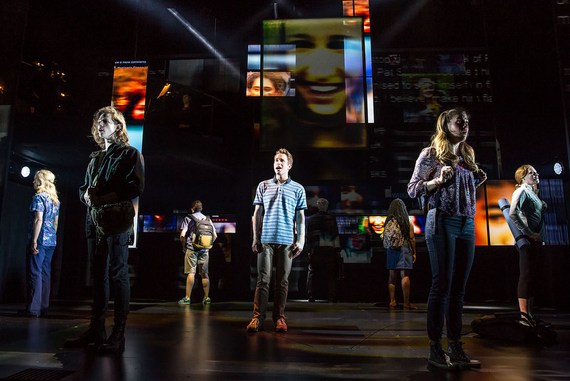 Ben Platt (center) in Dear Evan Hansen.
Photo: Matthew Murphy
One is tempted to say, simply: Don't ask questions, just go see Dear Evan Hansen. This is the most emotionally stunning new musical since Fun Home. It fits somewhere along the line between Fun Home and Next to Normal; the plots are different, yes, but all three family stories deal with the struggle of people who don't fit in. Dear Evan Hansen is absorbing, wrenching, heart-breaking and at the same time exhilarating. And oddly enough, you might even consider it adorable.
Combine one of the finest new scores we've heard since--well, Fun Home and that little musical about the man on the ten-dollar bill; an altogether gripping performance from a young actor named Ben Platt; and a bracing production from director Michael Grief (of Rent and Next to Normal), and you can see where this is heading. Emotionally raw, uncompromisingly honest shows are especially hard to pull off. When everything works, though, they are a marvel to behold.
Now it's a leap for most theatergoers to buy tickets without knowing what they are in for. Dear Evan Hansen is one of those shows in which your ignorance of the specifics is its own reward; that is, I imagine the effect is even stronger if the plot takes you by surprise. That said, you are likely to leave Second Stage eager to see the show again, story surprises or not.
Let us go back a few steps. The score comes from Benj Pasek & Justin Paul, the team which made a tuneful debut with A Christmas Story. (Their second New York appearance came with the intentionally abrasive Dogfight, which nevertheless included some admirable musical numbers.) The Dear Evan Hansen score is searing: bounteously tuneful music, with lyrics that range from gripping to tender to laugh-out-loud funny. Time and again, an already-winning song builds and develops in such a manner that it boosts our enjoyment and propels the show. Pasek & Paul have also learned how a powerful opening vamp, à la John Kander, can make the upcoming song irrepressible.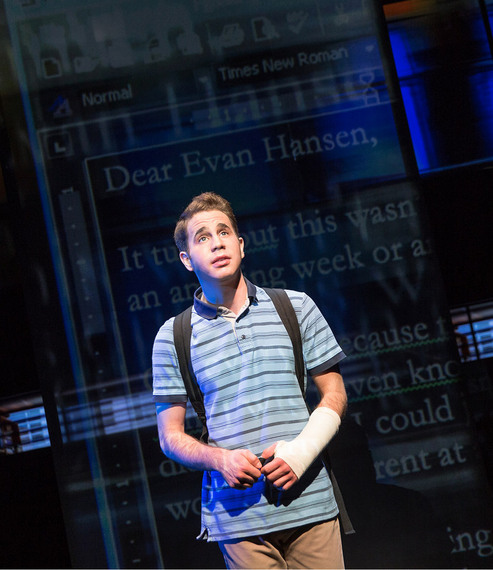 Ben Platt in Dear Evan Hansen.
Photo: Matthew Murphy
A list of song titles is all but meaningless at this stage, but consider "Waving Through a Window," "All We See Is Sky for Forever," "Sincerely, Me" ("Reinvention"), "Requiem," "If I Could Tell Her," "Disappear" ("No One Deserves to Be Forgotten"), "You Will Be Found," "Only Us," "So Big, So Small." All are winners, and most are marvels. And this doesn't include the title character's lacerating climactic soliloquy "Words Fail." Compare this to the musicals with original scores that Broadway has seen since Hamilton opened in August. I won't be churlish enough to name names, but there isn't one of them--to my ears, at least--that has more than a few places where effective music and lyrics serve the characters and the show. Dear Evan Hansen will at some point release a cast album, and leaving the performance you'll be eager to place your order right now.
The show has other creators as well, of course; musicals are based on songs, and scores like this are so welcome that we tend to over-enthuse when they come along. Dear Evan Hansen is an original musical, not based on a film, novel or comic book. (The story is derived from something that happened in Pasek's high school class.) The book is by Steven Levenson, author of The Unavoidable Disappearance of Tom Durgin and The Language of Trees (both produced locally at the Roundabout). He does an impressive job building this impressive musical, but this is one of those shows where all creative hands are in tune.
Greif--who's resume also includes Grey Gardens, Our Lady of Kibeho and If/Then--is infinitely well-suited to Dear Evan Hansen. (Let it be said that the new musical--while staged with an effective mix of scenery, projections and lighting--is happily not as loud as Greif's rock musicals.) Scenery comes from David Korins (Hamilton), costumes from Emily Rebholz (If/Then), lighting from Japhy Weideman (The Visit) and projections from Peter Nigrini (Here Lies Love). Danny Mefford choreographs, his work displaying the same youthful spiritedness of his cast over at Fun Home. The eight-piece orchestration by Alex Lacamoire (Hamilton)--featuring two guitars plus four strings, led by Ben Cohn from the keyboard--effectively enhances the vibrant score.
And then there is the cast. Ben Platt gives an altogether astonishing performance as Evan Hansen, so much so that if the show were Tony-eligible he'd surely be in prime contention for the best actor award. (It is almost equally astonishing to learn--after watching this performance--that the 22-year-old Platt headed the Chicago company of The Book of Mormon as the buffoonish Elder Cunningham. He presumably grew up under the influence of Wicked, as his father is the top-billed producer of that blockbuster, but his performance certainly speaks for itself.) The rest of the eight-person cast is pitch-perfect: Laura Dreyfuss as the girl, Zoe; Will Roland, Mike Faist and Kristolyn Lloyd as the school kids; and Jennifer Laura Thompson and John Dossett as Zoe's parents. Rachel Bay Jones--who played the "average ordinary kind of woman" in the 2013 revival of Pippin--seems to blend right into the ensemble as Evan's mother until late on, when she tears apart the house with "So Big, So Small." And be advised: this is one of those shows that, like Carousel, can turn the house into a sea of sobs.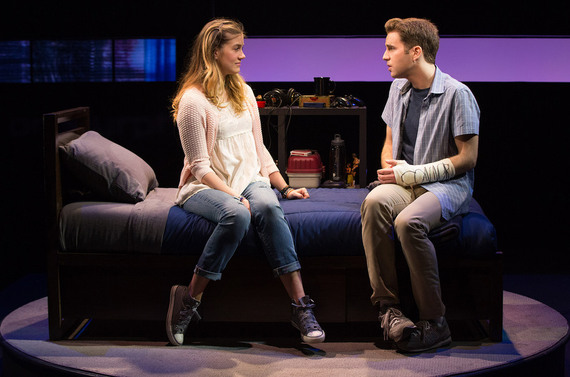 Laura Dreyfuss and Ben Platt in Dear Evan Hansen.
Photo: Matthew Murphy
Dear Evan Hansen is presently scheduled at Second Stage through May 29. It seems a strong candidate for transfer, but those who were lucky enough to see Hamilton at the Public will tell you that there's a lot to be said for getting in earlier rather than later.
.
Dear Evan Hansen opened May 1, 2016 and continues through May 29 at Second Stage Theatre
Calling all HuffPost superfans!
Sign up for membership to become a founding member and help shape HuffPost's next chapter