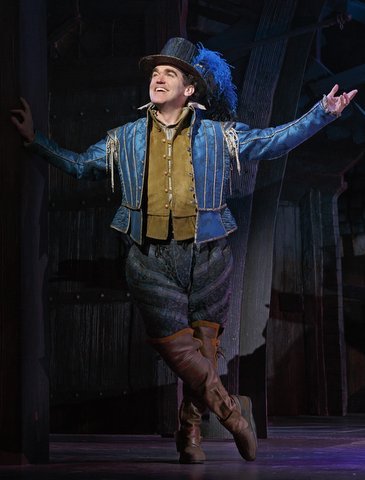 Brian d'Arcy James in Something Rotten! Photo: Joan Marcus
Something's rotten on the stage of the St. James, and it smells like a hit. The birthplace of Oklahoma!, The King and I and Hello, Dolly! -- and latterly the filming location for the Oscar-winning "Birdman" -- now has a self-styled Renaissance musical, taking place in the '90s. The 1590s, that is. Something Rotten! is larded with overripe performances, layer upon layer of schmaltz, and everything in the kitchen sink except a battle of flying cream pies.
Even so, it seems likely that the purveyors of Something Rotten! set their sights on the current-day Broadway champ, The Book of Mormon -- and Something Rotten! does not approach that musical's levels of irrepressible hilarity. Consider it closer to Spamalot, which isn't half bad. Something Rotten! hits the target again and again, but as the evening progresses they serve up fewer and fewer bull's eyes.
The conceit of songwriting brothers Wayne and Karey Kirkpatrick (who conceived the idea) and John O'Farrell (who wrote the book with Karey) is to place their story in Elizabethan London, where sexy slimy backstabbing rock star Will Shakespeare (Christian Borle) is not "a" bard but the bard of all bards. This doesn't sit well with jealous competitor Nick Bottom (Brian d'Arcy James), especially since his younger brother Nigel (John Cariani) -- who does most of the actual writing for the Bottom Brothers -- idolizes Will.
Nick Bottom -- and yes, that's the name of the Midsummer Night's Dream character who is transformed into a donkey -- sets out to out-Shakespeare Shakespeare. Due to the cloudy prognostications of Nostrodamus (Brad Oscar), though, he ends up puzzling 16th century London with a 21st century musical comedy. And not just any musical comedy, mind you; in trying to forecast Shakespeare's biggest hit, Nostrodamus conjurs something called "Omelette." This results in a scrambled musical comedy version of "Hamlet," with tap dancing eggs. You can just imagine the hilarious possibilities, can't you?
But you also might wonder: won't they run into trouble when they run out of Shakespearean twists, musical comedy references and all those egg jokes? It doesn't take Nostrodamus to foresee that this is precisely what happens. After a dazzling production number midway through the first act -- "A Musical," which builds and builds until it has more or less the same effect as "Hasa Diga Eebowai" in The Book of Mormon -- the show loses its freshness, and you know what happens to a chafing dish of breakfast eggs after they've been sitting out on the buffet too long.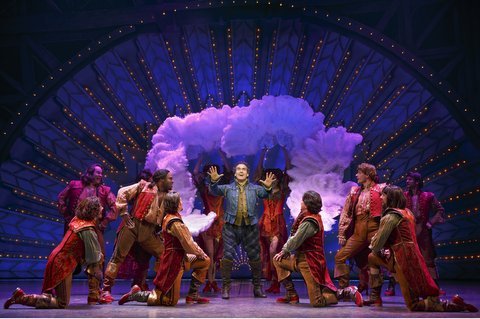 Brian d'Arcy James in Something Rotten! Photo: Joan Marcus
That this entertainment is inspired by Mormon is obvious from the outset; the show proscenium, from Mormon-designer Scott Pask, is an Elizabethan counterpart of the temple of Moroni over at the O'Neill. More to the point, director/choreographer Casey Nicholaw -- that staging wizard who helped turn Mormon into an uproarious laff-fest -- does a protean job at the St. James.
As with Mormon, the authors are non-Broadway types. Wayne Kirkpatrick is a Nashville songwriter who collaborated on "Change the World," winner of the 1996 Grammy Song of the Year; Karey Kirkpatrick is a Hollywood screenwriter ("Chicken Run"); and O'Farrell is a best-selling British humorist. Unlike on Mormon, though, there is no theatre-savvy genius like Bobby Lopez to keep things on musical theatre track. One imagines that if Mormon had only one point of satirical attack, it would be very funny but not quite a world-conquering blockbuster.
What Something Rotten! does have, to its great benefit, is Nicholaw's sharply-etched comedy blocking, his high-powered musical comedy dancing, and a talented cast of comic actors. D'Arcy James, who has lately been entertaining us in dramatic musicals like Next to Normal and Giant, here displays his outsized comic talents. Upon his first entrance, he has the same dangerously glassy and very funny glare that he brought to King George in Lin-Manuel Miranda's Hamilton. He quickly and understandably vacated that small-but-showy role in favor of the top-billed slot in Something Rotten!
Cariani, who was a memorable Motel the Tailor in the Alfred Molina Fiddler on the Roof -- and who wrote the popular Almost, Maine -- makes a fine counterpart as the poetic Bottom brother. Several times, he falls into what you might call an "arrested flinch take," and it's lovely. Mr. Borle, a superb clown who can chew the scenery with the best of them, somewhat surprisingly appears here as the third lead. He makes the most of the smarmy Will (as in "Will Power"), although the authors have given him more of a sketch than a fully-rounded role.
Mr. Oscar, who committed all sorts of larceny as Franz Liebkind in The Producers and later graduated to the role of Max Bialystock, doesn't have much to do other than stand around like a demented forest creature and sing that musical comedy song -- which allows him to make the hit of the evening. Heidi Blickenstaff ([title of show]) makes a very good showing in the very underwritten role of Nick's wife, while Kate Reinders (Into the Woods) is a delight as Nigel's girl, Portia. She and Cariani have a naively innocent first act duet that brings to mind Hero and Philia in Sondheim's A Funny Thing Happened on the Way to the Forum, and a second heavily-entendred one patterned on Mormon's "Baptize Me."
Something Rotten! is heavy on double entendres, to the point of diminishing returns. The gifted farceur Brooks Ashmanskas, as a straight-laced and apparently closeted Puritan, has little to do other than grimace and smirk as he delivers or avoids delivering variations of the same joke (i.e.: "I will see you tied to a post begging for mercy while I give you the rod.") Gerry Vicchi is droll as Shylock, a merchant of London who -- logically enough -- turns musical comedy producer.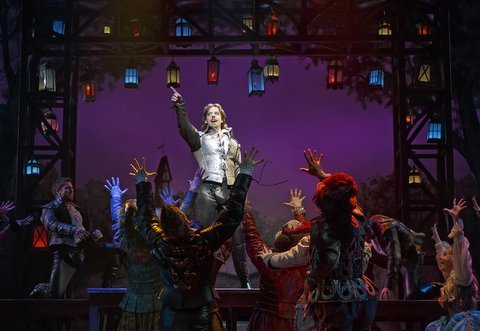 Christian Borle in Something Rotten! Photo: Joan Marcus
Something Rotten! is a very funny show indeed, and should please audiences although one wonders how non-theatre savvy houses will respond to all those musical comedy jokes. "How do you solve a problem like Ophelia?" Speaking as someone for whom constant musical comedy references are catnip -- they need only start the "Wells Fargo Wagon" vamp from The Music Man to get a laugh from me -- I must say that I eventually had too much. Although I will admit that I got a kick when Marisha Wallace, as an egg about to be cracked, held her ground by belting out "and I am telling you, I'm not going -- to be an omelette."
I laughed a lot, yes; but it's like being served a sumptuously stocked breakfast buffet -- fruit, waffles, smoked salmon and (yes) omelettes -- for dinner. Tasty, filling, and if you partake of the all-you-can-drink Mimosas, bubbly. But not quite so satisfying as steak & potatoes.
.
Something Rotten! opened April 22, 2015 at the St. James Theatre
Popular in the Community