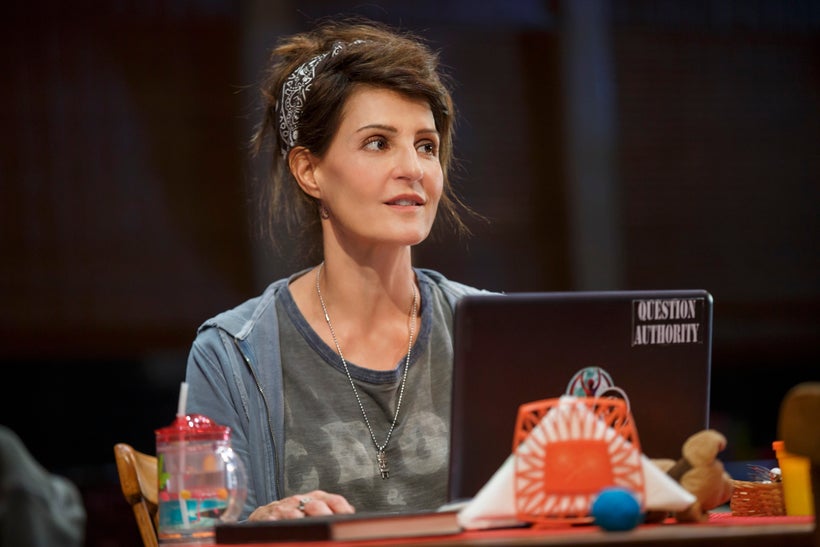 Tiny Beautiful Things, the play-in-Internet-blogs which Nia Vardalos fashioned from Cheryl Strayed's 2012 best-seller, opened last November at the Public Theater's tiniest of five theatres. The seven-week run immediately sold out, reportedly within hours of going on sale; this due in great part to the many fans of Strayed's book, but also no doubt thanks to the participation of director Thomas Kail (of the Public's blockbuster Hamilton).
The play has now reopened—with what seem to be a fair amount of minor text revisions, plus two replacements in the cast of four—at the Public's largest space. This gives them three hundred seats a performance, rather than one hundred; and the Public is sure to fill them all for the twelve-week run.
Whether it be the revisions, the cast changes, or simply the luxury of two months of prior playing time, Tiny Beautiful Things plays considerably better now than the first time round. It was better-than-adequate before, mind you; Vardalos made an ingratiating and skilled guide to the world of a contemporary advice columnist. So it mattered little that the hour-and-a-half was low on stage-drama. It is understandably difficult to be dramatic when your evening consists of questions and answers; drama comes more readily when questions pile up until the characters can figure out the answers.
Strayed's book was compiled from the Internet advice column she started writing anonymously in 2010; hence the book's subtitle, "Advice on Love and Life from Dear Sugar." While the basic material remains the same, the play appears now to be better sculpted, with the major (i.e. emotionally wrenching) Q&As carefully and effectively placed. Or maybe it's just the acting, and Kail's direction, and Jeff Croiter's lighting. In any event, what was formerly admirable and well-meaning is now a heart-tugging, emotionally rewarding evening with no qualifications.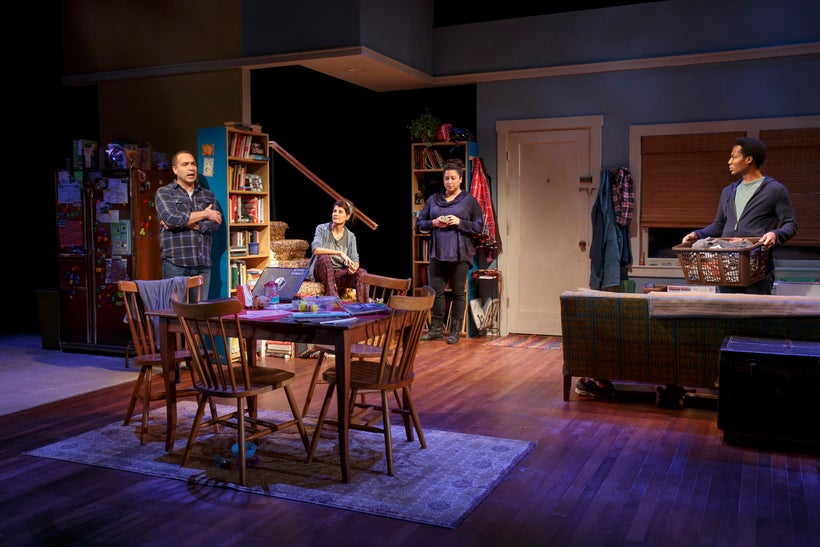 Vardalos is central to the affair. If you are unfamiliar with her, that means you have never seen My Fat Big Greek Wedding, the 2002 cinema blockbuster which she wrote and starred in (and which was based on her 1997 one-woman play). If you haven't seen My Fat Big Greek Wedding, get thee to it; if you have, you can easily imagine how warm and believable and embraceable Vardalos is as Dear Sugar.
Natalie Woolams-Torres, the other cast holdover, is especially effective as a woman coping with a miscarriage ("Stuck"). Teddy Cañez plays the "WTF" guy, and does a fine job as a sad angry father whose child was killed by a drunk driver ("Living Dead Dad"). And Hubert Point-du Jour shines in several spots, including as a transgender "Orphan." But it is Vardalos who carries the evening, not only with the snappy material but with several searing setpieces.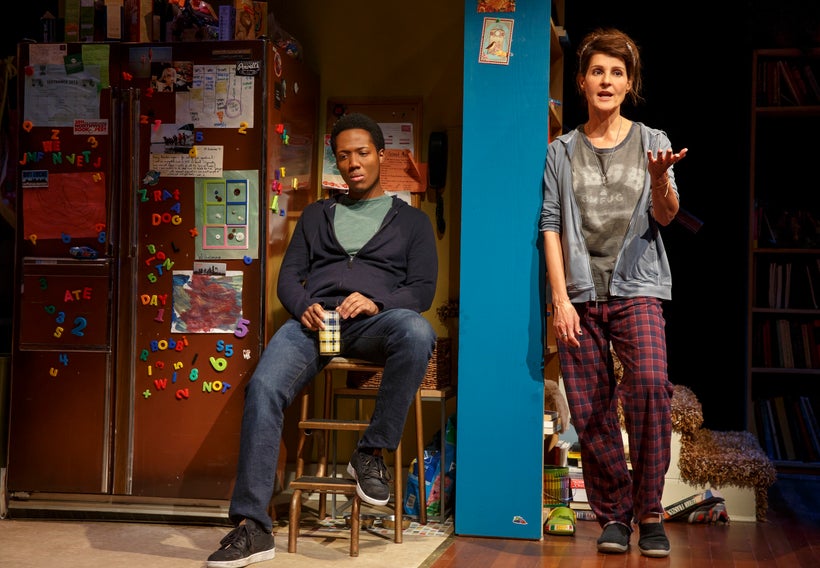 Yes, Tiny Beautiful Things is episodic; and yes, you get to feel that Sugar will have an immediate effective answer for every situation. (I suppose advice columnists only choose to address the questions they have answers for.) But Vardalos takes Strayed's book, which is apparently a great favorite with readers, and translates the magic to the stage. The world—the big, messy, painful, joyous world—is full of Tiny, Beautiful Things at the Public.
The Public Theater production of Nia Vardalos' adaptation of Cheryl Strayed's "Tiny Beautiful Things" opened October 2, 2017 and continues through December 10 at the Public Theater
Calling all HuffPost superfans!
Sign up for membership to become a founding member and help shape HuffPost's next chapter
This post was published on the now-closed HuffPost Contributor platform. Contributors control their own work and posted freely to our site. If you need to flag this entry as abusive,
send us an email
.