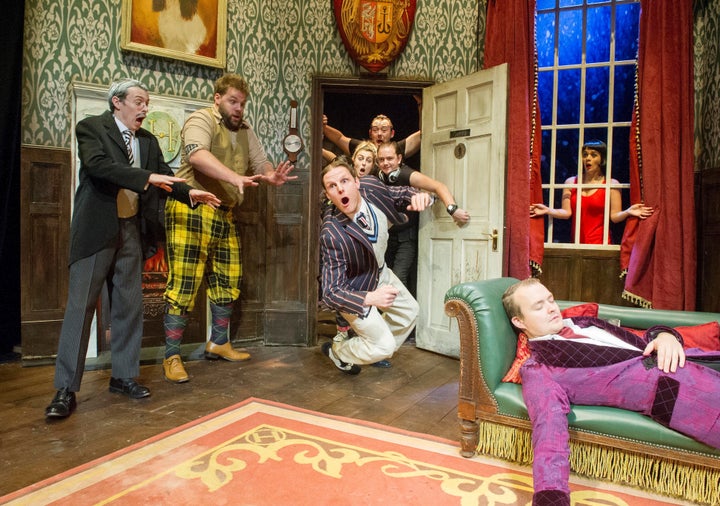 At the second preview of The Play That Goes Wrong, the West End import at the venerable Lyceum Theatre off Times Square, the Laugh-o-Meter that the producers rigged up at the back of the house spontaneously combusted. Or maybe there was no such thing; but if so, they need not replace it. Four minutes in, there's so much laughter going on that any device set to register it is sure to go bust.
This is the sort of murder mystery in which if there's a corpse discovered at curtain up lying on a divan with its arm dangling to the floor (as there is), another actor is sure to step on his hand (as they do). And not only once. We apologize for describing a gag, but no matter; there are so very many more, and it'll give you an idea of what you're in for.
The Cornley University Drama Society players have come together to perform their newest opus, The Murder at Haversham Manor. It is apparent from the first that this is a low-caliber amateur group of little competence. Chris Bean (Henry Shields)—the director/ designer/ prop maker/ fight choreographer and box office manager of the Cornley Drama Society, plus the leading man of The Murder–is clearly in over his head from the moment he crawls out from beneath the curtain to introduce the evening. If anything in this play can possibly go wrong, it will and it does.
We have seen many plays that go wrong hereabout, lately; some even on Broadway. But those are low-interest, cringe-worthy affairs in which the audience desire is merely to get out of the house as quickly as possible. At this play that goes wrong, the end of the first act is met with rousing cheers, and well-earned too.
The play (that goes wrong) was developed and written by three former classmates at the London Academy of Music and Dramatic Art (a.k.a. LAMDA). Underemployed and without professional demand for their services, Henry Lewis (who plays Robert, the burly brother), Jonathan Sayer (who plays Dennis, the butler in powdered hair) and Shields cobbled together a murder mystery spoof and presented it at a London pub in 2012.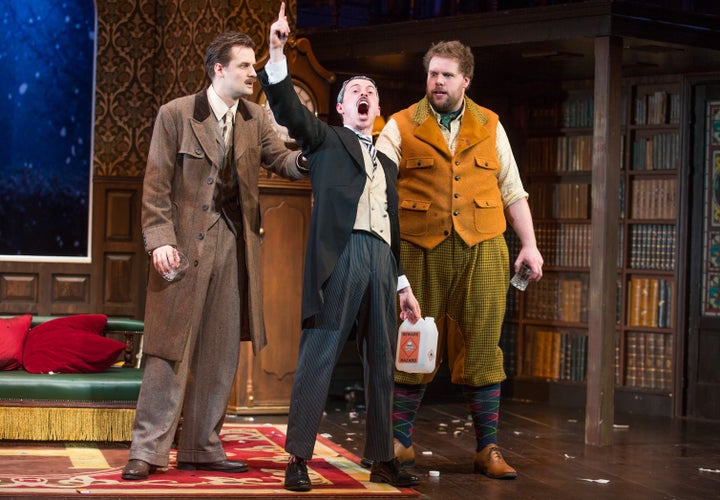 Given the reception, they expanded their 45-minute play into a full two acts and finally landed at the Duchess in the West End in 2014, winning an Olivier for Best New Comedy. The London production remains strong in its third year. The author/actors and their original cast moved on to Peter Pan Goes Wrong, which has been a West End hit over the past two holiday seasons; and then all trouped over to the Criterion for The Comedy About a Bank Robbery, which is coming up on its first birthday. Now a team of producers—including Kevin McCollum (of Rent and Avenue Q) and J. J. Abrams (director/producer of Star Wars: The Force Awakens and other films)—have brought the self-dubbed Mischief Theatre and their eight-actor troupe to Broadway. What we discover is that what's hilarious in London is every bit as hilarious across the pond. Which is not, alas, always the case.
Shields stands out among his cohorts, having written himself the best part; co-author Sayer runs a close second. (One imagines that few playwrights would stoop so low as to have a character "read" the difficult words from his palm, mispronouncing them again and again. Sayer does it to himself, and turns it into a groaningly good recurring bit.) Dave Hearn is exceedingly droll as an upper-class twit who can't help but stopping in his tracks every time he gets a laugh (which is continually) and egging the audience on (which is frequently). Charlie Russell, as the vampish fiancée of the corpse, slinks and poses like a bad actor instructed to vamp like a femme fatale; Nancy Zamit counters as a stagehand who is drafted into the action and doesn't let up; and Rob Falconer and Greg Tannahill round out the cast.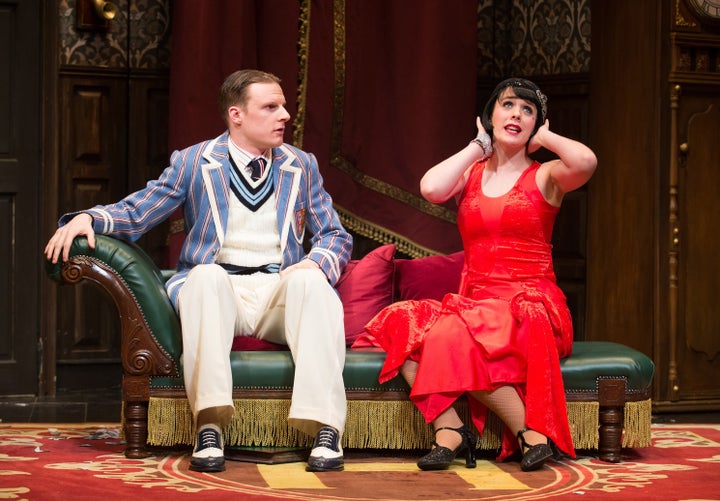 Mark Bell has directed, and under his expert hand the performances all go wrong; the scenery goes wrong, to catastrophic effect; even the sound cues go wrong, and when was the last time you heard sound cues generating applause? All told, The Play That Goes Wrong goes uproariously right.
The Play That Goes Wrong opened April 2, 2017 at the Lyceum Theatre
Popular in the Community