Should theatergoers who dearly love Rodgers & Hammerstein's The King and I -- a group that has by and large already made a visit to Bartlett Sher's Lincoln Center Theater production, which opened a year ago starring Kelli O'Hara -- go to the effort and expense of returning to the Vivian Beaumont to see it once more, now that Marin Mazzie is portraying Anna?
I'm afraid the answer is yes, resoundingly. So many musicals to see, I know; but the show, which remains in exquisite condition, now strikes a tone -- emotionally, not just musically -- that has been absent in recent renditions.
Mazzie established herself as a Broadway star in 1994; I suppose she could be described as yesterday's Kelli O'Hara, which is a full compliment in both directions. Like O'Hara, she started her Broadway career with a high-profile nude scene. This as Clara in Sondheim's Passion, which clothed or not called for virtuosic singing. She went on to star as the Mother in Ragtime and Lili in the 1999 revival of Kiss Me, Kate, both opposite Brian Stokes Mitchell.
All of which leads to the obvious: Mazzie is 55 years old. Ms. O'Hara was 38 when this production opened; recent Annas include Donna Murphy at 37, Faith Prince at 40, Marie Osmond at 38 and -- going back -- Constance Towers at 43 and even Barbara Cook at 33. Now, Broadway has always been somewhat elastic on leading ladies' ages; The Sound of Music, with its teenaged heroine, was written for Mary Martin at 45. This never seemed to bother anyone, although eyebrows might have been raised if Mary took the role as replacement for a 25-year-old Maria.
What does the calendar -- and Anna's apparent age -- mean to The King and I? That is the question, and that's the surprise Mazzie brings to the production. The answer comes in Anna's first solo, "Hello, Young Lovers." Kelli and other Annas hovering around 40 sing "I've had a love of my own" in a manner that implies that it is still not altogether impossible that she might yet have another love of her own. Marin's Anna is clearly on the other side; "I've had a love of my own," but time has gone by so I herewith pass along any dreams of flying down the street in a trance with wings on my heels to young lovers. While 55 -- in the context of today -- is not past the age of possibility, it was in 1862 (when the musical takes place) and 1951 (when the show was written).
And that's the key to Mazzie's success here. Because Rodgers & Hammerstein -- or more specifically, Hammerstein -- was writing for an Anna on the other side. Writing to order, in fact: Gertrude Lawrence optioned the underlying material (the 1944 novel "Anna and the King of Siam," which was successfully filmed in 1946 starring Irene Dunne and Rex Harrison) and commissioned R&H to write and produce the musical as a vehicle for herself. Lawrence -- a top-of-the-line, international star/celebrity since 1926 -- was 52, with a 33-year-old daughter, when The King and I opened. And she was playing against a King who was 21 years younger than she was.
While Yul Brynner always had an ageless quality, he was ferociously vital. He kept performing the role until his last gasp in 1985. Lawrence -- who died of cancer a year into the show's run -- was replaced by an actress who was 48; later replacements in the original production were similarly older than Brynner. (Dunne, in the non-musical film version, was almost a decade older than King Rex.) But as Yul grew older, his Annas grew younger. In the 1956 motion picture version, which cemented the show -- and the image of Brynner-as-King -- in the public conscious, Yul was playing against the glamorous Deborah Kerr: A year younger than Brynner, and twenty-two years younger than Gertie when she created the role.
Flash forward, and Anna has become a young and vibrant musical comedy leading lady like Kelli O'Hara (or Donna Murphy in 1996). But Hammerstein was writing for an Anna past romance. That is the pedal that Mazzie and Sher sustain in the new version at the Beaumont. Those who dearly love the show have never seen it in this guise, unless they were attending musicals during Eisenhower's first term. And yes, it makes a difference.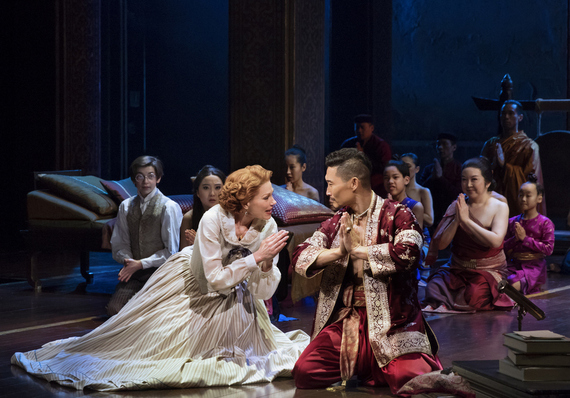 Marin Mazzie and Daniel Dae Kim in The King and I
Photo: Paul Kolnik
Oscar preceded The King and I with South Pacific, in which he was tackling mid-century prejudice. Naïve heroine Nellie Forbush couldn't accept the notion of romance with Emile de Becque because he was much older, foreign (French), and most critically because he had lived with -- that is, slept with -- a non-white local woman. At a key moment, Nellie is horrified to learn that those native tots who charmed her by singing "Dites-Moi" are Emile's children. How can she place herself in that man's bed?
In The King and I, Oscar devises a perhaps-conceivable romance made downright impossible by different cultures, different social stations, and different skin color. One of the key moments of the show -- written into Hammerstein's stage directions -- is when the King breaks off his dance with Anna (in "Shall We Dance") because he realizes that unlike the British dancers, they are merely holding hands. In Oscar's words:
KING: Was like this. No?
(Looking very directly into her eyes, he advances on her slowly and puts his hand on her waist)
ANNA (Scarcely able to speak) Yes.

The orchestra plays two extended notes, corresponding to the unspoken words "shall... we...", and then plunges into a wild polka. (This is, perhaps, the defining image of the show.) In this current King and I -- as in the original, with Lawrence and Brynner -- Hammerstein confronts us with another immediate reason why the hand on the waist is unthinkable: she is too old.
The current King's number one -- and oldest -- wife is played by an actress who is 22 years younger than Mazzie. Tony Award-winner Ruthie Ann Miles, that is, who remains just as dynamic as she was when the show opened. Korean actor Daniel Dae Kim, on the other hand, is a marked improvement over the King who O'Hara played opposite. And while maturing child actors can have an adverse effect on a show, Jon Viktor Corpuz -- who has now turned nineteen -- adds stature to Prince Chulalongkorn. Instead of being a child apprehensive of the day when he takes the thrown, Corpuz is now practically an adult facing the knowledge that the day is approaching and he is still unprepared. In the same way that Ms. Miles' Lady Thiang elevated what we once thought of as a minor character, Corpuz' Chulalongkorn is now a major presence in the drama.
Mazzie is giving a thoroughly fine and intensely moving performance. So much so that the backstory is irrelevant if gripping. The actress was diagnosed with Stage 4 ovarian cancer last May -- ironically, while singing Kander & Ebb's "Life Is What You Do" ("while you're waiting to die") in the Encores Zorbà. She has fiercely worked her way out of surgery and treatment, and back onstage. Here she is now, doing this grueling three-hour show eight times a week. Mazzie and her husband Jason Danieley have seen fit to publicize her illness, as encouragement for other patients and survivors, so it is only proper to mention it here.
To see her up there on stage at Lincoln Center is certainly convincing. She glows during "Hello, Young Lovers"; charms one and all as schoolmarm to those ever-adorable Royal Children in "Getting to Know You"; and veritably snorts with musical comedy rage in her fiery "Shall I Tell You What I Think of You?" But she is also playing that age difference, written into the material but overlooked for sixty years.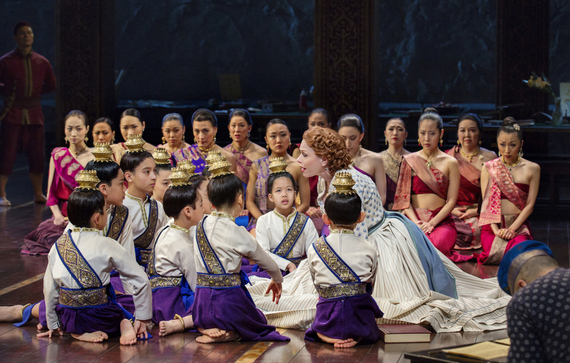 Marin Mazzie and Company in The King and I
Photo: Paul Kolnik
Modern-day audiences have seen excellent Annas in the past, but never one who is startled to feel the wings on her heels when she is suddenly and impossibly held, once more, by a vital, passionate man. And that's why you should go back to see Marin Mazzie in The King and I.
.
The Lincoln Center Theater production of Rodgers & Hammerstein's The King and I opened April 16, 2015 at the Vivian Beaumont Theatre
Calling all HuffPost superfans!
Sign up for membership to become a founding member and help shape HuffPost's next chapter