The big Broadway news today is that there will be another, previously unannounced and unexpected musical comedy star on stage in June.
It was announced back in January that the legendary Bette Midler would return to Broadway as Dolly Gallagher Levi in a resplendent new production of Hello, Dolly! Midler--who shattered Broadway's first-day-of-sales mark when the box office opened, with a take in excess of $9M--is scheduled to play a seven-performance week.
Producers strive to find a full-value performer for that eighth show, typically someone who can satisfactorily play the role even if they don't have a viable marquee name. For the high-profile Dolly revival, it seems only natural that the producers should find a better plan and they have: two-time Best Actress Tony winner Donna Murphy has joined the cast. Murphy will play Tuesday night performances, beginning June 13, 2017.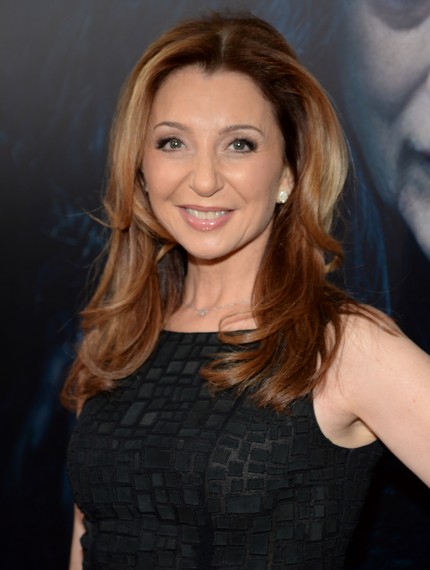 Donna Murphy Photo: Kevin Mazur
Murphy--who originated the role of Fosca in Stephen Sondheim's Passion and starred in acclaimed revivals of Wonderful Town and The King and I, and who found a new legion of fans for her portrayal of Mother Gothel in the 2010 animated blockbuster "Tangled"--is a decidedly different type of performer than Midler, and will undoubtedly give a different portrayal. But this is not out of line with Dolly history.
Carol Channing created the role in Jerry Herman and Michael Stewart's 1964 musical, which broke the Broadway long-run record previously set by My Fair Lady. The second Dolly was as different from Channing as Murphy is from Midler: Mary Martin, who opened the road company and took it to the West End. Other stars who made distinctive Dollys include two other legends: Pearl Bailey and Ethel Merman. It seems likely that we can add both Midler and Murphy to the stellar list.
The unlikely prospect of a bona fide star playing only one show a week is unprecedented. However, outside circumstances have made this a welcome opportunity for Murphy: "I knew the show, but I've never seen Dolly on stage," Murphy said recently. "When I heard that Bette was doing it, I thought: That's as brilliant as it gets, it doesn't get more perfect than that! She will be stupendous.
"And then this offer came in. My husband Shawn, who was my partner for 38 years and father of my child and my stepchildren, passed away in March." [Shawn Elliott was an actor, who was featured in the original casts of both Jacques Brel Is Alive and Well and Living in Paris and City of Angels.] It's really been several years now that circumstances have been such that my career choices have been determined by the particular needs of my family.
"If somebody called me today and said are you interested in doing Hello, Dolly! on Broadway--I'm saying if Bette was not doing it, and it was a new production--I would think what a fantastic show! but I would have to stop and say I don't know that I can do that. Because my foremost responsibility right now is to my eleven-year-old daughter, figuring out how to be physically and emotionally present for her. Obviously my desire is to do what I love, which is to work as a stage actress. But being gone five to six nights a week, now, would be a really tough thing for Darmia. So I know that I couldn't in good conscience make that choice for us."
The offer of doing only one performance a week changes that. "This is the perfect job for me at this point, because it allows me to do what is most important in terms of my daughter and in terms of work. And how amazing to be able to actually do it in the theatre, which is a kind of home for me and which I've missed greatly! So I'm really excited and thrilled about every element of it. I'm not saying that I'm never going to do eight shows again. I'm just saying that I'll only do it when its right for my daughter and myself."
Producer Scott Rudin, for his part, is thrilled that Murphy has agreed to play Dolly. "I had done Passion with Donna, I love her, I always thought she was a brilliant musical theatre performer," he says, pointing out that there will be a separate understudy for the role: Murphy is contracted only for Tuesday nights, plus Midler's vacation weeks. "To me, the chance to see her do Dolly is kind of amazing. I think she'll be incredible in it, and she'll be very different from Bette. It's a great chance to see a great musical theatre star to play one of the giant musical theatre parts."
Director Jerry Zaks is equally excited: "Donna Murphy is a joy and a treasure. I've wanted to work with her for years and I never expected that it would happen here. Her major league gifts and enormous talents ensure that she will create an original and unique Dolly."
And what of the show's other Dolly? "Donna Murphy is one of the greats, and I'm so honored that we'll be sharing this role," says the Divine Ms. M. "I was looking forward to staying home on Tuesdays, but looks like I'll be going to the theater every week to watch her go on."
.
Hello, Dolly! will begin previews on March 15, 2016 and opens on April 20 at The Sam S. Shubert Theatre
Calling all HuffPost superfans!
Sign up for membership to become a founding member and help shape HuffPost's next chapter